Helen Corey's Office at the Indiana Capitol (1965-1969)
Introduction
The first Arab American statewide office holder and a prominent example of second-generation Arab American success, Helen Corey was elected the Reporter of the Indiana Supreme and Appellate Courts in 1964 with over 1.1 million votes. An office once held by U.S. President Benjamin Harrison, the Reporter's job was to accurately edit, publish, and distribute all of the decisions by the State of Indiana's higher courts to law libraries, universities, and law offices, a task that was very different in nature before the age of the world wide web. Helen Corey was given the same office that President Harrison used, Room 416, in the Indiana Capitol. Today that office belongs to an Indiana Court of Appeals judge.
Images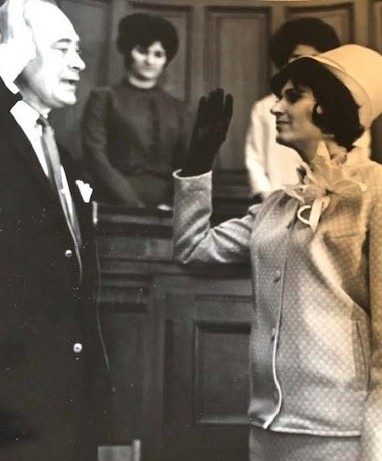 Backstory and Context
Born 1923 in Canton, Ohio, her Syrian parents, Maheeba ("Mabel") and Mkhyal ("Mike") Corey, were originally from the Damascus area. She was raised to embrace both Arab and American cultures in addition to the family's Antiochian Orthodox Christian roots. "When my sister, brother, and I were children," she wrote, "our parents sent us to the Orthodox church hall following grade school classes where we learned to read and write the [Arabic] language from Arabic scholars Yusuf (Joseph) Sabb and Hunna (John) Shaheen. Our first lesson taught us that this was one of the richest languages in the world." When the family was around Arabic-speaking friends, they used Arabic names and titles. Brother Albert was Abdullah. Her father was "Boo Abdullah [the father of Albert]" and her mother was addressed by the title, "Im Abdullah [the mother of Albert]."
Around 1947, the family moved to Terre Haute, which was home to a sizeable and active Syrian community. Helen Corey's political career began in 1948 when she worked as the secretary to the city's longest serving mayor, Ralph Tucker. She would hold that position until 1961.
This job provided her a platform and the connections needed to become active in the Indiana Democratic Party. In 1956, Corey directed the speaker's bureau of the Indiana Democratic State Central Committee, and in 1959, she was voted Indiana's Outstanding Young Democratic Woman. On Oct. 25, 1960, she was part of Vigo County's welcoming committee for then Senator John F. Kennedy, the Democratic Party's candidate for U.S. President. As a Young Democratic National Committeewoman, she was chosen to greet the "Kennedy Caravan" as it motored its way through Indiana and Illinois. She was also elected Indiana's Young Democrat National Committeewoman and represented the state at the 1960 Democratic National Convention in Los Angeles.
In 1963, she was appointed executive secretary of the state's Commission on the Status of Women. The next year, she won the Democratic Party's nomination to run for office and then Indiana voters elected Corey the 23rd Reporter of the Indiana Supreme and Appellate Courts. She received 1,110,390 votes, enough to unseat incumbent Recorder Virginia Caylor, who got 920,168 votes. Her salary that year was $12,500.
When Helen Corey stood for reelection in 1968, she campaigned hard, giving four speeches a day and traveling over 3,000 miles throughout the state to ask for Hoosiers' votes. But with the exception of Democratic U.S. Senator Birch Bayh, Republicans dominated statewide offices that year. Helen Corey's opponent, Marilou Wertzler, got 1,067,357 votes. Corey received 925,616.
Despite the loss, Helen Corey remained active in Democratic Party politics, continuing to encourage women to become politically active. She served as organizer for the National Association of Arab Americans in the 1970s, and she also opened an advertising specialties/promotional item business. But her real passion, one she had pursued even as an elected official, was Syrian-Lebanese and later Arab cooking. Her Art of Syrian Cookery (Doubleday, 1962) is a classic cookbook, and she self-published two more books later. Helen Corey eventually retired and moved back to Terre Haute, where she still resided as of 2022.
Sources
Curtis IV, Edward E.. Helen Corey: Politician, Leader, Food Ambassador, Arab Indianapolis. January 1st 2021. Accessed February 9th 2022. https://arabindianapolis.com/helen-corey-politician-leader-food-ambassador/.