Trips for Kids Mural
Introduction
From the greenway, walk up 15th Street to the intersection with N. Davidson. Cross carefully. This is a very important early mural. Also check out how it is made and notice the pallets.
Title: Trips for Kids mural
Location: 516 E. 15th Street
Artist: Will Puckett, Lauren Puckett
Date: 2010
Media: Acrylic paint
Artist Info: @mr_puckett, @glassaeroplane
Images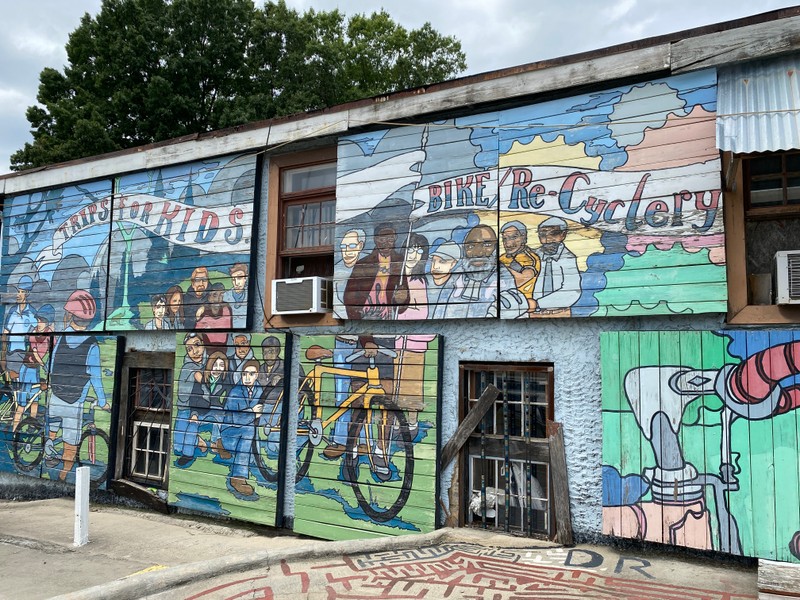 Backstory and Context
Story:  Look at that date. This one is an oldie but goodie. Will Puckett is one of the original artists painting murals in Charlotte. Maybe the first. Puckett did early work adding iconic murals to places in NoDa like the Neighborhood Theatre and Jack Beagles. For this mural, he worked with Trips for Kids, a non-profit organization, providing cycling experiences for underserved youth. The mural project was funded with a grant from the Arts & Science Council. 
Key Formal Elements:
·     Heavy use of outline
·     Cool colors of sky and green grass
Make the Connection: Puckett and his wife built the pallets and installed them on the side of the building. Then he outlined the entire composition in paint-by number form and on April 16, 2010, community volunteers came and painted the mural. 
This is such an early mural in Charlotte's mural history. It's great to see early work that still remains.