Threading Through mural
Introduction
Head down to the greenway and take time to stop at the mural located in the tunnel underpass at Parkwood Avenue. It's so bright and cheery and you'll want to see all the fun creatures on the wall.
Title: "Threading Through"
Location: Little Sugar Creek Greenway Parkwood Tunnel
Artists: Doris Kapner, Laurie Smithwick
Date: 2021
Media: Acrylic paint
Artist Info: @doriskapner, @lauriesmithwick
Images
Threading Through Tunnel mural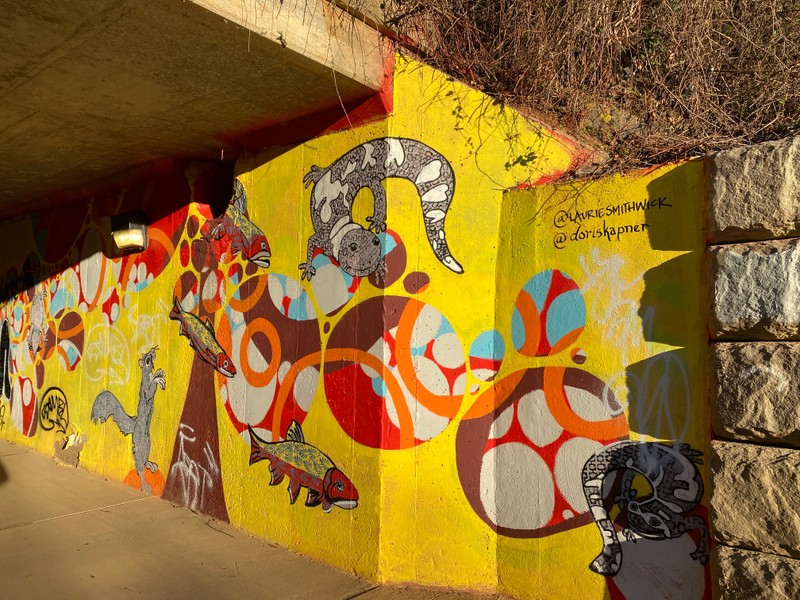 Backstory and Context
Story: This mural is part of an AARP Community Challenge Grant awarded to Brand the Moth in partnership with ArtWalksCLT. Working with Park and Recreation, this tunnel site was chosen as a way to brighten the experience of walkers, runners, bikers and all using the neighborhood greenway. Local artists Doris Kapner and Laurie Smithwick designed the mural in a 'coloring book" fashion so that community members could paint the mural during a Community Paint Day. Over 60 people came and helped to paint the circles on the mural.
Key Formal Elements:
·     Implied motion of the flow of circles
·     Use of outline around the animals
Make the Connection: This combination of abstract geometric circles and realistic animals delights the eye and brings color and play to your experience in the greenway. Sunny, energetic yellow greets you at both ends while over-sized animals invite you to celebrate the nature of our greenways. The grey squirrel, opossum, marbled salamander and red cardinal are all North Carolina state symbols. Find the turtle and then be on the lookout in the creek for them. This 100-foot-long mural represents the people, communities and nature that "threads through" our wonderful greenway.