Advent Co-Working mural
Introduction
From the Innovation Bar, continue walking down Otts Street and then look to your left and you will see the Paper Plane Deli. Artist Nico Amortegui has murals in lots of areas of Charlotte and this is one of his Black and white murals.
Title: Advent Co-Working mural
Location: 933 Louise Avenue
Artist: Nico Amortegui
Date: 2020
Media: Acrylic paint
Artist Info: @nico_malo1
Images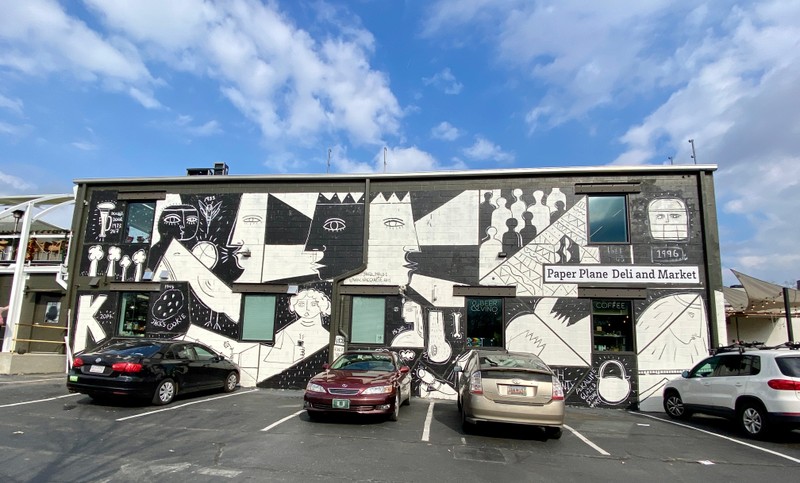 Backstory and Context
Story: During the Fall of 2020, this large building-sized mural was funded in part with COVID funds and help from the NoDa neighborhood and the Belmont neighborhood. Advent Co-Working and Paper Plane Deli worked with the artist to come up with imagery for the mural. Nico Amortegui is an artist, sculptor, and muralist with early murals in Charlotte in NoDa and the Elizabeth neighborhoods. His abstract, Cubism-inspired work is easy to recognize around town.
Key Formal Elements:
·     Heavy use of outline
·     Limited palette of Black and white
Make the Connection: History abounds in the mural so let's take a look. Scattered around the mural are dates and clues around important events in the history of Charlotte. If you know one or two, tag us in an Instagram post. For example, find the 1985 date and the hornet for a reference to the then new NBA Charlotte Hornets. At the top center of the mural Amortegui paints a Black and white profile with a crown as a reference to the missed heritage of Queen Charlotte. Have fun figuring out all of the references!