Louise Cotton Bunny sculpture
Introduction
Halfway down the building, you will find a super fun sculpture that helps us remember to recycle. Make sure you get close enough to see all of the items used to make the sculpture.
Title: "Louise Cotton Bunny"
Location: 932 Seigle Avenue
Artist: Amy Hart
Date: 2021
Media: Scrap metal, found items, mixed media
Artist Info: @amyhart0224
Images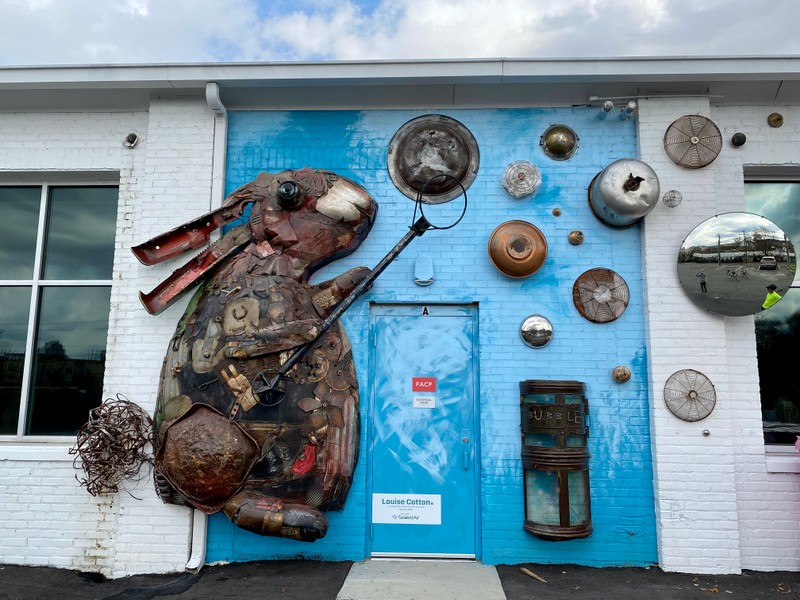 Backstory and Context
Story: This is the second artwork installed at the Innovation Barn and you will want to touch the art for this one. Amy Hart is a "found object sculptor." She has a BFA from Syracuse University in Surface Design and Metalsmithing and has sculptures on our South End ArtWalk and in the Matthews area. Working with all types of found objects and lots of welding, it took the artist about 5 weeks to complete this sculpture.
Key Formal Elements:
·     Variety
·     Texture
Make the Connection: The name "Louise Cotton Bunny" was voted on by the community and honors the name of the original Louise Cotton Mill in the community. TRASH TIP: The Bunny is blowing air bubbles, note the bubble wand made of a basketball hoop, to raise awareness that you can-not put bubble wrap in your curb-side recycling. But rather the Innovation Barn accepts your bubble wrap and recycles it with the original manufacturer.