Gaia mural
Introduction
Once you pass under the railroad underpass, you will see the next brightly colored mural on the side of the Innovation Barn. The artists of this mural are much loved in Charlotte and are know for their positive energy.
Title: "Gaia"
Location: 932 Seigle Avenue
Artist: Ann Duarte and Sydney Duarte
Date: 2020
Media: Acrylic paint
Artist Info: @duartedesigns, @travelinggypsy
Images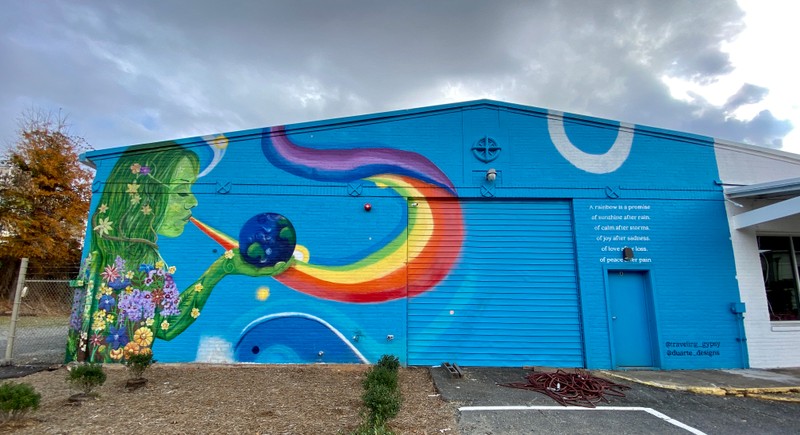 Backstory and Context
Story: The Innovation Barn is a cool facility that is part of the Envision Charlotte program to create a more competitive, sustainable, and impactful community. It has programs to showcase circular economies, a café, teaching kitchen, composting center and lots more. Ann Duarte and Sydney Duarte are a mother and daughter artist team with murals on our uptown, NoDa, and Plaza-Midwood Artwalks. Their fun, interactive murals with messages of positivity and love are adored all over the city of Charlotte.
Key Formal Elements:
·     Visible spectrum colors in the rainbow
·     Asymmetrical balance
Make the Connection: Duarte Designs celebrates our planet with a figure of Gaia, the Greek mythological goddess of the earth. Covered in flowers, leaves, and stems, she creates the rainbow flowing across the wall. The artists believe in taking care of our planet and invite you to see all of the color and beauty of our world.