Nesting Doll mural
Introduction
This is a little bit of a walk but work it. Turn left on Pegram and then walk to Kennon. Follow Kennon to Hawthorne. This is a very unique mural with nesting dolls and it is by Matt Hooker, one of the early mural artists in Charlotte.
Location: 1425 Kennon Street
Artist: Matt Hooker
Date: 2020
Media: Acrylic paint
Artist Info: @hookermedia
Images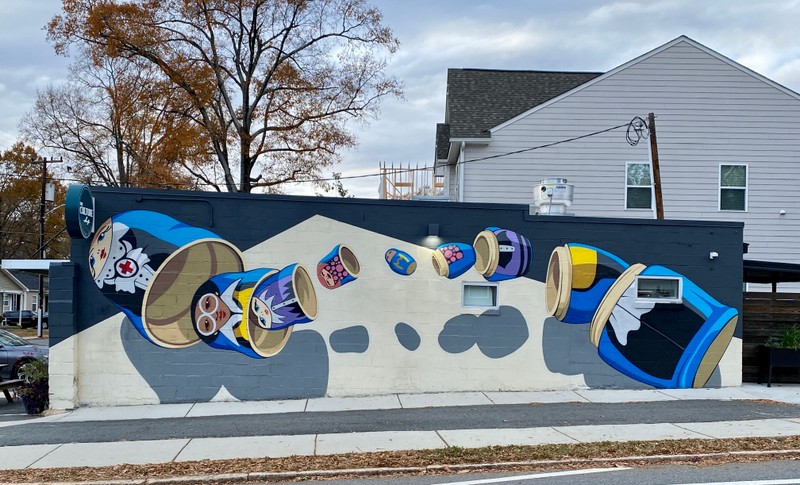 Backstory and Context
Story: Sometimes the fantastic mural duo of Matt Hooker and Matt Moore will work solo. In this mural for the Culture Shop, Matt Hooker paints a fun, and completely original mural of Russian nesting dolls floating across the wall. 
Key Formal Elements:
·     Implied motion
·     Outline
Make the Connection: Have you ever seen a mural of Russian nesting dolls? That is a very specific design, but Hooker thought it would be fun way to highlight a few important women in history. From left to right, Clara Barton, Shirley Jackson, Nellie Bly, and Yoyoi Kusama are depicted. Each of these are pioneering women and worth a google search. Personal pick is Kusama and her art-filled world of innovative installations. What women would you put on a mural if you were an artist?
Also, cross the street to see the traffic-calming mural by Darion Fleming. Commissioned by Open Streets, Fleming's fish anchors the curve and is meant to slow traffic at this intersection.