Opening Night Sculpture
Introduction
This is the first artwork on the "Threading Through" Greenway Trail. It is located at the corner of North Davidson and Parkwood Avenues and it stands at the gateway to Cordelia Park.
Images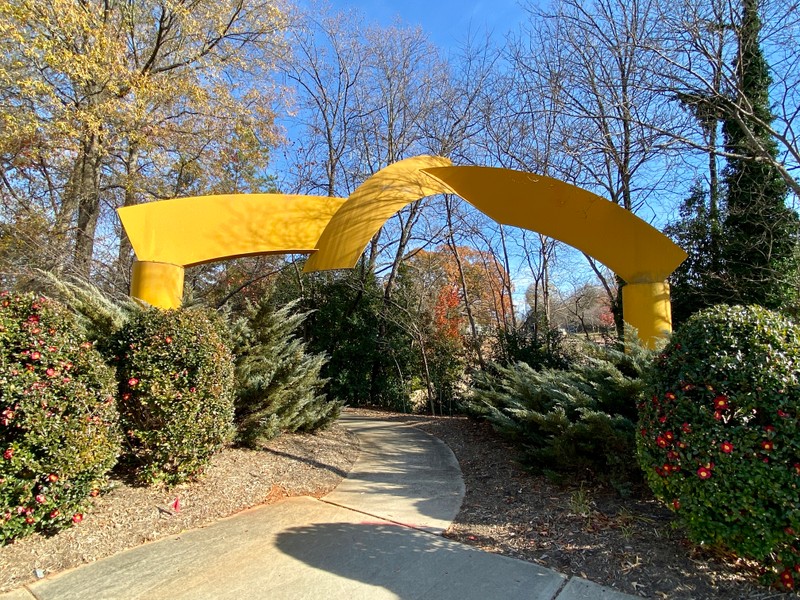 Backstory and Context
Story: Oh boy, does this have a story. So way back in 1991 this sculpture was funded as part of the City of Charlotte's Percent for Art program. The artist was paid $15,000 for his large, three-piece archway sculpture installed originally at the front entrance of Spirit Square on Tryon Street. By 1999, there was a push to move it as folks wanted a more-lively Tryon Street. As the neighborhood of NoDa was becoming an arts destination and Cordelia Park was recently approved, the entrance of Cordelia Park seemed like a great spot for a gateway piece. And so on a quiet Sunday morning, it moved across town.
Many thanks to Charlotte's favorite historian Tom Hanchett for help with this research. 
Key Formal Elements:
·     Free-standing sculpture
·     Negative space of the area under the top ribbon
Make the Connection: The original intent of the artist was that the archway represented the curtain rising up on opening night thus connecting the abstract sculpture to its original place in front of Spirit Square. In its different location, can it still be seen with the same intent? Is the curtain raising on the NoDa arts district? With it's performing arts venues, galleries, and incredible murals, NoDa is the arts neighborhood of Charlotte so perhaps the sculpture has found its forever home.