Tygart Valley Homestead Marker
Introduction
Located along US 219 in Randolph County, West Virginia, is a historical marker to designate the area where the Tygart Valley Homestead was built in Great Depression-era West Virginia. During this time, families moved to housing along this area of land whenever they became too deep in poverty to live in their own homes. Most of them came here after they had lost everything. This area lies within the Rich and Cheat mountains (about 10 miles south of Elkins) and was made up of three small surrounding communities - Dailey, East Dailey, and Valley Bend. Over the years, there have been many moves to preserve this community. In 2001, the Tygart Valley Homestead Association was formed to help this goal of preserving such a historical landmark.
Images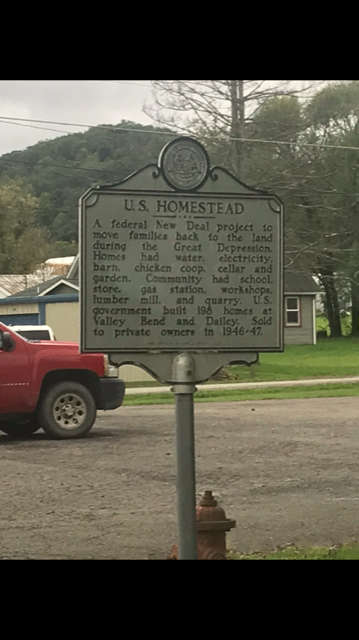 Backstory and Context
The Tygart Valley Homestead is an area located in Randolph County, West Virginia in the small town of Dailey, about ten miles south of the county seat of Elkins. This area assisted those who had been impacted the most by the effects of the Great Depression in the state by providing the proper housing, appliances, and living services to those who had lost everything in this dark time in history. These houses were built across 2,500 acres of farmland on Route 219 between the Rich and Cheat mountains and consisted of three small communities of houses, which were Dailey, East Dailey, and Valley Bend.
In the 1930's, the Great Depression hit West Virginia hard. The effects of the Depression left hundreds of thousands across the state unemployed, homeless, and famished. In 1933, the Federal Subsistence Homestead Division was established by the Roosevelt Administration under strong encouragement from First Lady Eleanor Roosevelt. This group helped to develop self-sustaining communities for people who had been hit the hardest from the effects of the time period. Three of those that were developed in West Virginia were the Tygart Valley Homestead in Randolph County, Eleanor in Putnam County, and Arthurdale in Preston County.
One of the most recent accounts of how the area was laid out comes from Beth Kittle, who was ten years old when she and her family moved into one of the houses on this homestead. Prior to this, she and her family had moved from Pittsburgh to live with her grandmother in the town of Montrose in Tucker County. She discusses in the article below how her father had lost his job on the railroad and how they had lost all of the furniture in their house because of it.
Kittle recalls how she had first lived with her grandmother in a brief stint before moving to the homestead site. She said that she had received a letter from her brother, who was already there with the rest of her family, and he said that the homes provided machines that made ice cubes. Prior to moving to the site, she had never heard of this machine called 'refrigerator', but was excited to see what it was and how it worked once she was able to move into the house.
In 2001, the Tygart Valley Homestead Association was formed to help preserve these sites in each of the three communities. It is an association that is available to anyone and everyone who is interested in preserving these sites and others like it for a monthly membership fee.
Sources
Roberts, Kathy. "Tygart Valley Homestead: New Deal Communities in Randolph County." Tygart Valley Homestead, WV Culture, 2018, www.wvculture.org/goldenseal/summer05/tygart.html.

Tygart Valley Homestead Association. October 19, 2018. Accessed November 03, 2018. https://www.tygartvalleyhomesteadassociation.com/.


Additional Information