Confederate Memorial (Romney, WV)
Introduction
The Confederate Memorial is located in Romney, West Virginia and is said to be one of the first Confederate monuments constructed after the Civil War. This memorial was built in large part due to the efforts of the Confederate Memorial Association, which wanted to honor the soldiers from Hampshire County. The memorial has been so significant to the local community that it led to the establishment of Hampshire County Confederate Memorial Day, which is held on June 1st every year.
Images
A picture of the Confederate Memorial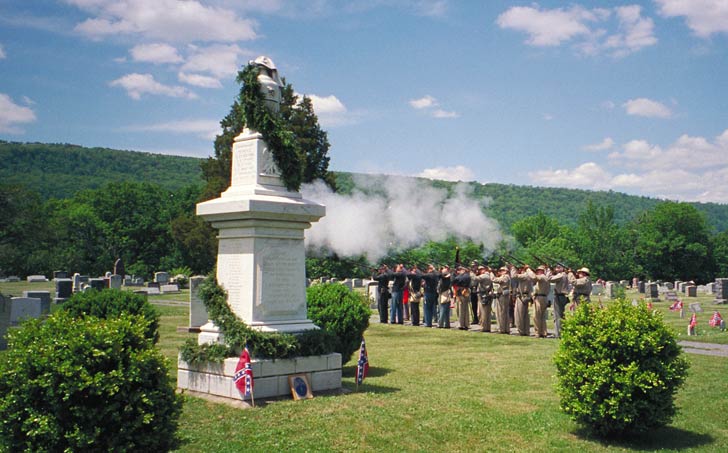 A sign with a brief description of the memorial.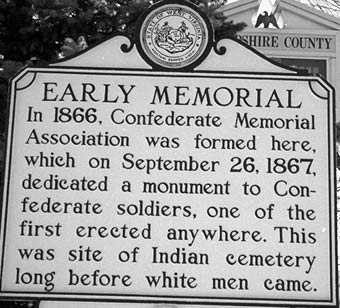 Confederate Monument in Romney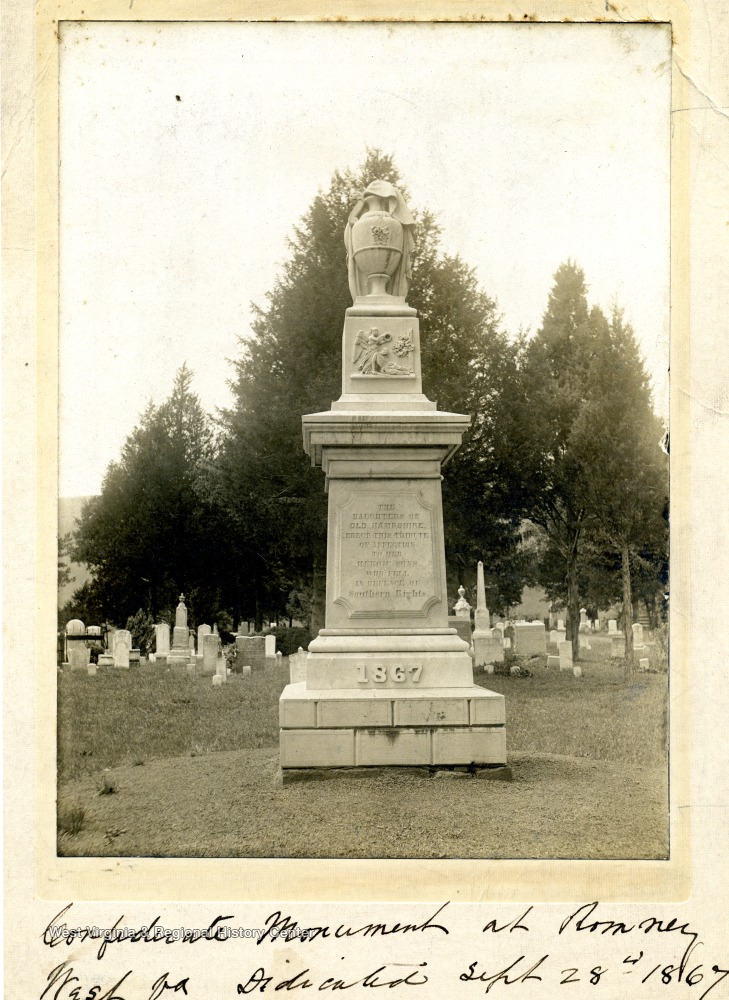 Backstory and Context
Despite West Virginia being officially pro-Union during the Civil War, Hampshire County in West Virginia was largely supportive of the Confederacy. Upon the defeat of the Confederate States of America in 1865, the Confederate Memorial Association decided that they would create a memorial in honor of the fallen Confederate soldiers. Risking the wrath of the Union authorities, the Confederate Memorial Association went to Romney and decorated the Confederate graves despite the fact that West Virginia's state constitution had disenfranchised those veterans.
The creation of the memorial itself faced several difficulties. The Confederate Memorial Association had to put on several small fundraising projects on to raise money for the memorial. They hosted events such as fairs and sewing circles to raise money. Once the money had been raised, construction of the monument, which was done in Baltimore, had an obstacle to overcome as well. The Gaddes Brothers Firm, which was commissioned to make the memorial, refused to inscript the phrase "Southern Rights" onto the monument. It was later secretly added before being shipped to Romney in 1866. Inscribed on the monument are the names of 125 soldiers: four captains, seven lieutenants, three sergeants, and 119 privates. The monument had to go through a restoration in 1984 due to weathering over the years.
Besides being a reminder for the fallen soldiers, the memorial has had a significant impact on the local area. Hampshire County Confederate Memorial Day is, and has been since June 1, 1866, a tradition in which the graves are decorated and honored by the community. Romney claims this is the first Confederate Memorial, but Cheraw, South Carolina disputes this claim because they built their memorial two months before Romney. It should be noted that their memorial lacks the words, "Confederacy", "Confederate", and "Southern.".
Sources
Brannon, Selden W. (1976). Historic Hampshire: A Symposium of Hampshire County and Its People, Past and Present. Parsons, West Virginia: McClain Printing Company. ISBN 978-0-87012-236-1. OCLC 3121468. Retrieved October 17, 2014.
The Confederate Memorial. (n.d.). Retrieved October 17, 2014, from http://www.historichampshire.org/civilwar/confed.htm Welcome to the Official Site of Hampshire County, West Virginia
History of Hampshire County. (n.d.). Retrieved October 17, 2014, from http://www.hampshirewv.com/biography.html
Image Sources
West Virginia & Regional History Center, https://wvhistoryonview.org/catalog/038359

Additional Information