Highbridge Water Tower
Introduction
The tower in High Bridge Park near the west end of High Bridge was built in 1872 as part of the Croton Water System that brought fresh water to Manhattan. It was the first water tower to be built in Manhattan as part of this system and the only tower that survives. The octagonal structure is made of rough-cut stone and is almost 400 feet above the high water level of the nearby Harlem River. The Highbridge Water Tower stopped being used for the water supply system in 1949 and a carillon was installed in the belfry in 1958. The tower became a New York City Landmark in 1967 and was listed in the National Register of Historic Places in 1972. The tower was renovated in 1989 to 1990 and was closed again for renovations around 2011, but reopened for scheduled tours beginning in November 2021.
Images
Highbridge Water Tower and pool in High Bridge Park in 2018 photo (NYS CRIS)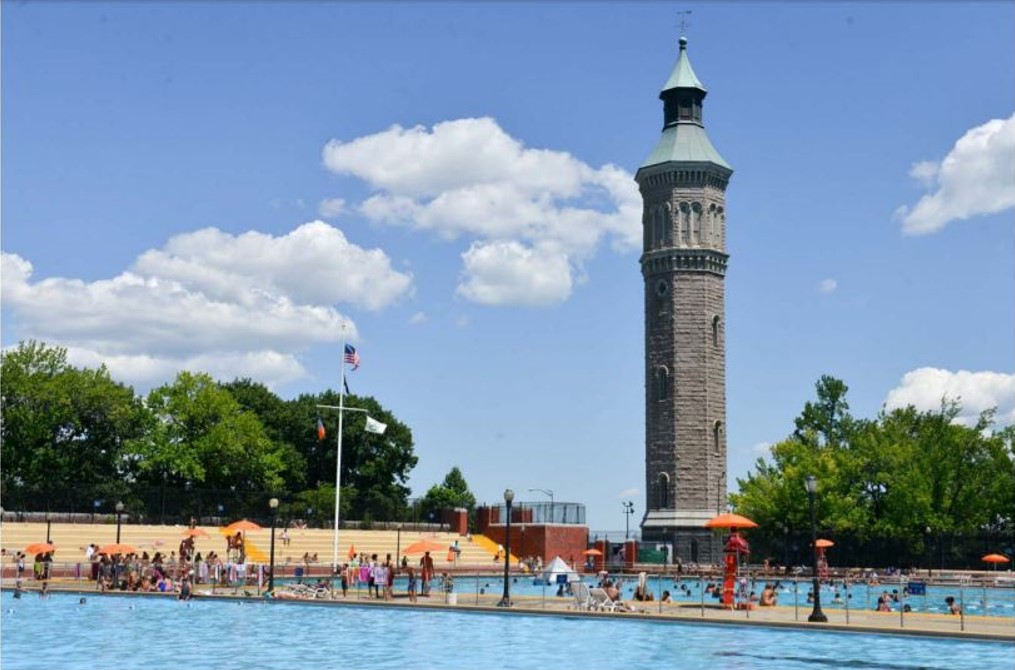 Highbridge Water Tower (red arrow) in High Bridge Park on 1894 Bromley map (p. 44)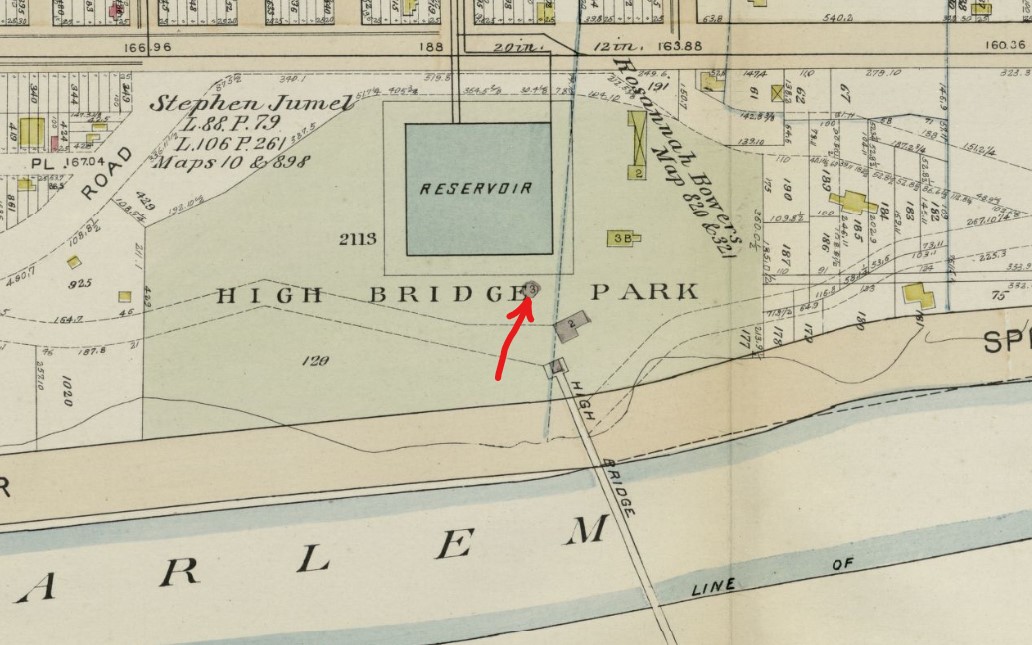 Backstory and Context
There are about 220 steps inside the Romanesque Revival style, stone water tower. The arched doorway is topped by a massive horseshoe arch. The octagonal shaft is topped by a belfry covered by a conical roof below a lantern, spire, and weather vane. The tower was used to equalize water pressure of the water flowing in the aqueduct under High Bridge from the Bronx into Manhattan. The tower served as a power booster for the neighborhood water supply and as far south as the Murray Hill neighborhood in Manhattan. The original design included a stand pipe and iron tank that could hold 47,000 gallons. Nearby was a 7-acre reservoir.
The reservoir near the tower was turned over to the New York City Parks Department in 1934 and made into an outdoor swimming pool by a Works Progress Administration (WPA) project. The swimming pool and a recreation center opened in 1936. The tower was disconnected from the water supply system in 1949. A five-octave carillon was installed in the belfry and dedicated on May 30th 1958 to the late Benjamin Altman, a merchant, patron of the arts, and philanthropist.
The swimming pool is still operating in High Bridge Park. High Bridge - rebuilt in 1928 to replace multiple arches with a single span - is open to pedestrian traffic only between the Bronx and Manhattan. The bridge was closed for decades until it was renovated and reopened in 2005 (virtually walk across the bridge, along a hiking trail in the park, and up the steps in the hillside to the base of the water tower in the attached YouTube video). The water tower had been closed for renovations for a decade, but work was finished and a ribbon-cutting ceremony was held in late October 2021. Restoration reportedly cost $5 million, with repairs made to the roof, spiral cast iron staircase, wooden handrails, and flooring. New windows were installed, as well as window guards and new interior lighting.
New York City Parks Urban Park Rangers began offering free tours of the water tower in November 2021; the first tour is scheduled for November 13th from 1 to 2pm (registration is required - link is below). The tower is closed to public access at other times.
Sources
Clark, Roger. Highbridge Water Tower Restored and Open for Tours, Spectrum News NY1. October 27th 2021. Accessed November 9th 2021. https://www.ny1.com/nyc/all-boroughs/news/2021/10/27/a-visit-to-the-highbridge-water-tower.
New York City Landmarks Preservation Commission. Water Tower, High bridge Park opposite Amsterdam Ave. at West 173rd St., Meeting Minutes, July 12, 1967, No. 5, LP-0319. July 12th 1967. Accessed November 9th 2021.
Rahmanan, Anna. You can tour this historic NYC tower for the first time in a decade, Time Out New York. October 29th 2021. Accessed November 9th 2021. https://www.timeout.com/newyork/news/you-can-tour-this-historic-nyc-tower-for-the-first-time-in-a-decade-102821.
Washington Heights NYC. Highbridge Pool and Recreation Center, Washington Heights NYC. Blog.. Accessed November 9th 2021. http://www.washington-heights.us/highbridge-pool-and-recreation-center/.
Watral, Justin. The Highbridge Water Tower Highbridge Park Washington Heights, NYC 10022, Visiting a Museum: The Unique, Unusual, Obscure and Historical. April 17th 2020. Accessed November 6th 2021. https://visitingamuseum.com/2020/04/17/the-highbridge-water-tower-highbridge-park-washington-heights-nyc/.
Image Sources
New York State Cultural Resource Information System (NYS CRIS): https://cris.parks.ny.gov/

Library of Congress (LOC): https://www.loc.gov/item/2010587355/

Additional Information