Nell Donnelly Reed, The Donnelly Garment Company
Introduction
This building on Kansas City's Walnut Street was the headquarters of Nell Donnelly Reed's garment empire which became the largest manufacturer of women's dresses in the United States. A former worker in the garment industry, Reed built and grew her business from the early to mid-1900s by offering a variety of styles of women's clothing that were unique and form-flattering. Nell Donnelly was able to expand her company through a mixture of shrewd business practices and innovative designs. Known today for her opposition to organized labor, she also created fashionable designs for women of all sizes at lower prices than her competitors as her company pioneered new techniques in assembly-line production. While Nell Donnelly Reed was a successful entrepreneur who exhibited creativity and business savvy, she was also criticized by some who hoped a woman-led company would create more opportunities for unionization of the garment industry. At the same time, the Donnelly Garment Company offered numerous unique benefits for workers such as tuition support and family scholarships. After her retirement and subsequent sale of her company, Nell Donnelly Reed supported several community organizations and philanthropy, including the donation of over seven hundred acres to build a wildlife conservation area named in honor of her late second husband, former Senator James Reed.
Images
A portrait of Nell Donnelly Reed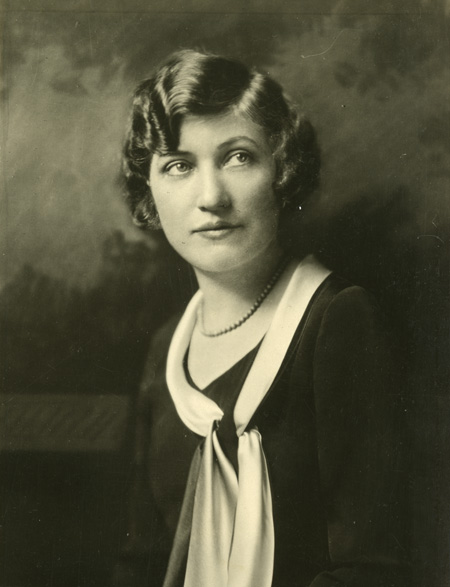 A view of the rear and side of the building from the southeast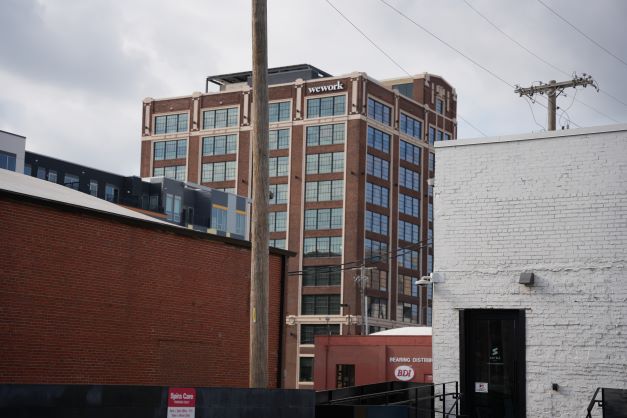 Backstory and Context
Ellen Quinlan, later known as Nell Donnelly Reed, was born on March 6, 1889, in Parsons, Kansas. One of thirteen children in a family headed by an Irish immigrant who worked on the railroad, young Ellen learned quickly that her skill with a needle and thread could help her family. Ellen Quinlan moved to Kansas City in the early 1900s with her first husband, Paul Donnelly. Disappointed with the options that were available for women in the garment industry, Nell Donnelly decided to create her own business.
In 1916, The Donnelly Garment Company was born and soon earned a reputation for providing women with affordable clothing options that were ready-made and flattering. Her business grew quickly owing to her business acumen, and by the early 1930s, the Donnelly Garment Company had more than 1,000 employees and brought in millions of dollars in sales.
Donnelly divorced her first husband and married, James A. Reed, a former U.S. senator and a former mayor of Kansas City. The marriage was a high-profile event, made even more so after their adopted son was the victim of a high-profile kidnapping just as her business was growing, In later years, a family member revealed that Donnelly and Reed's son was their own as the boy was born out of wedlock Nell Donnelly was still married to her first husband, Paul Donnelly. Had this information been publicly known, along with the couple's decision to hide Donnelly's pregnancy and arrange to later adopt their own son would have been one of the largest scandals in Kansas City's history. Instead, Reed likely used his connections to the Pendergast Machine to call upon Johnny Lazia, also a member of organized crime, to assist with the search for their child. Within two days of her kidnapping, the child was located and brought safely home. The story was headline news in Kansas City for days, bringing more attention to the already prominent garment company owner. A year later, she and Paul Donnelly divorced, most likely due to an affair between Nell and James A. Reed, which had been ongoing prior to the kidnapping. To assure her control of the company she created, Nell purchased her former husband's share of the garment company after the divorce.
In 1933, Nell and James A. Reed were married. The marriage boosted Nell's community prominence and provided her more connections. Although she implemented innovative assembly-line practices in her garment company, she also earned a reputation for using this innovation to speed up the pace of work and was also known for low pay and poor working conditions.
At a time when garment workers were unionizing, Nell Donnely was one of the strongest opponents of the International Ladies Garment Workers Union (ILGWU). From the perspective of union leaders, Donnelly used strongarm tactics to prevent any of her workers from joining a union. While her opposition to organized labor led to criticism, she was a wealthy woman when she announced her retirement in 1956. She sold the Donnelly Garment Company which was renamed Nelly Don, Inc. Nell's exit from the industry was well-timed as the garment industry in Kansas City dwindled in the next two decades, reflecting national and global changes to the industry. Nelly Don, Inc. filed for bankruptcy in 1978. Although the company no longer exists, the building where Nell Donnelly's company was located still stands at 1828 Walnut Street in Kansas City, Missouri.
After her retirement, Nell and her husband contributed to the Kansas City community. The James A. Reed Memorial Wildlife Area was developed on hundreds of acres of land that Nell donated to the Missouri Department of Conservation. She also served on multiple boards, including for the Kansas City Art Institute and the Starlight Theatre. On September 8, 1991, at the age of 102, Nell passed away. Although her personal and professional life had their share of controversy, Nell Donnelly Reed was unquestionably one of the most influential Kansas Citians of the 20th century and an astute businesswoman and innovator in the garment industry.
Sources
Aycock, Rebekah . Nell Donnelly Reed, The Pendergast Years. Accessed January 10th 2022. https://pendergastkc.org/article/biography/nell-donnelly-reed.
Donnelly Garment Company, The Pendergast Years. Accessed January 10th 2022. https://pendergastkc.org/local-subjects/donnelly-garment-company.
Hill, Kate. Nelly Gone: KCQ Traces the Kidnapping of Nell Donnelly, The Kansas City Public Library. October 20th 2021. Accessed January 10th 2022. https://kclibrary.org/blog/nelly-gone-kcq-traces-kidnapping-nell-donnelly.
Nell Donnelly Reed, Historic Missourians. Accessed January 10th 2022. https://historicmissourians.shsmo.org/nell-donnelly-reed.
Nelly Don by The Donnelly Garment Company, Kansas City, Missouri, University of Missouri. Accessed January 10th 2022. https://mhctc.missouri.edu/collection/nelly-don/.
Roe, Jason. Kidnapping of Nell Donnelly, The Pendergast Years. Accessed January 10th 2022. https://pendergastkc.org/article/events/kidnapping-nell-donnelly.
Strange Bedfellows, The Kansas City Public Library. Accessed January 10th 2022. https://kchistory.org/week-kansas-city-history/strange-bedfellows.
Image Sources
The State Historical Society of Missouri, Ellen "Nell" Quinlan Donnelly Reed Papers, 1919-1972: https://historicmissourians.shsmo.org/nell-donnelly-reed

Photo by David Trowbridge

Additional Information