Kansas City Young Matrons House
Introduction
Organized in 1917, and incorporated in 1921, the Kansas City Young Matrons is an organization that was originally for young, married women to conduct philanthropic work. The club began with just over 30 members and now boasts over 300. Throughout the year, members of KCYM contribute their time to volunteer hours around the community, and every two years they host The Magic Ball to raise funds for a specific philanthropic project.
Images
Kansas City Young Matrons House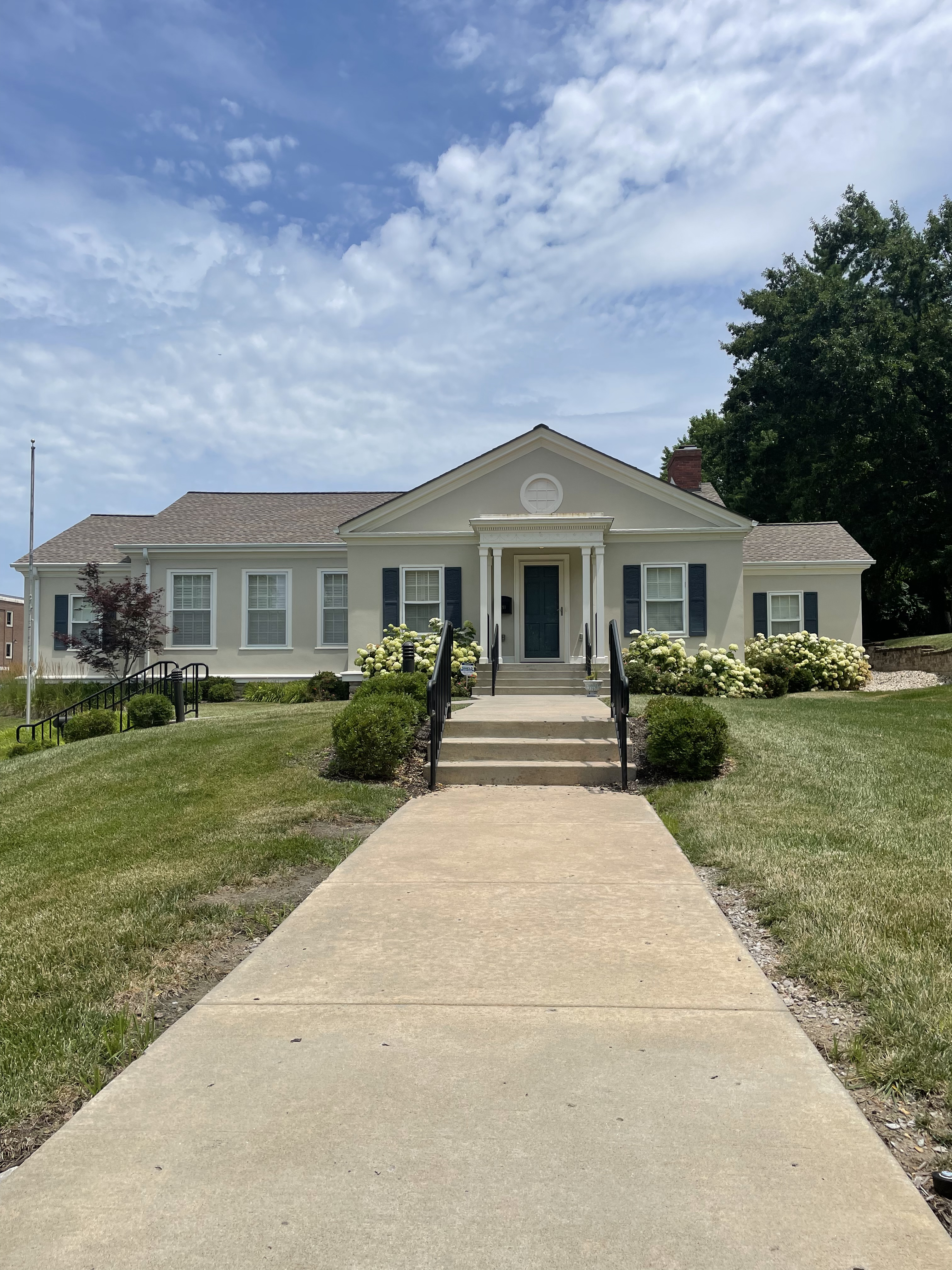 This historical marker is located next to the headquarters along Cherry Street .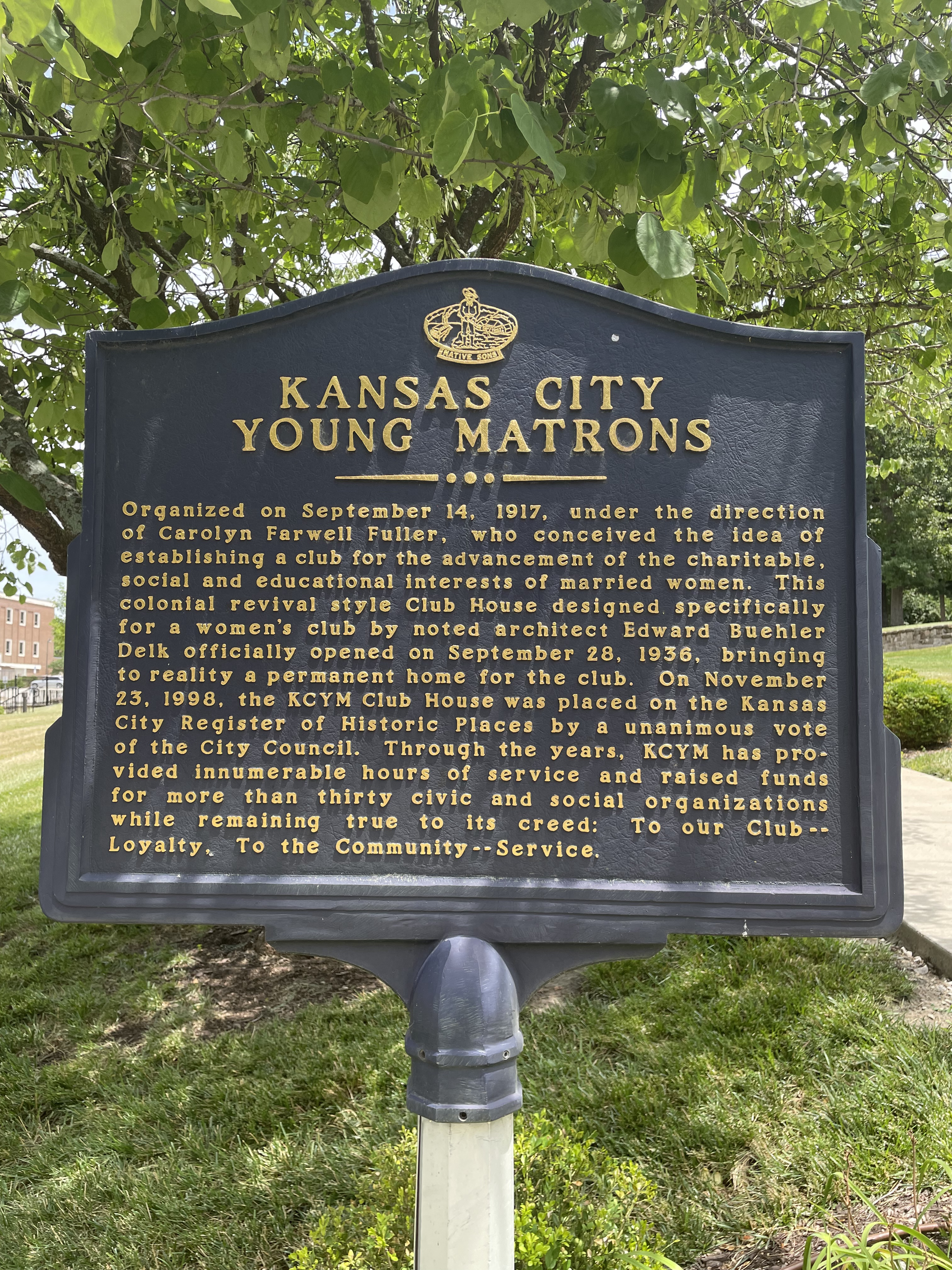 Backstory and Context
"To our Club-Loyalty; To the Community-Service."1
The idea for the Kansas City Young Matrons was conceived by Carolyn Farwell Fuller, the President of the Athenaeum from 1917 to 1918. She wanted to establish a club that allowed married women the opportunity to expand their interests, especially in relation to charity and education. On September 14, 1917, the KCYM, originally known as the Kansas City Athenaeum Young Matrons, was established in the Kansas City Athenaeum Club House. However, in 1920, the club withdrew from the Athenaeum Club and was newly recognized as the Kansas City Young Matrons. By September of 1936, the club opened its own clubhouse at 51st and Oak Street in Kansas City. Throughout the years, KCYM has worked with dozens of civic and social organizations, and its members have contributed countless volunteer hours at such organizations.
In 1998, the clubhouse was listed on the Kansas City Register of Historic Places. This listing protected the clubhouse from demolition, which was highly important nearly 20 years later. In 2015, the University of Missouri-Kansas City had plans to develop a mixed-use building. Unfortunately, the placement on campus for this building would require the removal of the KCYM clubhouse. Due to its historic status, it could not be demolished. Instead, the building was relocated just a short distance away and was placed at 52nd and Cherry Street, where it is still located today. The movement of the building and its renovation and addition was completed by NSPJ Architects. Although this company does not normally conduct building relocations, they were happy to oblige for the KCYM house.
KCYM still provides extensive philanthropic service, from volunteer hours by members to raising funds for worthy causes. Their biennial event, The Magic Ball, is a formal gala that raises significant funds for a specified philanthropic organization or project, which changes each time the gala is hosted. Through their intervention, KCYM provides beneficial services for the good of the community, thus perpetuating the organization's century-plus legacy of service to Kansas City.
Sources
About, Kansas City Young Matrons. Accessed April 6th 2022. https://kcym.com/about/.
"Moving Day" for an Historic Building, NSPJ Architects. Accessed April 6th 2022. https://nspjarch.com/moving-day-for-an-historic-building/.
Image Sources
Photo by David Trowbridge

Photo by David Trowbridge

Additional Information