Gershwin Family Residence
Introduction
The Gershwin Family Residence is a historical building in New York City which was home to composer George Gershwin and lyricist Ira Gershwin, along with other Gershwin family members, from 1925 to 1931. The building is commemorated with a marker that was erected in 1982 by the 102 and 103 Streets Block Association. The inscription reads, "George Gershwin - composer and Ira Gershwin - lyricist created many memorable works here". George and Ira Gershwin are remembered and celebrated as songwriters who defined the Jazz Age. George Gershwin is widely renowned for his orchestral compositions including Rhapsody in Blue (1924), An American in Paris (1928), Swanee (1919), Fascinating Rhythm (1924), I Got Rhythm (1930), and the opera Porgy and Bess (1935). (1)(2)
Images
The original doorway at parlor level is now a window and an awkwardly-angled marquee leads to the entrance below street level -- photo by Alice Lum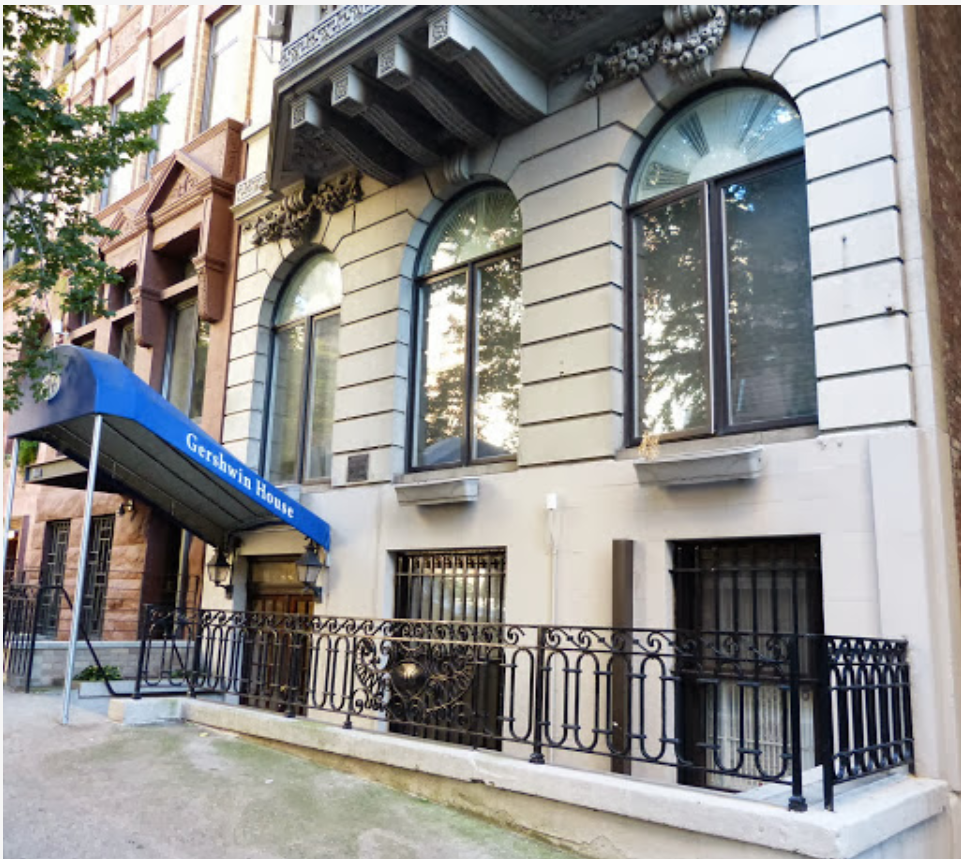 Backstory and Context
George Gershwin purchased this house in 1925 when he was 28 and left the house not long after, in 1929. After purchasing the house, the building became home to George, his brother Ira, and the extended Gershwin family (including Rose, Morris, Arthur, Frances, and Leonore). The family divided the house roughly by floor, with George taking the top floor as a studio, office, and living space. At the time of purchasing the house, George Gershwin had recently returned from Paris (this trip later inspired his orchestral piece, An American in Paris). At this time, George Gershwin was beginning to receive recognition for his work but was still several years away from his peak fame and acclaim (3). George had two grand pianos brought to this house to continue his work during the years he lived here. After finding success with musicals Strike up the Band and Funny Face the brothers moved out and left their family to the 103rd St. house in 1929 (3).
Though their stay at this house was short-lived, the years saw George and Ira complete some of their most impressive works including Oh, Kay!; An American in Paris; Funny Face; and Strike up the Band.
Oh, Kay! featured music by George and lyrics by Ira and opened on Broadway in 1926 (4). An American in Paris is a jazz-influenced orchestral piece that was inspired by George's visit to Paris in the mid 1920s (9). The song was later inspiration for the 1951 classic film of the same name starring Gene Kelly (10). The classic musical comedy, Funny Face, opened on November 22, 1927 and starred Fred Astaire and his sister Adele (5). The 1957 movie Funny Face also stars Fred Astaire alongside Audrey Hepburn; however, the plot is unrelated to the musical for the most part and only a few of the original Gershwin songs were retained (6). Several popular songs from the musical include, "S'Wonderful", "Funny Face", "He Loves and She Loves" and "My One and Only" (8). Finally, Strike up the Band was released in 1927. It was well-received by critics but panned by audiences, perhaps owing to the plot – a frivolous war over cheese may have tread too harshly on the American psyche following the recent events of World War I (8). Strike up the Band was re-worked for a release in 1930 which went on to much more favorable reception (8). A film by the same name was released in 1940 staring Judy Garland and Mickey Rooney, though the plot is largely independent of the musical. The title song was adapted by George Gershwin to be used as the UCLA football song in 1936 (11).
The Gershwin family legacy is still felt on Broadway today. Currently, The Gershwin Theatre is the largest on Broadway with 1,933 seats and the theatre is well known as the home of Wicked (10). 
Sources
Gershwin Family Residence, Historical Marker Database. August 28th 2016. Accessed August 24th 2020. https://www.hmdb.org/m.asp?m=97257.
The Gershwin Brothers, Gershwin.com. Accessed August 24th 2020. http://gershwin.com/the-gershwin-brothers/.
Miller, Tom. The Gershwin House -- No. 316 West 103rd Street, Daytonian in Manhattan. December 25th 2013. Accessed August 24th 2020. http://daytoninmanhattan.blogspot.com/2013/12/the-gershwin-house-no-316-west-103rd.html.
Oh Kay!, Gershwin.com. Accessed August 24th 2020. http://gershwin.com/publications/oh-kay/.
Funny Face, Internet Broadway Database. Accessed August 24th 2020. https://www.ibdb.com/broadway-production/funny-face-10498#People.
Funny Face Trivia, IMDB. Accessed August 24th 2020. https://www.imdb.com/title/tt0050419/trivia?ref_=tt_ql_2.
Gershwin Blog Team. The Gershwin Initiative - The Lukewarm Reception of Funny Face, University of Michigan School of Music, Theatre, & Dance. January 15th 2019. Accessed August 24th 2020. https://smtd.umich.edu/ami/gershwin/?p=4506.
Connema, Richard . Regional Reviews: San Francisco, Talkin' Broadway. Accessed August 24th 2020. https://www.talkinbroadway.com/page/regional/sanfran/s56.html.
Schwarm, Betsy . An American in Paris, musical composition by Gershwin, Britannica. February 3rd 2017. Accessed August 24th 2020. https://www.britannica.com/topic/An-American-in-Paris-by-Gershwin.
Gershwin Theatre, Playbill. Accessed August 24th 2020. https://www.playbill.com/venue/george-gershwin-theatre-vault-0000000339.
Isenberg, Barbara . STAGE : They'll Strike Up the (Original) Band : The California Music Theatre will re-create the 1927 musical on Thursday. But it took plenty of detective work and major reconstruction of the singing and dancing., Los Angeles Times. July 31st 1988. Accessed August 24th 2020. https://www.latimes.com/archives/la-xpm-1988-07-31-ca-10780-story.html.
Image Sources
http://daytoninmanhattan.blogspot.com/2013/12/the-gershwin-house-no-316-west-103rd.html

Additional Information