Mira Lloyd Dock Historical Marker
Introduction
This historical marker is a tribute to Mira Lloyd Dock (1853-1945), social reformer and environmentalist who lived directly across from this marker at 1427 N. Front Street, Harrisburg, PA. Dock became the first woman appointed to a position in Pennsylvania state government prior to the ratification of the 19th amendment when she was appointed to the State Forestry Reservation Commission in 1901. She was also responsible for starting the 'City Beautiful' movement that produced Harrisburg's park system, improved unsanitary conditions in the city, and established other unprecedented civic improvements such as the creation of Wild Wood and Riverside Parks.
Images
Historical Marker for Mira Lloyd Dock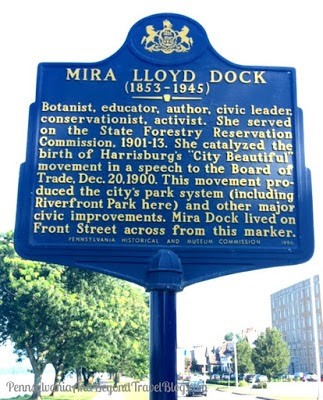 Photo of Riverside Park shortly after Dock's 'City Beautiful' movement worked to clear the area of waste and garbage.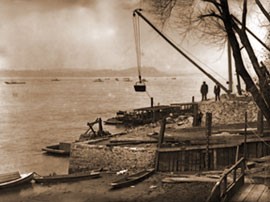 A placard located at Dock's former home that informs the visitor of her accomplishments and life story.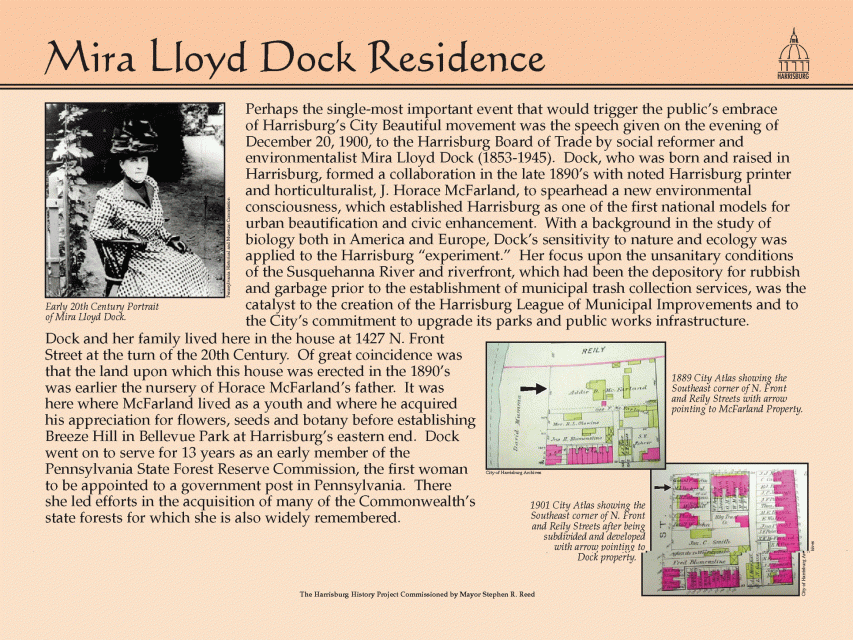 Backstory and Context
Mira Lloyd Dock was born on Christmas Day, December 25, 1853, in Harrisburg, PA to coal businessman Gerard Dock and his wife Lavinia Lloyd Bombaugh. She was home-schooled by her mother for several years before she began attending a public school in Harrisburg, eventually moving to schools in Lancaster and Media, PA. From an early age, Mira's parents avidly encouraged her to participate in outdoor activities and adventures, instilling in her a deep appreciation for nature. The passing of Mira's mother, Lavinia, and the end of the Civil War in 1865, led their entire family to relocate in order to find schooling for Mira's younger siblings. This relocation brought them back to Harrisburg, where Mira was born and where she would eventually leave a beautiful, lasting impression on the city.
Mira had always been interested in the natural world because of her parents, however she was too busy supporting her family to pursue a career in it for many years of her life. It wasn't until her father sent her on a trip to the Rocky Mountains to rejuvenate her health and spirit that she discovered her true calling- botany. Shortly after the passing of her father in 1895, she began attending the University of Michigan in pursuit of her Botany degree. Her family full heartedly supported her because they knew of the two decades of personal sacrifice that she made to care for them instead of pursuing her own passions. It is interesting to note that it was not common for women to attend college at the time of her admittance to the University of Michigan. She would eventually lecture at the State Forestry Commission in Mont Alto (Now Penn State Mont Alto Campus) from 1903 to 1929, a school she helped found by lobbying for its creation along with her professional partner J. Horace McFarlane. While at Mont Alto, she even taught from her a textbook she had written herself.
Mira Lloyd Dock held many different titles throughout her lifetime, including botanist, educator, author, civic leader, social reformer, environmentalist, conservationist, and activist. She was the founder of the Civic Club of Harrisburg and, with the help of civic reformer and businessman J. Horace McFarlane, was able to mobilize businesses and voters while completing the 'Harrisburg Plan'. The Harrisburg Plan' was a plan to construct water treatment plants, sewer lines, expand city parks, and increase recreational land use in Harrisburg, which garnered national attention and gained Dock respect and recognition in her field. Mira gave speech to Harrisburg Board of Trade on Dec. 20, 1900 that triggered the publics embrace of the City Beautiful movement. Both her speech and work focused on the current unsanitary conditions of the Harrisburg riverfront, which was historically used as a trash depository prior to the development of municipal trash collection services. The City Beautiful movement in Harrisburg, among many improvements, produced the city's park system and eventually led to a swamp being transformed into a public recreation area now known as Wildwood Park and Riverside park. Mira's newfound respect as an activist secured her an appointment to the State Forest Reservation Commission in 1901, making her the first woman appointed to a position in PA state government prior to the ratification of the 19th amendment. She would stay on this committee for 13 years, recommending land for purchase for the government to conserve, often as state or national parks. She worked on numerous other beautification projects throughout her professional life including the Susquehanna Riverfront, Niagara Falls, several state parks, and the National Park's Systems.
After stepping down from the forestry commission, Dock continued to be active in environmental causes such as education, beautification of Niagara Falls, and local women's suffrage movements. Mira's sister, Lavinia, was a celebrated nurse who help found modern nursing education and a leader of the National Women's Suffrage Movement. Together, these two sisters were among the most influential professional female civic activists of their time. Mira Lloyd Dock passed away on July 11, 1945 at the age of 91 in Cashtown, PA and was buried in her hometown of Harrisburg in the Harrisburg Cemetery.
Mira Lloyd Dock's historical marker is located at 40° 16.189′ N, 76° 53.654′ W. Harrisburg, Pennsylvania, in Dauphin County and was erected in 1996 by the Pennsylvania Historical and Museum Commission. Her marker is located at the intersection of N. Front Street and Reily Street, located directly across from Mira Dock's home at 1427 N. Front Street. This marker is also near Riverfront Park, a recreational area created by her 'City Beautiful' movement. Coincidentally, Dock's house was once owned by her colleague, J. Horace McFarlane's, father and was used by him as a green house in the years prior to her living there. J. Horace McFarlane also has a marker just down the street from his close colleague Mira Dock, both of which are located near the Women's WWI Memorial in Harrisburg.
Sources
"CPC.state.pa.us" Mira Lloyd Dock. Accessed February 10, 2020.
http://cpc.state.pa.us/history/notable/mira-lloyd-dock.cfm.
 "Mira Lloyd Dock Historical Marker." ExplorePAHistory.com. Accessed February 7,
2020. https://explorepahistory.com/hmarker.php?markerId=1-A-3C4.
 "Mira Lloyd Dock Historical Marker." Historical Marker, December 5, 2019.
https://www.hmdb.org/m.asp?m=6255
 "Mira Lloyd Dock Papers, 1879-1947 1526." Mira Lloyd Dock Papers, 1879-1947 1526.
Accessed February 14, 2020. https://www.libraries.psu.edu/findingaids/1526.htm.
Mira Lloyd Dock. Pennsylvania Conservation Heritage Project. Educator Guide.
http://paconservationheritage.org/wp- content/uploads/educator-guide-ml-dock.pdf
Rimby, Susan. "Better Housekeeping out of the Doors" Mira Lloyd Dock, the State Federation
of Pennsylvania Women, and Progressive Era Conservation. Journal of Women's
History, no. 3 (2005): 9. https://search.ebscohost.com/login.aspx?direct=true&db=edsggo&AN=edsgcl.13645639 9&site=eds-live.
Rimby, Susan 2012. Mira Lloyd Dock and the Progressive Era Conservation Movement.
University Park, Pennsylvania: Penn State University Press.
https://search.ebscohost.com/login.aspx?direct=true&db=nlebk&AN=572593&site=eds-live.
TendersInfo News. 2019. "United States: Wolf Administration Tours Mira Lloyd Dock Resource
Conservation Center, Discusses How Restore Pennsylvania Could Address Infrastructure
Needs." https://search.ebscohost.com/login.aspx?direct=true&db=edsgin&AN=edsgcl.579768750&site=eds-live.
Wilson, William H. "'More Almost Than the Men': Mira Lloyd Dock and the Beautification of
Harrisburg." Pennsylvania Magazine of History and Biography 99:4 (October 1975):
490-499.
Image Sources
http://www.pennsylvaniaandbeyondtravelbl

http://cpc.state.pa.us/history/notable/mira-lloyd-dock.cfm

http://cpc.state.pa.us/history/notable/mira-lloyd-dock.cfm

https://historicalmarkerproject.com/markers/HM3OV_mira-lloyd-dock-residence_Harrisburg-PA.html#prettyPhoto

Additional Information