Amanda Berry Smith
Introduction
Born into slavery on January 23, 1837 in Long Green, Maryland, Amanda Berry Smith was no stranger to a hard-working environment. Her father, Samuel Berry, worked for wages at night in order to gain freedom for his family. Once her father bought their family freedom, their family was able to move to a farm in York County. Even after attaining freedom, Smith was faced with many hardships. Dealing with death and oppression, she fought her way to make a name for herself. Through her faith and caring demeanor, Smith touched the lives of many.
Images
Living in a time where photographs weren't established, there aren't too many pictures depicting what Amanda Berry Smith's life entirely looked like.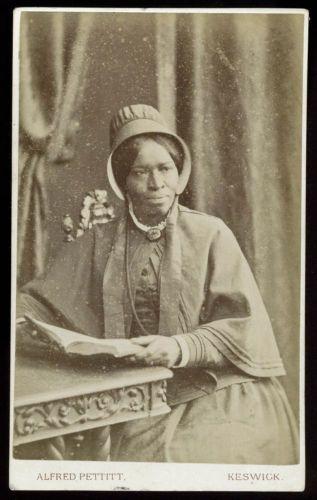 This landmark is right near the church that Amanda Berry Smith converted. Later, she would devote her life to religion.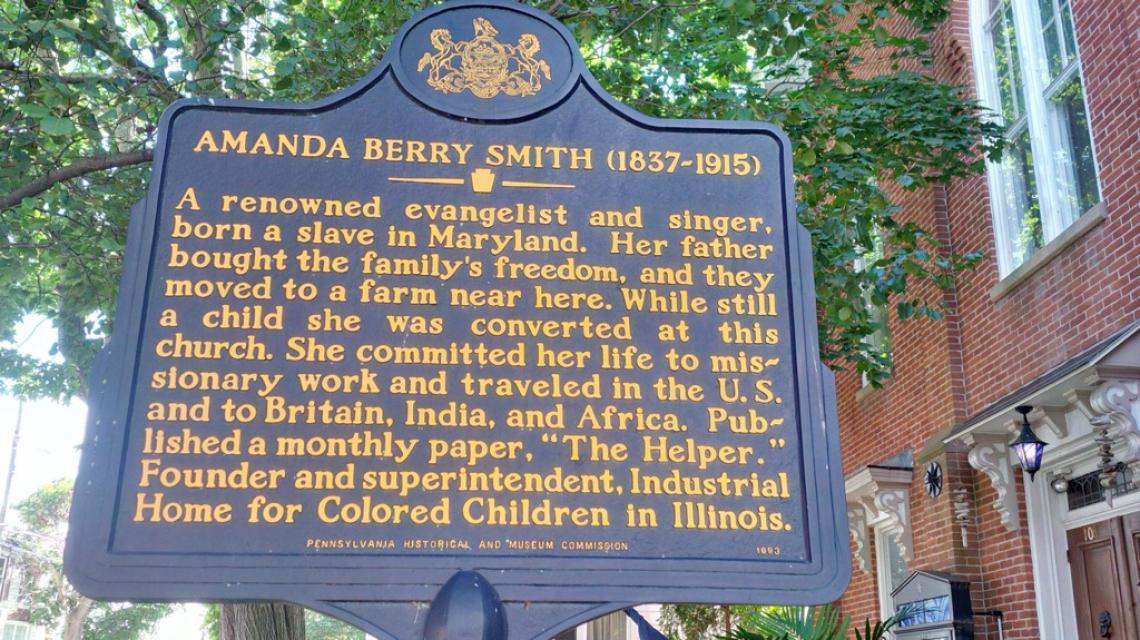 This church is where Amanda's love for the Lord began and where it continued to grow.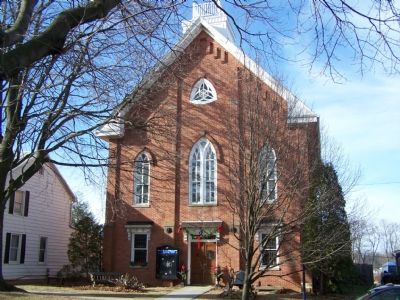 Backstory and Context
Born January 23, 1873, Amanda Berry Smith was immediately born into slavery. Her family was held on adjacent farms. At night her father Samuel Berry would work extra hours which eventually earned him and his family slavery. Once Amanda's family finally became free, they moved to York County, Pennsylvania and their house became a station on the Underground Railroad. While living there, her family was able to free many slaves before the start of the Civil War. Amanda claimed, "Our house was one of the main stations of the Under Ground Railroad. Sometimes the excitement was so high we had to be very discreet in order not to attract suspicion. My father was watched closely."
Being a young, African American, Amanda Berry Smith was never given a formal education, as traditional education during this time didn't allow for African Americans. So, instead, she worked. When she was only 13, Amanda left her home and began working as a live-in domestic worker. At the age of 17, she got married to Calvin Devine, who fought in the Civil War, but unfortunately died there. She moved to Philadelphia and married James Smith in 1865. James was an ordained deacon and planned on completing his ministry at the African Methodist Episcopal Church. After creating such a strong devotion to the church, Amanda remained in New York with their three children, while James moved in hopes of finding work. Unfortunately, at the age of 31, James died in 1868. As if this wasn't hard enough, Amanda had to cope with losing all four of her children. She had five children total, but only her daughter Mazie made it past childhood. 
After the death of her second husband and children, Smith took it upon herself to travel and begin his ministry overseas. During this time, her love for the Lord grew immensely. She had decided to devote her life to the church and evangelism. Along with her preaching skills, Amanda displayed extraordinary talent through her singing and really took a liking to it. Others took a liking to it too. Smith often got many invites to sing and preach at various churches in New York and New Jersey. Along with the invites came hardships. She was faced with hesitation from the AME Church. Female preachers were not met with arms wide open and they didn't ordain women. However, Smith kept pushing forward and eventually found her way.
Making her vocation a full-time job, Smith eventually joined different groups that would help propel her missionary work. By 1875, she became a charter member of the Women's Christian Temperance Union (WCTU). This was a big deal because she was one of the few black women to be so involved. In addition, she got involved with the Colored Women's Clubs, which was an organization that addressed issues regarding African American women. Being active in these organizations propelled her into being recognized as the most popular woman religious leader of the 19th century.
Traveling throughout her time as a missionary, Smith wasn't ordained as a minister but was still able to work internationally as an evangelist. In doing so, she became the first black woman to do this type of work. In her time spent in Africa, she adopted two young black children. Additionally, she became an advocate for African American orphans. Smith had settled in Chicago and by 1895, she became very serious about opening up an orphanage. It took time to raise funds to open, but in 1899, the orphanage opened. Funds came from various sources- preaching fees, private donations, philanthropist donations, and even sales of her book Autobiography.  After leaving Harvey, Illinois in 1899, Smith eventually retired and resided in Florida. Eventually, the orphanage was overtaken by the state and it became the Amanda Smith Industrial School for Girls. Unfortunately, in 1918, it was destroyed by a fire. This was three years after she passed away.
Sources
"Amanda Berry Smith (1837-1915) Historical Marker." Historical Marker, 10 Dec. 2019, www.hmdb.org/m.asp?m=4544. 
Johnson, Wilma J. Amanda Berry Smith (1837-1915). Accessed November 23rd 2020. https://www.blackpast.org/african-american-history/amanda-berry-smith-1837-1915.
"Shrewsbury's Amanda Berry Smith: 'Our House Was One of the Main Stations of the Under Ground Railroad'." York Daily Record, PPYR, 18 June 2013, www.ydr.com/story/news/history/blogs/york-town-square/2013/06/18/amanda-berry-smith/31691725/. 
Smith, Amanda Berry. An Autobiography The Story of the Lord's Dealings with Mrs. Amanda Smith, the Colored Evangelist: Containing an Account of Her Life Work of Faith, and Her Travels in America, England, Ireland, Scotland, India and Africa, As an Independent Missionary. Chicago: Meyer, 1893.
Image Sources
Highlands New-Sun

The Historical Marker Database

The Historical Marker Database

Additional Information