Ruth Plumly Thompson Historic Marker
Introduction
Ruth Plumly Thompson was an American writer born on July 27th, 1891 in Philadelphia, Pennsylvania. Throughout her lifetime, she held a variety of writing-oriented careers and wrote a vast collection of children's stories. Her biggest accomplishment in life, and certainly the work in which she is most known for, were her contributions to Frank L. Baum's Oz series. Having been hired shortly after his death, Ruth Plumly Thompson became the successor to the Oz series, writing nineteen additional books to the series. In later years after her work in Oz, she continued work as a free-lancer writing children's stories for various magazines before sadly passing away on April 6th, 1976. The Ruth Plumly Thompson Historical Marker stands at 254 South Farragut Street in Philadelphia, Pennsylvania outside of the house where she lived and wrote. This marker serves as a reminder of both Plumly's legacy as a writer as well as the impact in which her work had on children and adults everywhere... even in the merry old land of Oz.
Images
This photo depicts a young Ruth Plumly Thompson, seated alongside a dog. This particular photo was often found being used as the "photo of the author" in the books she wrote.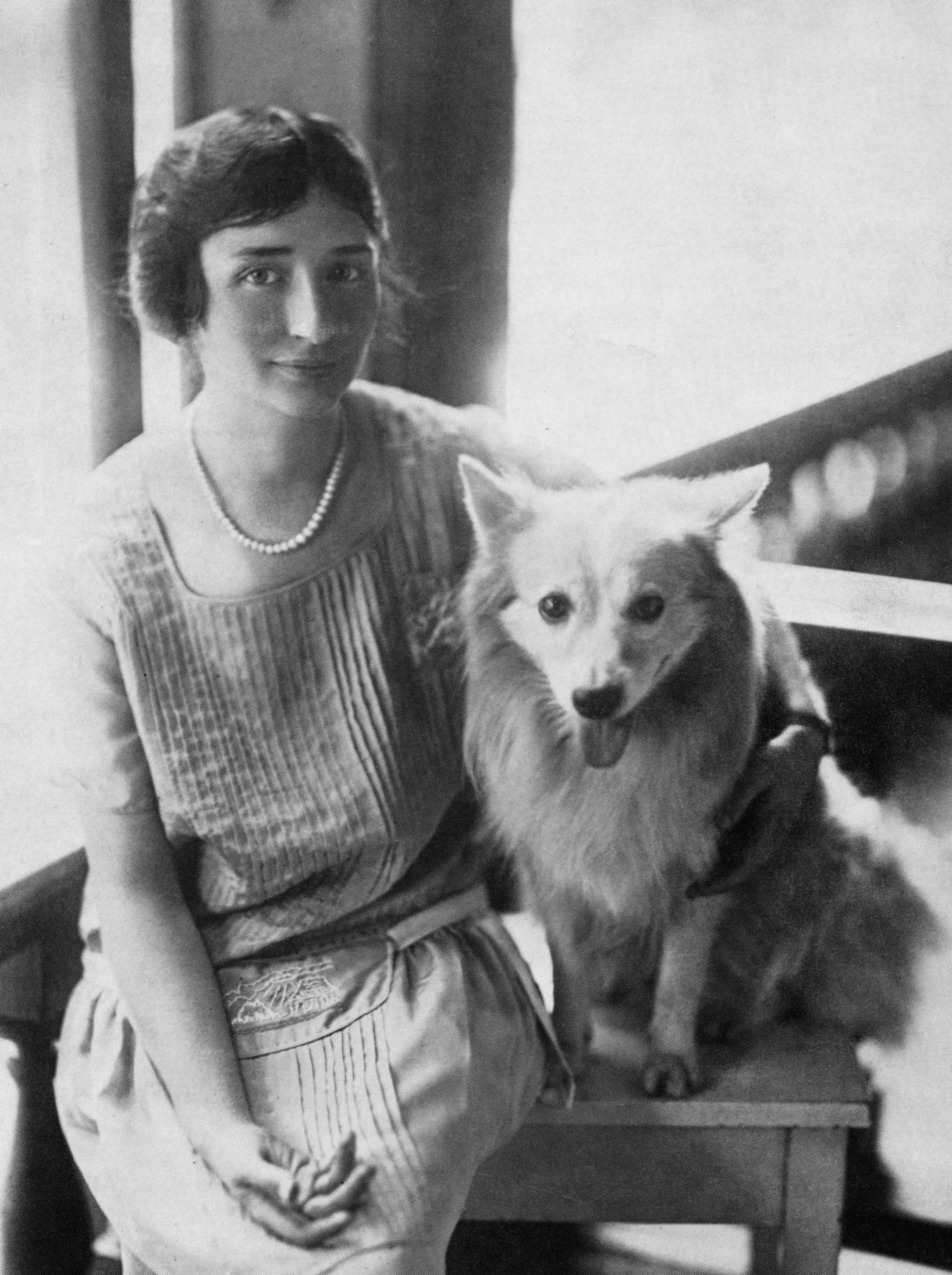 This photo depicts the historical marker in which stands outside Ruth Plumly Thompson's home at 254 Farragut Street in Philadelphia, Pennsylvania. This marker was dedicated on November 4th, 2018, and serves as a great reminder to the legacy in which Ruth Plumly Thompson left behind.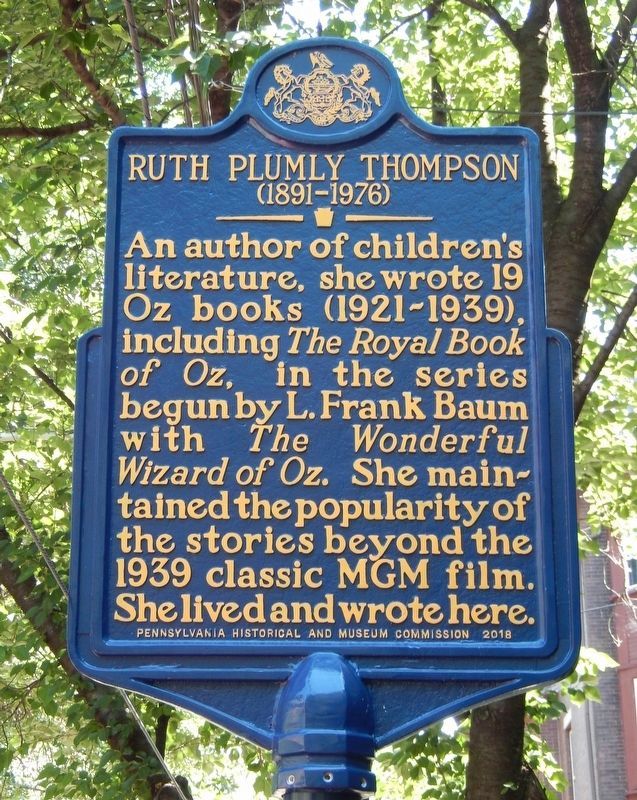 This photo depicts Ruth Plumly Thompson in old age, having entered the hearts of both children and adults alike through her imaginative, creative, and whimsical literary work.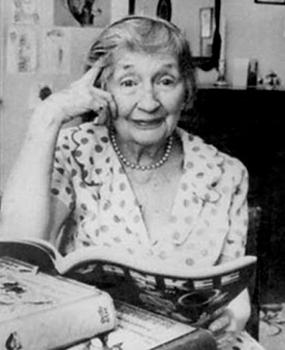 This plaque, located outside of Ruth Plumly Thompson's home, marks the building in which she lived and wrote. In the study on the fourth floor this building is where Thompson escaped to the merry old land of Oz and wrote nineteen Oz books from 1921-1939.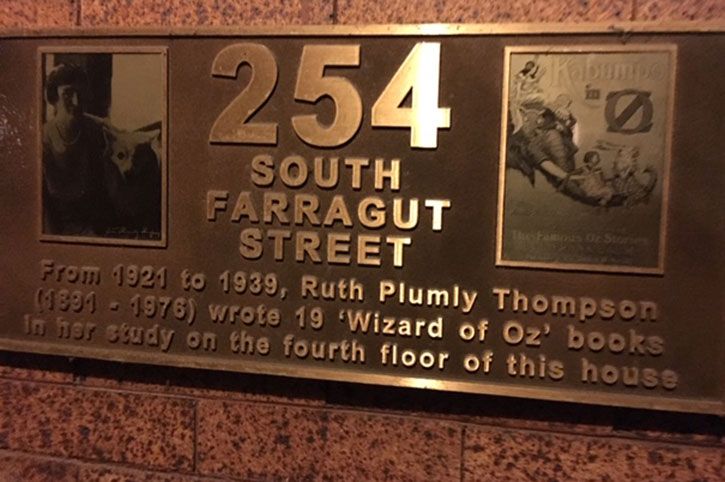 Backstory and Context
Ruth Plumly Thompson was born on  July 27th, 1891 to George Plumly and Amanda Elton Thompson.  As a child, she spent some time in New York City when her and her family moved there after her father became the night editor of the New York Times. Unfortunately, at the age of thirty-one, George died of a heart attack due to heightening stress, and Ruth and her mother returned to Philadelphia soon after. While she enjoyed writing and telling stories as a child, her literary career did not  begin until she was in high school, when her first fairy tale was published in St. Nicholas, a popular children's magazine at the time. After high school, Thompson was offered a full scholarship to Swarthmore College. Unfortunately, her family was grieving the loss of her brother at  the time , who had died in World War I, and was also serving her invalid sister. As a result, she declined the offer to spend more time with them, and to assist them financially by means of the money she earned through her published works in newspapers and periodicals.
In her twenties, Thompson took her first job at the Philadelphia Public Ledger, and quickly grew in popularity. In a matter of time, she was granted a full staff position. Her time at the Philadelphia Public Ledger only lasted two years though, as Thompson was offered the position of editor at the Sunday Children's Page. Accepting, she was supposed to follow the work of her predecessor, but instead wrote her own material. Immediately, Thompson gained a rapport with local children, and as a result continued to edit the Sunday Children's page from 1914 to 1921. During these seven years working as editor, Thompson created the Santa Claus Club, an organization in which gathered food and gifts for underprivileged children during the holiday season. In addition to her editorial work during this time, Thompson wrote The Perhappsy Chaps,  The Princess of Cozytown, and the Wonder Book, three writings in which would be compiled in The Wizard of Way-Up. These stories of Thompson's were noted for their cheerful, humorous, attitude toward life and language. In the Baum Bugle, author  Daniel P. Mannix  wrote that Thompson "considered any page that did not have at least three jokes in it- usually puns- a page wasted.".
When L. Frank Baum, famed author of The Wizard of Oz, passed away in 1919, Reilly & Lee, the publishing house in which produced Baum's bestselling series, Oz, began frantically looking for a replacement author. Having read many of Thompson's tales with great glee and amusement, Mr. Lee was convinced that she was undoubtedly meant to be L. Frank Baum's successor and the future historian of Oz. Having been a longtime fan of Baum and his work, Thompson accepted the position, and soon began attempting to recreating the Land of Oz, though not with immediate success.  Still, by 1921 Thompson managed to write her first book The Royal Book of Oz though it was published under the name L. Frank Baum, claiming that he had contributed the ideas to which she completed. In time, her work in the Oz series became more and more successful, resulting in her writing a new book for the Oz series each year from 1921 to 1939. By her nineteenth book, Thompson had created more than 320 new characters for Oz, which was over a hundred more than Baum had. Her books were praised for their uses of humor and imagination, and were popular amongst both children and adults alike, who enjoy their whimsical elements and their characterization.
While Thompson wrote nineteen books for the Oz series and recalls doing so as "one of the happiest experiences of my life", she faced hardships with many of her manuscripts towards the last few as they were rejected by Reilly & Lee. As a result, Thompson's connection with the publisher quickly faltered, as did her connection with the Baum estate. However, when The Wizard of Oz technicolor film was released in 1939 by MGM Studios, Thompson felt that the Oz series needed to be revived. Working to have some of the other Oz stories cartooned by Walt Disney Pictures, Thompson negotiated an offer with Roy Disney. Unfortunately, Mrs. Baum declined Disney's offer and instead decided to sell the rights of the Oz series to a private producer. Even worse, the producer coincidentally did not have enough money to complete his "shorts" and so after nineteen Oz books, Thompson stated "I was reluctantly forced to resign my post of Royal Historian of Oz. But Oz is ever close to my heart… Someday I might even write another book about the strange happenings in that merry old kingdom of Oz.".
During the 1940s-1950s, Thompson wrote many short stories for Jack and Jill, a children's magazine, and later on created and wrote the "Peter Puppet Page" for the magazine. Unfortunately, after a staff change in which resulted in the magazine's policies changing, Thompson had trouble selling her work.  Returning to Oz once more, Thompson found her twentieth book rejected by Reilly & Lee, who claimed they had another manuscript already in development. It wasn't until the year 1972 that Thompson would publish again, when her book Yankee in Oz was picked up by the International Wizard of Oz Club. In 1976, they would also publish what would be her very last book ,The Enchanted Isle of Oz, in which she wrote as her health began failing. Shortly after, Thompson passed away on April 6th, 1976. Today, Ruth Plumly Thompson's home at 254 South Farragut Street in Philadelphia, Pennsylvania, where she lived and wrote the majority of her work, serves as a reminder to the legacy she left behind in both the real world and the land of Oz.
Sources
McAtee, Sean. Ruth Plumly Thompson , Pennsylvania Center for the Book. Accessed November 22nd 2020. https://pabook.libraries.psu.edu/literary-cultural-heritage-map-pa/bios/Thompson__Ruth_Plumly.
Ruth Plumly Thompson, The International Wizard of Oz Club. Accessed November 22nd 2020. https://ozclub.org/about-us/l-frank-baum-memorial-award-winners/ruth-plumly-thompson/.
The Historical Marker Database. Accessed November 22nd 2020. https://www.hmdb.org/m.asp?m=135900.
Image Sources
The International Wizard of Oz Club

The Historical Marker Database

Wikipedia

University City Review, Inc.

Additional Information