Massey Hotel
Introduction
Situated on the corner of Central Avenue and A Street, the former Massey Hotel is historically significant for its architecture and association with Bentonville's commercial life. It was built in 1910 and is a fine, and rare in Arkansas, example of Renaissance Revival architecture. The three-story building features a one-story porch supported by Romanesque columns, an L-shaped porch, a rusticated granite facade on the first floor, and a decorative parapet with the words "Hotel Massey" in cast stone. Over the years, many businesses have occupied the building. A bicycle shop currently occupies the first floor as of 2021.
Images
The former Massey Hotel was built in 1910. An excellent example of Renaissance Revival architecture, it remains an important landmark in Bentonville.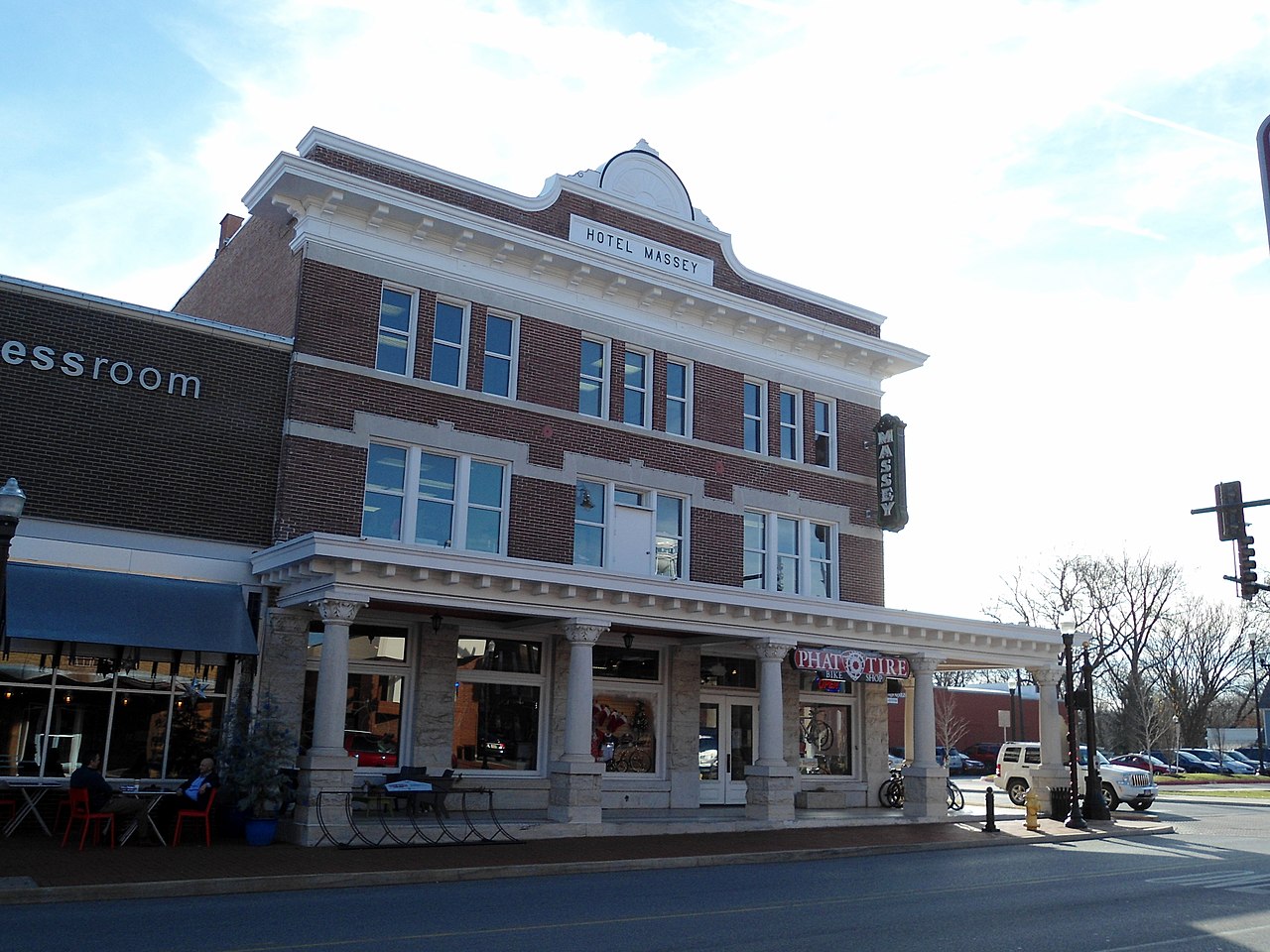 Backstory and Context
The Massey is the second hotel to occupy this site. The first, Eagle Hotel, was built in 1840 and was a two-story, wood-frame structure with a veranda. According to local history, during the Civil War on March 6, 1862, a Union general and his officers were having breakfast at the hotel when Confederate troops arrived in the town unexpectedly. The general, his officers, and his force of 600 men retreated quickly. The general returned in 1887 and quipped that he came back to finish his breakfast.
Eagle Hotel was torn down in 1908 to make way for the Massey Hotel. Construction began in early 1909 and the formal opening and open house occurred on June 28, 1910. The event was a big occasion for the city and was reported about in the local newspaper. Two-hundred and forty guests were invited to the event and an orchestra performed.
Businesses have always been located in the first floor and for a time, the lobby was the ticket office for a train that ran from Bentonvile to the town of Rogers. In 1918, the first public library in the city opened briefly in the east room of the hotel (it did not have enough funds to stay open). The hotel also housed a barber shop, real estate agency, insurance office, gift shop, and bus station. A fire severely damaged the building in 1975. In 1979, three members of the Walton family, which founded the retail giant, Walmart, bought the old hotel and restored it into office space and a new home for the Bentonville Public Library. The library was housed in the building for 27 years. The building was added to the National Register of Historic Places in 1978.
Sources
Chapel, Dan. "Massey Hotel." National Park Service - National Register of Historic Places Nomination Form. December 1, 1978. https://catalog.archives.gov/OpaAPI/media/26141530/content/electronic-records/rg-079/NPS_AR/78000574.pdf.
"From Historic Places to New Spaces." Bentonville Public Library. Accessed July 21, 2021. http://bentonvillelibrary.org/about-us/our-history.
Image Sources
Brandon Rush, via Wikimedia Commons: https://commons.wikimedia.org/wiki/File:Hotel_Massey.jpg

Additional Information