Hoyt-Smith Cottage
Introduction
This historic home overlooks the ocean and was constructed in 1882 for Alfred M. Hoyt as part of the Montauk Association, a private development where seven families each had a cottage built for a summer retreat. Six bathrooms were added to the Hoyt Cottage in the 1950s by the Goddard family and the front porch was enclosed; the property then was used as a hotel named Grand View Manor. The building was bought by Dwight Smith in 1972. All seven cottages - the "Seven Sisters" - remained by the mid-1970s, including the DeForest-Momeyer Cottage (also a Clio entry, with more information on the development of the area). One hundred acres of the area formerly belonging to the Montauk Association, along with the seven cottages and two modern residences, was designated the Montauk Association Historic District, listed in the National Register in 1976. Today, Hoyt-Smith Cottage can be found north of DeForest Road, along the third driveway east of East End,
Images
Main (S) elevation of Hoyt-Smith Cottage in 1975 for N.Y.S. Building Inventory Form (Beebe and Momeyer 1975)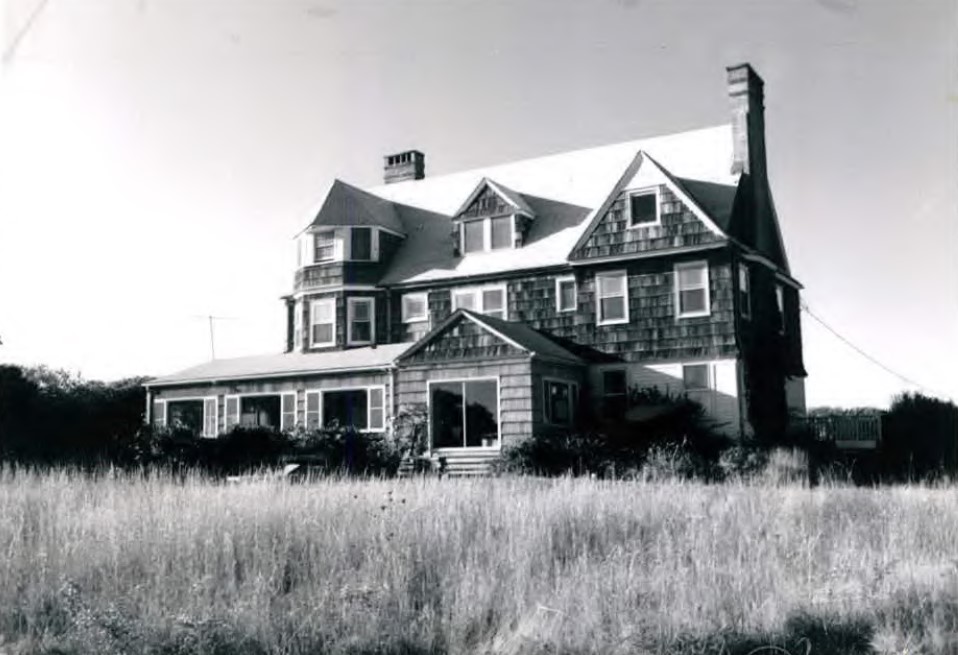 East elevation of Hoyt-Smith Cottage in 1975 photo (Beebe and Momeyer)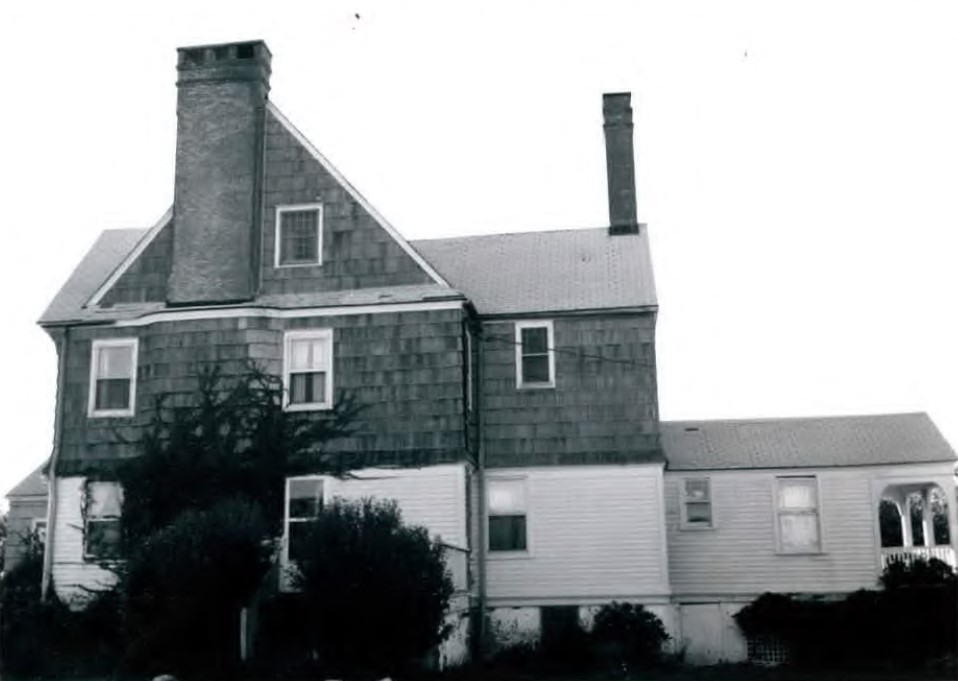 Hoyt Cottage (arrow) on plat of Montauk Association property in 1880s (Beebe and Momeyer 1975)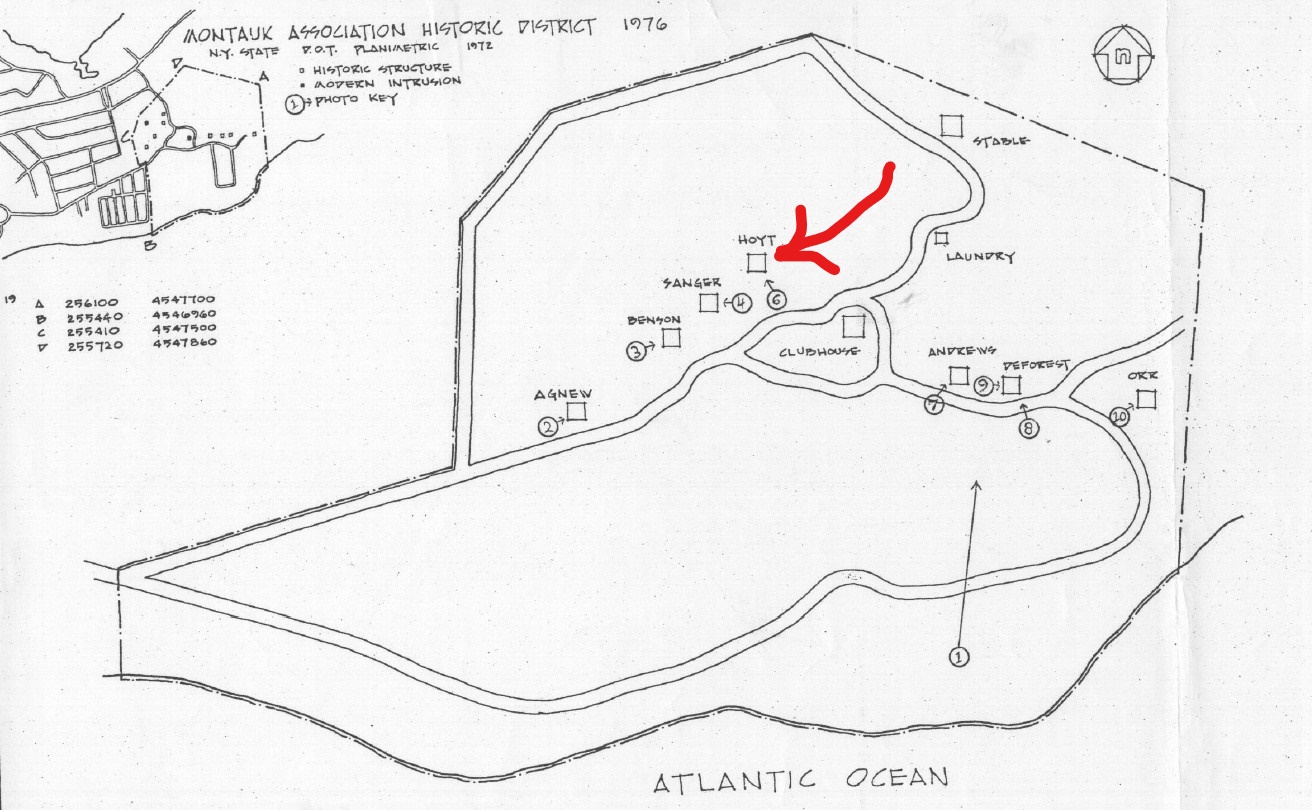 Montauk Association Historic District boundaries marked on ca. 1970s U.S.G.S. topo map (Beebe & Momeyer 1975)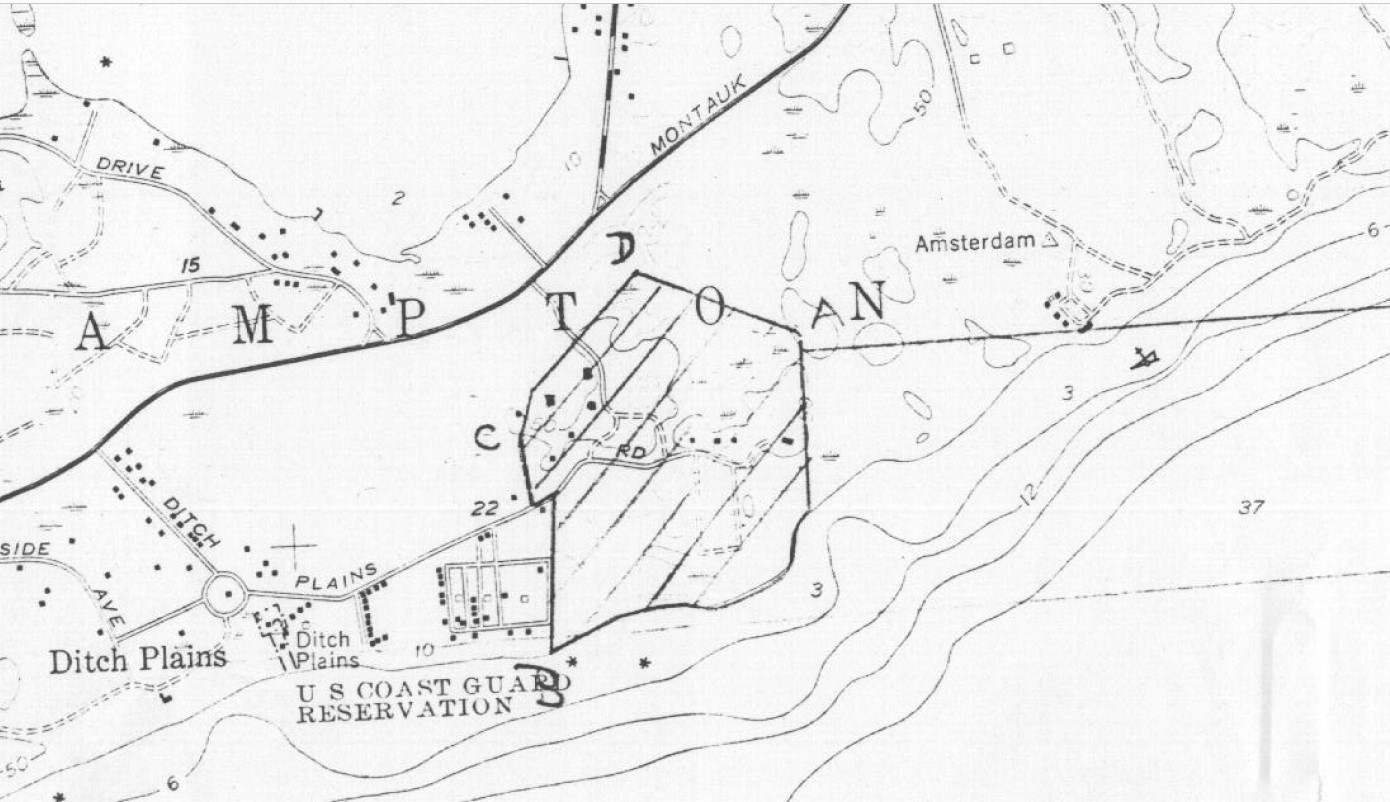 Backstory and Context
Alfred Miller Hoyt was born in 1828 in New York City, the son of James Moody Hoyt and Mary Hoyt. Alfred M. married Rosina Elizabeth Reese (born in 1835) in Lancaster, Ohio in 1858; their children included Florence Cecilia Otis (1860 - 1908), Henry Reese Hoyt (1861 - 1921), Alfred William Hoyt (1863 - 1911), Mary Elizabeth Hoyt (1867 - died by 1898), Rosina Sherman Hoppin (1874 - 1965), and John Sherman Hoyt (1880 - 1954). Alfred M. graduated from Kenyon College in Ohio and became a wealthy banker; he and his brothers (Jesse and Samuel N.) formed the commission firm of Jesse Hoyt & Co. in New York City. The company built or had interests in multiple railroads and owned many acres of timberlands in the Northwestern U.S. By his retirement in 1881, Alfred M. was a trustee of multiple banks and the owner of his own firm, A.M. Hoyt & Co.
Alfred M. died on June 18th 1903 at home in New York City after a short illness. Rosina E., his widow, lived until 1922, also dying in the family home in Manhattan. Rosina S. inherited the Manhattan home and half of her mother's estate; she later sold the Manhattan house and it was demolished. The Hoyt family built a house they called "Red Maples" in Southampton from 1911 to 1913 in which the widow lived with her daughter, Rosina S. married G. Beekman Hoppin in 1925; the Southampton house was rented out beginning in 1926 and sold in 1929. It is not certain when the Hoyts sold the Hoyt Cottage at the Montauk Association, or whether the Southampton house became their new summer residence. An 1898 book on prominent families of New York mentioned Hoyt's summer home was in Montauk.
The New York City renowned architectural firm of McKim Mead & White designed the Hoyt Cottage and the other cottages at the Montauk Association; they also designed Alfred M. Hoyt's new residence on posh Fifth Avenue in Manhattan, a townhouse built from 1882 to 1883 near the corner of 75th Street. Although the builder of the Hoyt Cottage is unknown, it was possibly Mead & Taft of New York City. The Montauk cottages were designed with no kitchens since meals were taken in the clubhouse; the clubhouse (burned down in 1933) was built first and was large enough for fifty people.
During the summers, Isaac Conklin drove a stagecoach daily that visited the Montauk Association and connected with the stagecoach run by Jeremiah Baker from Sag Harbor to East Hampton; mail and supplies came in on the stagecoach. Later owners of Hoyt Cottage included Guy DuVal, a Miss Biggs, the Goddards, and Dwight Smith. A later outbuilding on the Hoyt property, a two-car garage built during the ownership of Guy DuVal, was converted into three rental units in the 1950s.
Sidney and Winifred Goddard purchased the Hoyt Cottage in 1950 and opened a guest house in 1951 known as Grand View Manor. Mr. Goddard moved a former Coast Guard station from Ditch Plain to the property in 1961 and turned it into the Grand View Restaurant. Winifred was a native of St. Kitts in the West Indies and her husband was from Barbados; they married in 1935 and lived in New York City before moving to Montauk. The restaurant closed in 1975 and was converted into four apartments under the new owner, Dwight Smith. The current owner of the Hoyt Cottage is Julian Schnabel, a painter, filmmaker, and lifelong surfer. A recent film by Schnabel is "At Eternity's Gate" about Vincent Van Gogh.
Sources
Clarke, Katherine . Inside the Moneyed Montauk Enclave Where Time Stands Still, Journal. August 1st 2019. Accessed July 13th 2021. https://www.wsj.com/articles/inside-the-moneyed-montauk-enclave-where-time-stands-still-11564671653.
Fedderly, Eva. Julian Schnabel on Art, Film, and His Historic Home in the Hamptons, Architectural Digest. July 24th 2019. Accessed July 13th 2021. https://www.architecturaldigest.com/story/julian-schnabel-art-film-historic-hamptons-home.
Geni.com Private User. Alfred Miller Hoyt (1828 - 1903), Geni.com. March 8th 2019. Accessed July 12th 2021. https://www.geni.com/people/Alfred-Hoyt/6000000015018490884.
Gordon, Allistair. Weekend Utopia: Modern Living in the Hamptons. Princeton, NJ. Princeton Architectural Press, 2001.
Historical Company, The. Prominent Families of New York. Edition Revised. New York, NY. The Historical Company, 1898.
Miller, Tom. The Lost 1883 Hoyt Mansion, No. 934 Fifth Avenue, Daytonian in Manhattan. Blog. June 29th 2015. Accessed July 12th 2021. http://daytoninmanhattan.blogspot.com/2015/06/the-lost-1883-hoyt-mansion-no-934-5th.html.
Momeyer, Arlene. NYS Building-Structure Inventory Form, Hoyt (Alfred M.) House, DeForest Road, Montauk. Albany, NY. Division for Historic Preservation, New York State Parks and Recreation, 1973.
Star Staff. Winifred Goddard, 102, June 29, 1914 - July 1, 2016, East Hampton Star. August 25th 2016. Accessed July 13th 2021. https://www.easthamptonstar.com/archive/winifred-goddard-102.
Strong, Robin. Montauk Library. Montauk. Images of America. Charleston, SC. Arcadia Publishing, 2015.
Image Sources
New York State Cultural resource Information System (NYS CRIS): https://cris.parks.ny.gov/

NYS CRIS: https://cris.parks.ny.gov/

NYS CRIS: https://cris.parks.ny.gov/

NYS CRIS: https://cris.parks.ny.gov/

Additional Information