DuPont Fire Department
Introduction
DuPont's fire department was originally manned by young boys owing to the employment of all able-bodied men at the plant, which was a mile away from most homes. In response, the boys of DuPont were tasked to be the first responders for fires in the town. With ages ranging from 7 to 12, DuPont Fire Company No. 11 was declared the youngest fire department in the U.S. in 1924. For many years until the department was staffed by men, the boys used a hose reel cart and attached it to a hydrant to fight the fire. The actions of the boys helped to mitigate the emergency until men from the plant arrived to assist. In honor of this history, a restored hose reel cart and shed used by the original department are located here at the modern fire station.
Images
House Reel Cart & House interpretive sign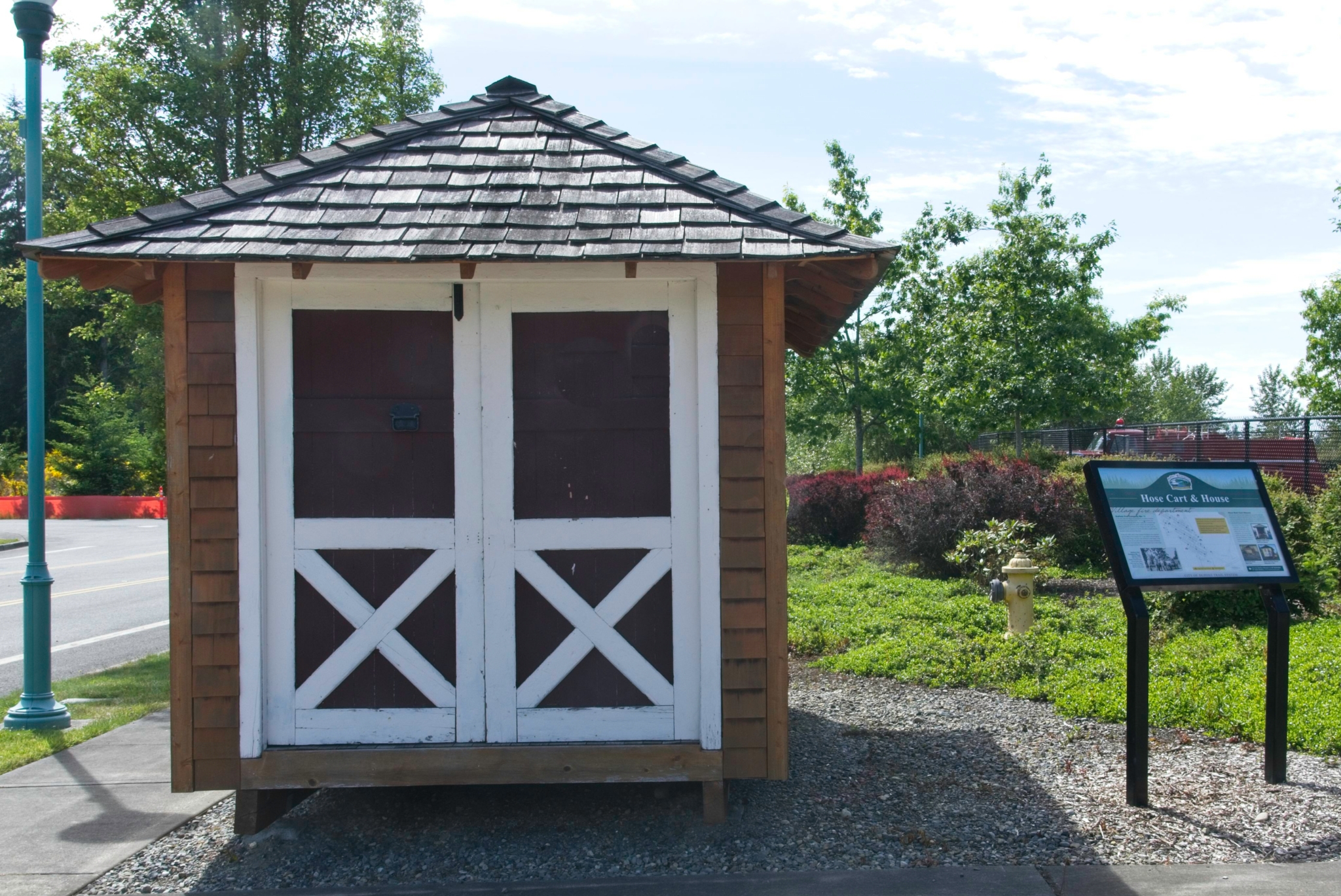 Backstory and Context
In 1924, Company 11 of the DuPont Fire Department was created following a grass fire that was put out by boys in the neighborhood. The department had 11 volunteers whose ages ranged from 7 to 12 with the Fire Chief only being 11 years old. The boys had four hose reel carts stationed strategically around the town. When needed for an emergency, the young men would retrieve a cart from the nearest shed and fight the fire until men working at the plant could arrive and put out the fire.
When the town was incorporated for the second time in 1951 it was still a volunteer department but it had expanded to 20 men and boys with 2 fire trucks, the first of which was bought in 1963 for $49,000. More hydrants were placed around DuPont along with alarm boxes.
In 2008, the fire department moved from the historic village portion of DuPont to the Northwest Landing portion of town where the current station is. It is no longer a volunteer department. An Aid Unit manned by EMTs is also used for critical calls. In 2011, volunteers, boy scouts and fire department employees restored the last hose reel cart and shed by the station. 
Sources
Munyan, May. DuPont, the story of a company town. Puyallup, WA. The Valley Press, Inc., 1972.
Additional Information