The Road to New Urbanism
Introduction
In 1976, the DuPont Company sold their land to the Weyerhaeuser Company who initially had plans to develop a deep water port. When those plans fell through it was decided they would build a planned community called Northwest Landing. This new town was built under a New Urbanist model that focused on walking paths and a trail system easy to navigate.
Images
The Road to New Urbanism interpretative sign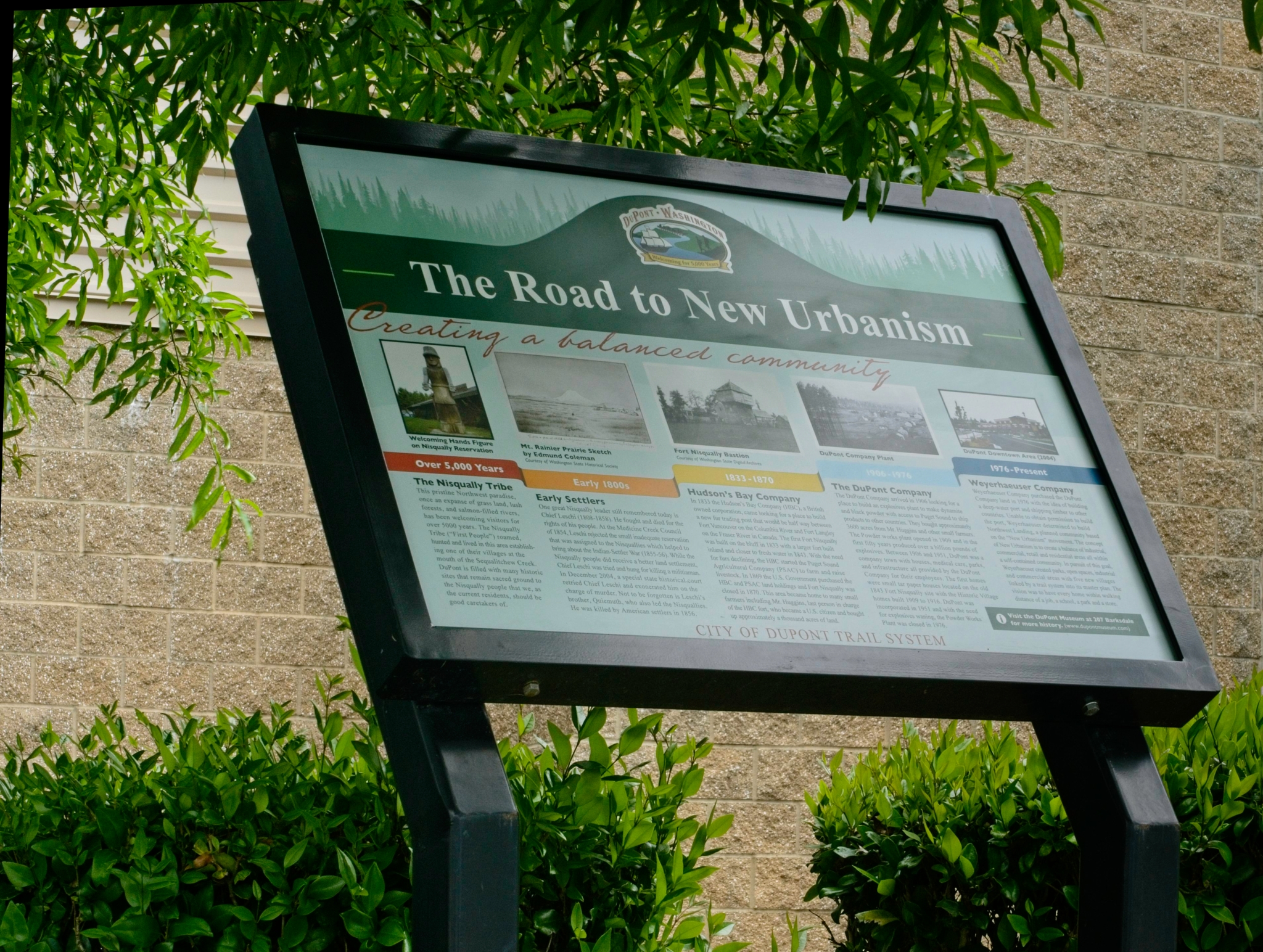 Backstory and Context
In 1976, the Weyerhaeuser Company bought the 3200 acres of land belonging to the DuPont Company with the intent of building a deep-water port to ship logs to east Asian countries. Those plans fell through as well as a host of other plans such as building a satellite campus of UW in DuPont or the construction of an amusement park. They settled on building an expansion of the town in 1994 called Northwest Landing using a town model known as New Urbanism with the intention of leaving upon its completion. The historic village portion of DuPont was largely untouched.
New Urbanism is an urban development model that became popular in the 1980s as a response to large cities that focused heavily on cars for transit. It focuses on walkable paths and connected trails to maintain an environmentally friendly town and to be easier to traverse for pedestrians. Streets are narrow promoting safer driving and trees line the street. It creates a designated town center for community events within walking distance of most homes and ensures the town is self-sustaining with essential businesses outside of the housing portion of town. Northwest Landing fulfills most of the qualities of the New Urbanist model.
Sources
What is New Urbanism?, Congress for the New Urbanism. Accessed June 24th 2021. https://www.cnu.org/resources/what-new-urbanism.
Alexander D and Wydeman B (2020) The Intersection and Divergence of New Urbanism and Environmental Psychology: An Exploration. Front. Built Environ. 6:61. doi: 10.3389/fbuil.2020.00061
Image Sources
DuPont Historical Society

Additional Information