Mount Auburn Cemetery
Introduction
Established in 1831, Mount Auburn Cemetery was the first rural cemetery in the United States, and the first to be designed to be more than a burial ground. The 175 acres of the cemetery are lined with lush greenery, including thousands of trees, flowers, and plants. In 2003, Mount Auburn was designated a historic landmark by the National Park Service. Among the significant Cantabrigians and Bostonians buried here are activist Dorthea Dix, poet Henry Wadsworth Longfellow, and architect Charles Eliot. Of the women on our walking tour, Mary Walker and Harriet Jacobs are buried here. We end our tour here to encourage you to reflect on the fullness of these women's lives and how their paths may have intersected.
Images
Mount Auburn landmark plaque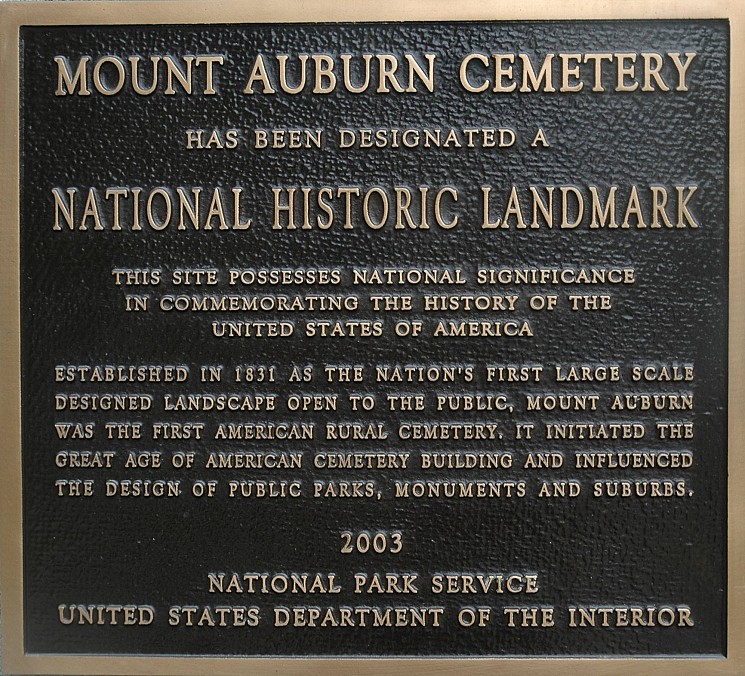 Backstory and Context
Mount Auburn Cemetery was consecrated in 1831 by the Massachusetts Horticulture Society. It was the first landscaped garden cemetery in the United States, designed to not only be a burial ground but also a place to stroll, explore, and enjoy. The cemetery was created to solve the problem of crowded cemeteries in densely populated urban areas that promoted the spread of contagious diseases. To address this, the cemetery was established on 72 acres of land on the outskirts of the city. Throughout its history, Mount Auburn has been crucial for promoting conservation and environmentally-conscious design of public spaces. It now has over 5,000 trees and plants in its 175 acres. The cemetery has also been designated a Massachusetts Important Bird Area. In May 2003, it was identified as a National Historic Landmark for its significance as "the nation's first large scale designed landscape open to the public... [and] first American rural cemetery. It initiated the great age of American cemetery building and influenced the design of public parks, monuments and suburbs."1
There are many notable people buried at Mount Auburn. Among those are Harriet Jacobs, who can be found on Clethra Path in lot 4389, and Mary Walker, in lot 4312 along the Kalmia Path. The friendship forged between Jacobs and Walker created a closeness between the two families, so much so that Jacobs's brother, John was buried in Walker's family plot after he died unexpectedly in 1873. In the wake of this tragedy, Jacobs's daughter Louisa purchased a nearby plot for herself and her mother, so that when their time came, they would be close to John. Although Jacobs and Lousia moved to Washington D.C. later in their lives, they were both buried at Mount Auburn cemetery near Mary Walker and John Jacobs. 
Many influential residents of Boston and Cambridge are buried at Mt. Auburn. For example, Louis Agassiz, the Harvard professor that helped pioneer eugenics (and for whom the Maria L. Baldwin School was initially named) is also interred at Mt. Auburn. So is his wife, Elizabeth Agassiz, the former president of Radcliffe, where Alberta V. Scott attended school. Scott herself is not buried at Mt. Auburn, but her memory lives on in Cambridge through the Alberta V. Scott Leadership Academy, a mentorship program for high school students that is run and staffed by members of the Association of Black Harvard Women. Women's—especially Black women's— advocates are often denied the same commemoration as their male or white peers, so these women are often memorialized through decentralized practice, like the Alberta V. Scott Leadership Academy, rather than through a constructed memorial site. While social networks and institutional memory are key to remembering these women today, they were also vital to many of these women's work in the past. Not all of the women on today's tour met in person, but they were connected to each other by a complex web of social and institutional links.
For example, Charlotte Hawkins Brown did not attend the Agassiz School, but her connections to Baldwin made Agassiz a part of her life. As an adult, Brown corresponded with Baldwin. The two educators helped further one another's missions. At one fundraising event for the Palmer Memorial Institute, Brown dedicated her speech to speaking about Baldwin's many accomplishments. Brown may have never been Baldwin's student, but both she and Alberta V. Scott attended the Cambridge public schools while Baldwin was an administrator. Scott and Brown also both attended Union Baptist Church, a historically Black church in Cambridge, with their families. Similarly, Pauline Hopkins did not attend Radcliffe College with Alberta Scott, but Hopkins was familiar with Harvard, and surely, with Radcliffe. Harvard Medical School is an important setting in Hopkins's novel Of One Blood. 
Many of the women on this tour belonged to or gave speeches at Cambridge and Boston social clubs, where they worked to organize fundraisers or supply drives. These organizations, institutions, and physical spaces serve as a reminder that our public history is a living history. Although cities are constantly changing, we interact today with many of the same places and structures that Brown, Hopkins, Walker, Baldwin, Scott, and Jacobs interacted with in the past. We hope you felt connected to these notable women while taking this walking tour. Maybe the woman whose life most stood out to you among the group walked a path similar to the one you took today.
Sources
1. Friends of Mount Auburn. "National Historic Landmark Status Granted." December 7, 2011. https://mountauburn.org/national-historic-landmark-status-granted/
2. Hawkins Brown, Charlotte. "Some Incidents in the Life and Career of Charlotte Hawkins Brown Growing out of Racial Situations, at the Request of Dr. Ralph Bunche." Series I. Schlesinger Library, Harvard University. Web. 
3. Hawkins Brown, Charlotte. "A Biography." Series I. Schlesinger Library, Harvard University. Web. https://hollisarchives.lib.harvard.edu/repositories/8/archival_objects/1425690
4. Harvard Association of Black Women, "AVS Leadership Academy." https://abhwomen.org/avs-leadership-academy
5. Mount Auburn Cemetery, "History," Mount Auburn Cemetery, https://mountauburn.org/category/history/. 
6. National Park Service, "Mount Auburn Cemetery," NPS, August 28, 2020, https://www.nps.gov/places/mount-auburn-cemetery.htm. 
7. "Tells of Work in The South." The Boston Globe, 24 Sept., 1909.
Image Sources
Friends of Mount Auburn. "National Historic Landmark Status Granted." December 7, 2011. https://mountauburn.org/national-historic-landmark-status-granted/