Maria L. Baldwin House
Introduction
Maria Louise Baldwin (1856-1922) was an educator and civic leader who was the first Black person and first woman to hold the position of schoolmaster in the Northeast. She was a prominent member of the Cambridge community and hosted academically and civically engaging discussions in this house. Baldwin lived in the northern half of this 19th Century duplex on Prospect St while working at the Agassiz Grammar School, now named the Maria L. Baldwin School after her. (See also the entry "Maria L. Baldwin School.")
Images
A portrait of Maria Baldwin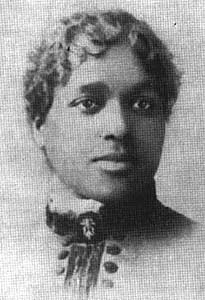 A picture of Baldwin's house ca. 1975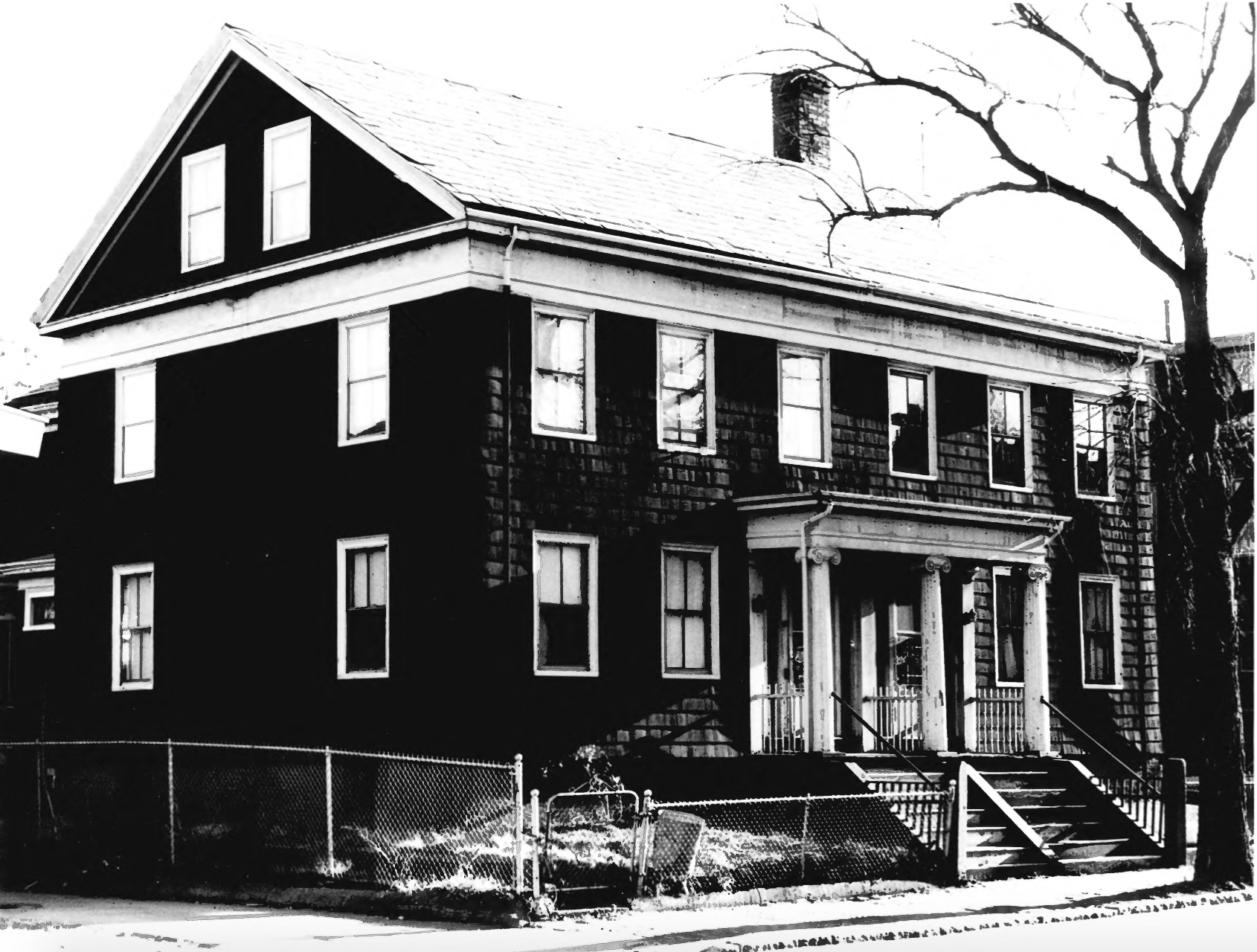 A picture of Baldwin's house ca. 2012. Baldwin's residence is the left side of the duplex.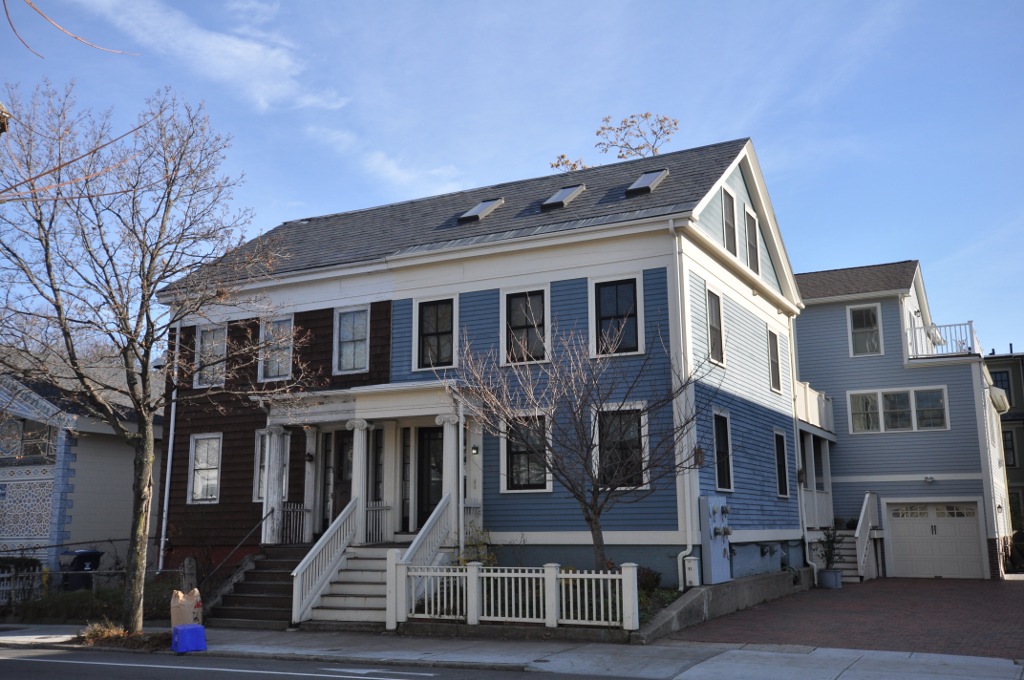 Backstory and Context
Born in Cambridge in 1856, Maria Baldwin was educated in the Cambridge public school system, graduating from Cambridge High School in 1874. A lifelong educator and the first Black woman to earn the title of schoolmaster in New England, Baldwin spent almost her entire life in Cambridge except for a brief move to Maryland for her first teaching job. Baldwin was held in high esteem by scholars and academics and would also travel occasionally to give lectures. She was the first woman to give the Washington's Birthday Memorial Address, an annual address given at the New York Institute in Brooklyn. Two of her other lectures- one on Harriet Beecher Stowe, author of the novel Uncle Tom's Cabin, and the other on Paul Lawrence Dunbar, a Black poet, short story writer, and novelist- were so popular that Baldwin was asked to speak across the country. Her lecturing and mastery of words was compared at the time to Booker T. Washington, a famous orator and adviser to Presidents Theodore Roosevelt and William Taft.
Baldwin was also a significant member of the Cambridge community as a leader and member of many organizations. She helped to organize the League of Women for Community Service and served as its first president from 1918 until her death. Baldwin was also a president of the Boston Ethical Society and a member of the Twentieth Century Club, the Cantabrigia Club, and the Teacher's Association. Her involvement in the community helped her meet many friends who would advocate for her ability to serve as schoolmaster of what was, at the time, the Agassiz Grammar School (see entry on Maria L. Baldwin School).
Baldwin also had an extensive personal library that she drew from while hosting community gatherings at her home. One such club she hosted was called the Omar Circle. The group started out reading works from the Persian poet Omar Khayyam and then transitioned to works by the poet Dante and others. The Omar Circle's membership was largely made up of men in academia. As a result, Baldwin was often joined by prominent people like the abolitionist William Lloyd Garrison. Her home became a safe haven for lively debates about the state of the country and how to move forward. She held weekly classes and conversations specifically for Black Harvard and Radcliffe students. Among those at the table were W. E. B. Du Bois, an author and co-founder of the National Association for the Advancement of Colored People (NAACP), who wrote of her fondly later in his life. Du Bois even announced her as the NAACP's "Man of the Month" in 1917! Who knows what heated debates and joyful discussions took place in this house? Perhaps Maria Baldwin even interacted with other women on this tour like Alberta V. Scott, a student at Radcliffe at the time.
Sources
"Maria L. Baldwin Biography." Cambridge Public Schools, https://baldwin.cpsd.us/about_our_school/baldwin_school_history/maria_l__baldwin_biography. Accessed May 6 2021
[Obituary--Maria L. Baldwin]. (1922). Retrieved from Women and Social Movements in the United States,1600-2000 database.
Porter, Dorothy B. "Maria Louise Baldwin, 1856-1922." The Journal of Negro Education, vol. 21, no. 1, 1952, pp. 94–96. JSTOR, www.jstor.org/stable/2965923. Accessed 7 May 2021.
Solomons, Olivia. "Maria Louise Baldwin." Negro History Bulletin 5, 1 (1941): 19-21.
Image Sources
https://en.wikipedia.org/wiki/Maria_Louise_Baldwin

https://npgallery.nps.gov/NRHP/GetAsset/NHLS/76000272_photos

https://de.wikipedia.org/wiki/Maria_Baldwin_House

Additional Information