Seattle Mural at the Mural Amphitheater
Introduction
Located on the Old Fair Grounds at the Seattle Center, this mural was designed by Paul Horiuchi for the 1962 World's Fair. The mural is intended to portray the natural beauty and colors of the Pacific Northwest. Horiuchi designed the mural in the style of a collage, which is his signature style, using bright panels of Venetian glass in 54 different colors. Originally from Japan, Horiuchi trained in sumi-e brush art and calligraphy, before moving to Seattle in 1946.
Images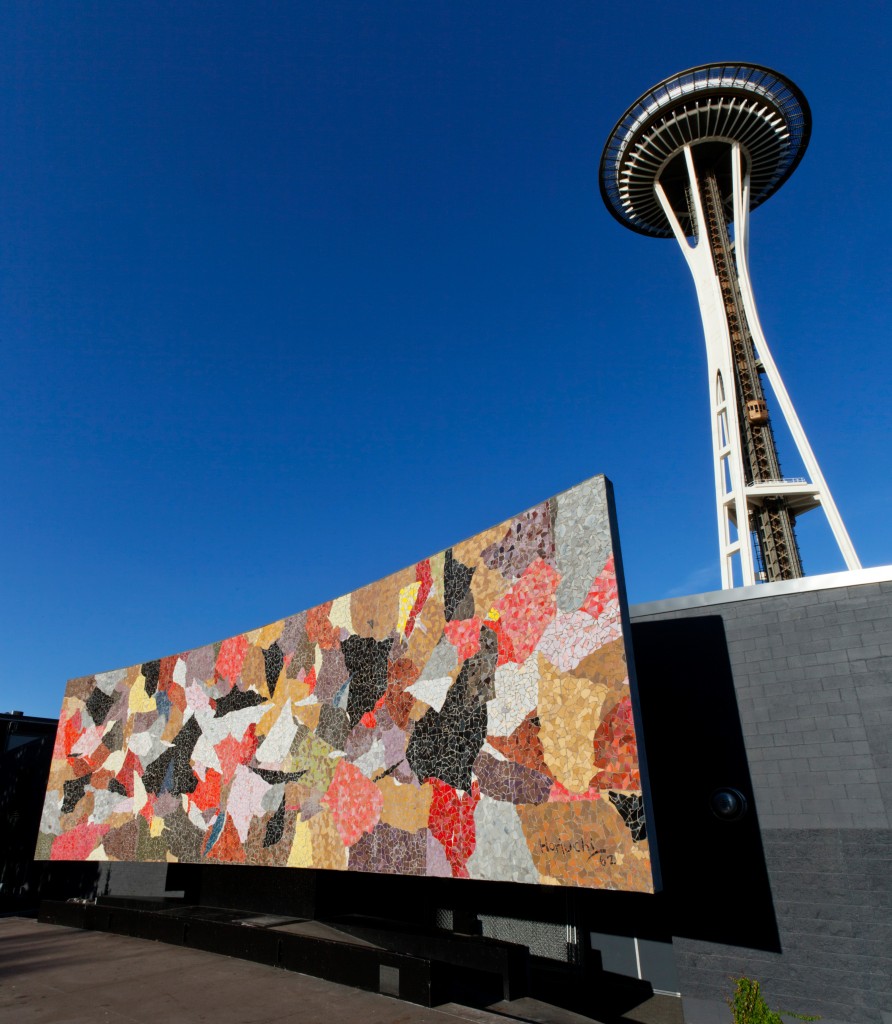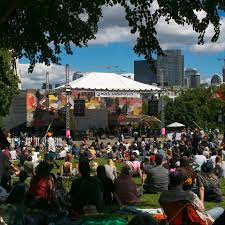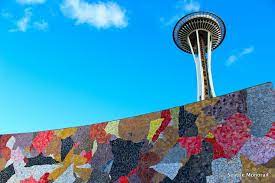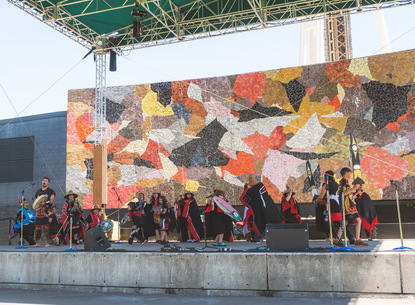 Backstory and Context
In 1946, the artist, Paul Horiuchi, moved to Seattle from Japan, where he studied the traditional Japanese artistic styles of sumi-e brush art and calligraphy. During the 1950s, Horiuchi developed his signature style as a collage artist. He first created the Seattle Mural using torn bits of paper for his collage design. However, the finished version instead incorporates fifty-four different pieces of vibrantly colored Venetian glass, which were hand-made in Italy. The juxtaposition of the different colors of glass was intended to create a visual effect that evokes the vibrancy of the Pacific Northwest.
Horiuchi created the sixty-foot long glass mosaic mural for the 1962 World's Fair, held in Seattle. Located on the Old Fair Grounds, the mural is now part of the Mural Amphitheater at the Seattle Center. The mural sits behind the amphitheater stage, where it serves as both a colorful visual and auditory backdrop, as it reflects sound back to the audience. The amphitheater features a regular concert series that ranges from rock music to classical, as well as hosting Shakespearean theater, and outdoor movies on the lawn. Several well-known Seattle bands got their start at this venue, including Nirvana, Soundgarden, Pearl Jam, and Alice in Chains. During these performances, the Seattle Mural was in place as the backdrop behind the stage.
The Seattle Mural is part of the permanent public art collection owned by the city of Seattle. In 2011, it was restored through a grant from the National Trust for Historic Preservation, in conjunction with the organization 4Culture, as well as the Office of Arts & Cultural Affairs, and the Seattle Center. The Mural Amphitheater has remained a popular venue for concerts and festivals. In addition to the mural, the Space Needle landmark is also a visible to audiences while watching performances at this venue; it is located behind the Seattle Mural and the stage.
Sources
Childress, Tamara . Weekly Art Hit: 'Seattle Mural' by Paul Horiuchi, Seattle.gov. October 10th 2012. Accessed June 13th 2021. https://artbeat.seattle.gov/2012/10/10/weekly-art-hit-seattle-mural-by-paul-horiuchi/.
Mural Amphitheatre, Seattle Center. Accessed June 13th 2021. http://www.seattlecenter.com/connect/book-an-event/rentals/facilities/mural-amphitheatre.
Additional Information