Chris Cornell Memorial Statue
Introduction
Standing outside in Seattle eternally preforming is a memorial to Chris Cornell . It was donated to the Museum of Pop Culture by his widow, Vicky Cornell after its unveiling in 2018 by her and his former bandmates from Soundgarden. Cornell enjoyed an over thirty-year career and Soundgarden was the first band from Seattle to sign to a major record label, A&M Records in 1989. While Cornell was not as prominent as some of his contemporaries, it was Cornell's early influence that helped the other Seattle bands like Alice in Chains and Nirvana gain traction and adopt their own unique sound. Early on AiC was a glam metal band that resembled Motley Crue or Poison, while Nirvana maintained a punk aesthetic. While never shedding its heavy metal influence Jerry Cantrell would adopt several techniques from Cornell, mainly alternative tunings and odd time signitures. Kurt Cobain loved the earliest years of Soundgarden and before the Nevermind album they sounded similar to Cornell's work. Chris Cornell dealt with depression throughout his career and its impact on his life can be heard in his music. Many of modern rock takes its notes from Cornell's lyrics about depression, substance abuse, and the experience of living itself. He would take his own life in 2017. The statue of Cornell was made by Nick Mara, alongside with Vicky Cornell who picked through photographs of Cornell to decide on the specifics of the piece. Standing on the sidewalk beside the Museum of Pop Culture, the statue isn't on a pedestal or placed above the viewer. The plan was to make it so you could walk right up to him and "look him in the eyes".
Images
Soundgarden announcing their reunion in 2011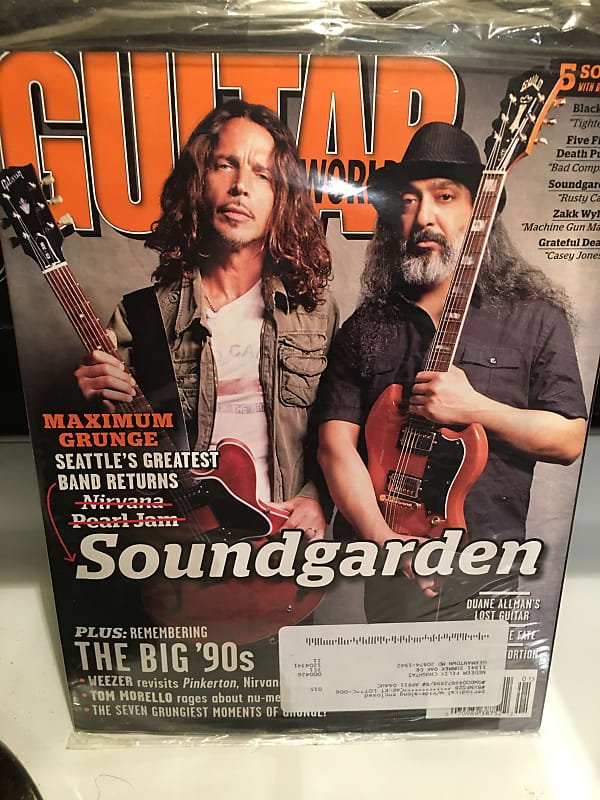 1990 promotional shot for BadMotorfinger (even then it was on his mind)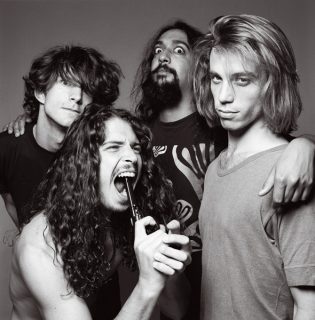 Chris Cornell's memorial stands just outside the Museam of Pop Culture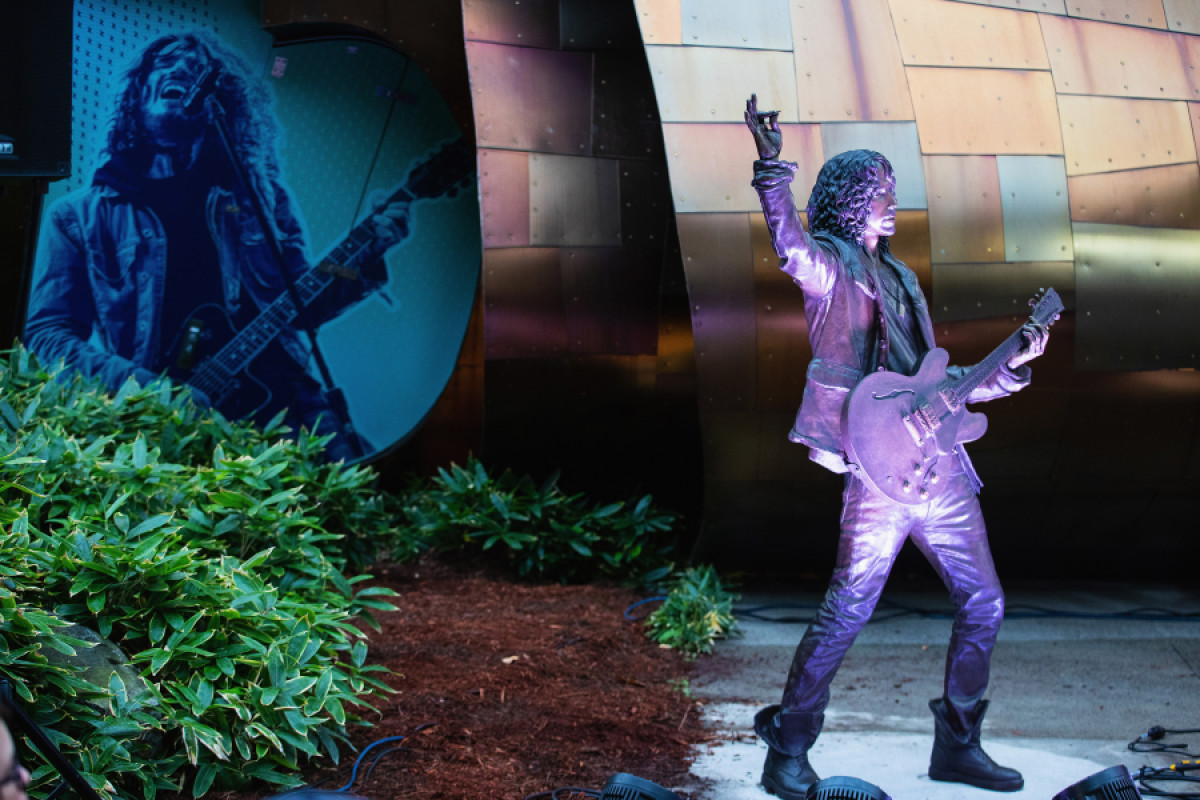 Cornell's children and the surving members of Soundgarden at the unvieling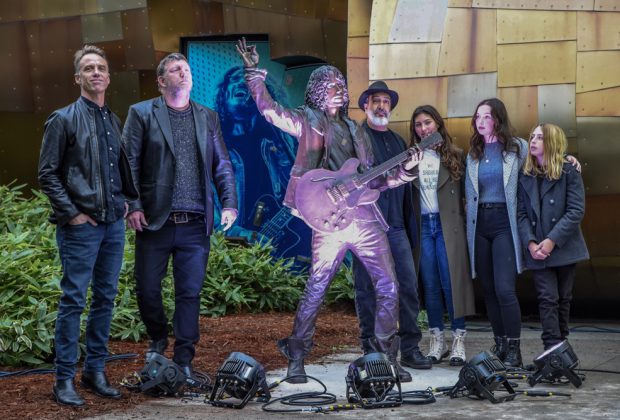 Backstory and Context
Soundgarden formed in Seattle in 1984 with Chris Cornell on drums, Hiro Yamamoto on Bass, and Kim Thayil on guitar. The band was also the first of the four big Seattle bands (Alice in Chains, Soundgarden, Pearl Jam, and Nirvana) to sign onto a major record label in 1988. The bulk of Cornell's fame would come after time had eroded the grunge bands' influence. But the interesting thing was Cornell and guitarist Thayil would often times offer assistance to these other bands. Alice in Chains originally was two separate bands. Layne Staley and Jerry Cantrell both came from heavy metal backgrounds. One night, Cantrell saw Soundgarden playing and was blown away by Kim Thayil's speed and asked how he did it. Kim's answer was simple, let the guitar work for you. He introduced the young Cantrell to alternative tunings on the instrument which, while not necessarily new, was to Cantrell. After coercing Staley into joining his new band, Jerry Cantrell's play style had taken on this sludgy heavier sound now synonymous with Alice in Chains.
Kurt Cobain was actually a big fan of early Soundgarden. In a 1992 interview with Flipside, Cobain said how he liked Soundgarden so much more than the other Seattle bands. Nirvana's earliest album BLEACH sounds a lot like Sondgarden's UltraMegaOK and Loud Love (all were late 80s productions). He liked the metal aspect to the band and as his band took off he that same soft/aggressive/soft tone followed with him and became more refined.
One of the greater impacts Cornell would have on music would be what eventually led to Pearl Jam. Originally named Mother Love Bone, the band members that would go onto Pearl Jam in 1990 were Stone Gossard and Jeff Ament. The artistic lead of the band was the flamboyant and energetic Andrew Wood. Sadly Wood would overdose and be rendered brain dead in early 1990. Dropped by their label due to his death their debut album Apple failed commercially despite peaking at 34 on Billboard. Penniless and heartbroken the majority of the band quit, leaving Gossard and Ament with little prospects aside from each other. The saving grace was one of Andrew Wood's best friends and former roommate, Chris Cornell. By 1990, Soundgarden had begun to gain attention and was already touring internationally. In honor of his friend, Cornell wanted to write a few songs with Wood's former bandmates, eventually becoming a full album. As progress went along Gossard and Ament began auditioning for a new singer for Temple of the Dog, to carry on as a new band for "Andy". One of these auditions was a surfer from California called Eddie Vedder. He would join them on just one track titled Hunger Strike. In 1990 and 1991 Temple of the Dog received little attention. Cornell returned to Soundgarden while Vedder, Gossard, and Ament went on to begin their own band Pearl Jam. That would change in the summer of 1992 after mainstream success found both groups. What the record company realized was the album was collaboration of Soundgarden and Pearl Jam, which had both exploded with Bad Motor Finger and Ten. Wood's legacy would be remembered through future works by his surviving friends. Matt Cameron from Soundgarden enjoyed working with the members of Pearl Jam so much that he would join them in 1998 following Soundgarden's dissolution as their full time drummer.
Three years later in 2001, Cornell would join up with Rage Against the Machine to form the supergroup Audioslave. With them Cornell would help put out 3 more albums along with a slew of solo work. In 2010 Soundgarden would meet together for the sole purpose of settling legal disputes. It had come to their attention they still had a massive fanbase and really had no internet sites or online distribution. A year later they were sending out new music along with their old, and by 2012 had begun touring.
In 2017 Chris Cornell preformed his final show with Soundgarden in Detroit. Several hours later he was found to have killed himself in his hotel room. Jerry Cantrell of AiC and Chester Bennington from Linkin Park particularly remembered him well and were devastated. Two months later Bennington would take his own life. Both had experienced drug and alcohol problems and dealt with depression for the majority of their lives. Linkin Park would continue without him and have never replaced him. Soundgarden dissolved for the last time in January of 2019.
Sources
Flipside. 1992. "An Interview With...Kurt Cobain," May 1992.
Magnotta, Andrew. 2019. "Chris Cornell's Children Unveil Statue Of The Late-Singer In Seattle | Iheartradio". Iheartradio. https://www.iheart.com/content/2018-10-08-chris-cornells-children-unveil-statue-of-the-late-singer-in-seattle/.
Contactmusic.com. 2019. "Soundgarden." Contactmusic.com. Contactmusic.com Ltd. October 17, 2019. http://www.contactmusic.com/soundgarden.
Soundgarden Guitarist: 'Nirvana Originally Sounded Like Junior Soundgarden'". 2013. Ultimate-Guitar.Com. https://www.ultimate-guitar.com/news/general_music_news/soundgarden_guitarist_nirvana_originally_sounded_like_junior
Rietmulder, Michael. "Memorial Statue of Chris Cornell, 'Seattle's Son,' Finds Public Home at MoPOP." The Seattle Times, 2018.
Hardy, Phil. The Faber Companion to 20th Century Music. 3rd ed. ed. London: Faber and Faber Ltd, 2001.
Connection, Music. "Chris Cornell Statue Unveiled at Museum of Pop Culture (MoPOP)." Music Connection Magazine, October 8, 2018. https://www.musicconnection.com/chris-cornell-statue-mopop/.
Image Sources
Guitar World - January

Rolling Stone

Rolling Stone

Music Connection

Additional Information