Armory Park (demolished)
Introduction
Constructed on May 29, 1897, Armory Park became a popular attraction for the city of Toledo. The park housed several sports teams, including the Toledo Athletic Association football team. The park also housed the Toledo Mud Hens. The Toledo Athletic Association lasted from 1902 till 1906, where the team moved locations. However, another football team under the Toledo Athletic Association called the Toledo Maroons, a professional football team, took up residence in the park. The Maroons played in the Ohio League between 1902 until 1921. However, the team only played on the Armory Park field until 1908. The Armory Park is the first Toledo ballpark that photographs have to know to survive. Fire and arson destroyed most of Armory Park in 1934. The city demolished the rest of the park a few years later. Today space is occupied by the Toledo Municipal Courthouse.
Images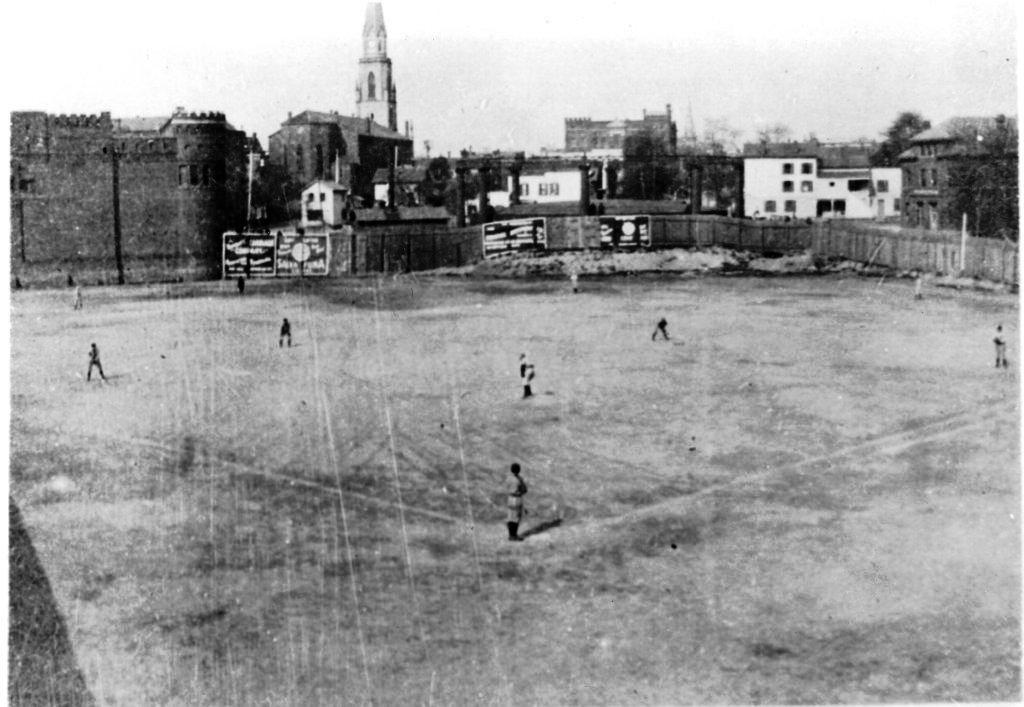 "Sunday Baseball at Armory Field," (Cincinnati Commercial Tribune), 15 July, 1897, p.2.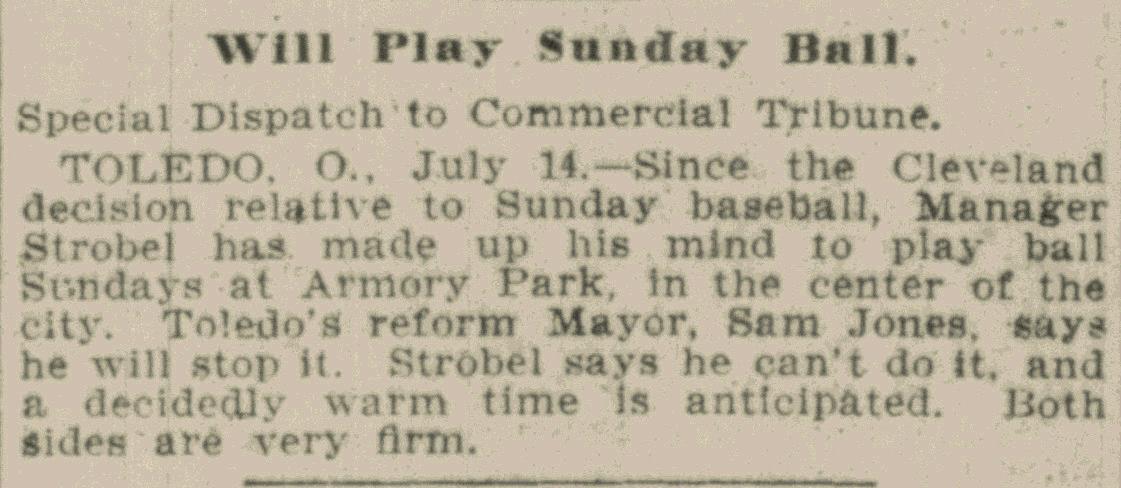 "Toledo Assured of New Federal Home," (New Philadelphia Daily Times), 02 Nov 1928, p. 11.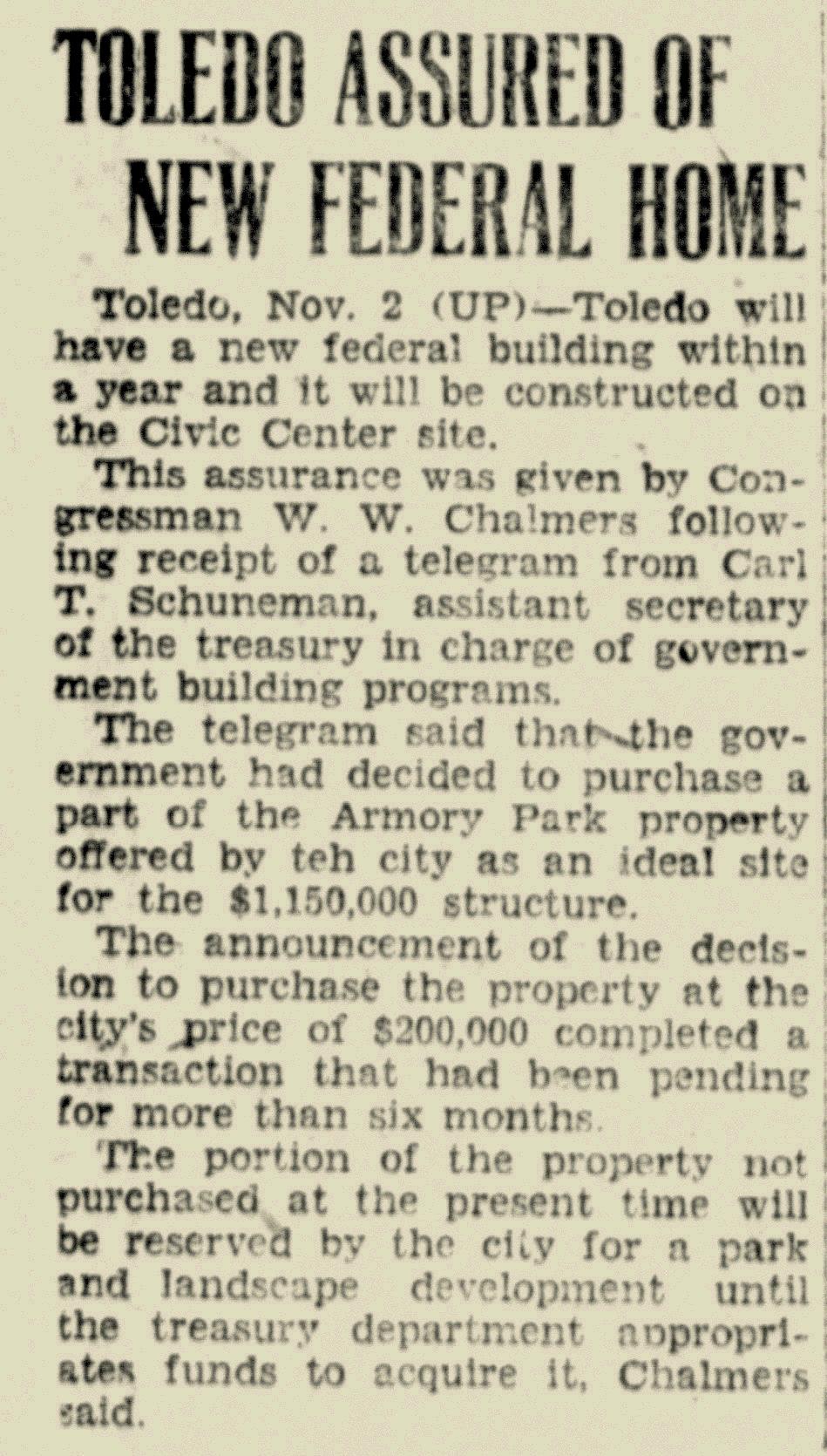 Backstory and Context
Charles J. Strobel, a native of Sandusky, Ohio, financed the park. Most of Strobel's wealth came from his oil businesses. Strobel's love for sports, especially Toledo baseball, pushed him to scout out a new location for the recently purchased Toledo Base Ball Club. Football arrived at the stadium in 1902 with the Toledo Athletic Association. The team would form another team called the Toledo Maroons in 1906. The Maroons provided experience to the younger players, also known as a farm team. The Toledo Athletic Association would stop playing on the field in 1906, and the park would stop allowing the Maroons to play in 1908. The park would complain that the football cleats would tear up the grass field. The Toledo Maroons would play in the Ohio League until 1921 when the team joined the new American Professional Football Association. However, poor attendance and tough opponents forced the team to move to Wisconsin and ultimately disbanding in 1924.
The Park itself stayed in operation until 1909 when Swayne Field replaced the park. Swayne Field had double the seating and would serve as Toledo's outdoor sports center. The building stood unoccupied till 1934, where a fire destroyed the building. The Auto-Lite strike and riots that followed led to the fire that consumed the old stadium.
Sources
"Armory Park", Society for American Baseball Research, accessed May 03, 2021, from https://sabr.org/bioproj/park/armory-park-toledo/
Benson, M. (2009). Ballparks of North America: A comprehensive historical encyclopedia of baseball grounds, yards, and stadiums, 1845 to 1988. Jefferson, NC: McFarland.
"Toledo Maroons", Ohio History Central, accessed May 03, 2021, from https://ohiohistorycentral.org/w/Toledo_Maroons?rec=2361
Image Sources
https://sabr.org/bioproj/park/armory-park-toledo/

https://newspaperarchive.com/cincinnati-commercial-tribune-jul-15-1897-p-2/

https://newspaperarchive.com/new-philadelphia-daily-times-nov-02-1928-p-1/

Additional Information