Swayne Field (demolished)
Introduction
Constructed in 1909, Swayne Field accommodated several minor league baseball teams in Toledo, Ohio. The field also served as the home of the Toledo Maroons football team. The team moved from Armory Park to Swayne Field in 1909. The Maroons called this field home for 13 years. The team struggled to acquire an audience in Toledo. The Maroons had little success over the years as a professional team. The field stood for 46 years in Toledo, until the city demolished the venue in 1955. The field was named after the son of U.S. Supreme Court Justice Noah Haynes Swayne, who donated the land for the ballpark. The site is now home to the Swayne Field Shopping Center.
Images
Swayne Field Opening Day (1909)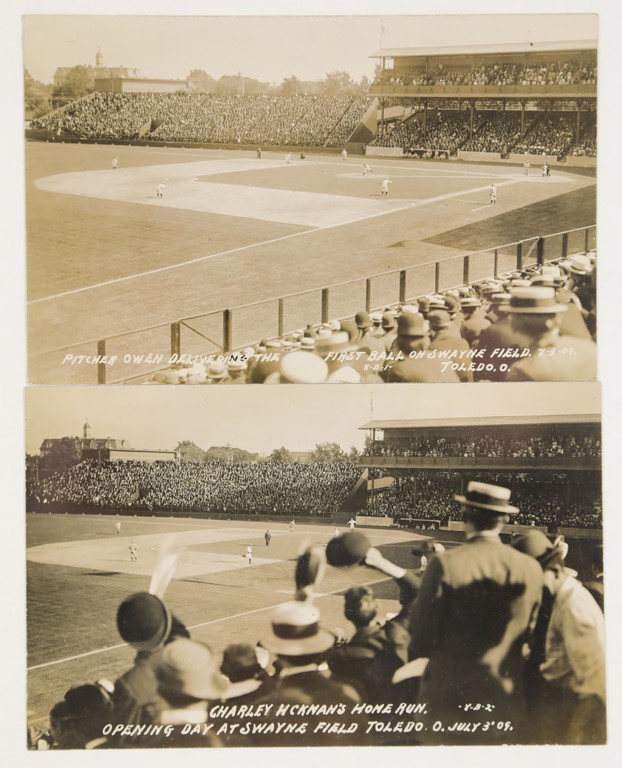 12,000 People At Swayne Field Opening Day (1909)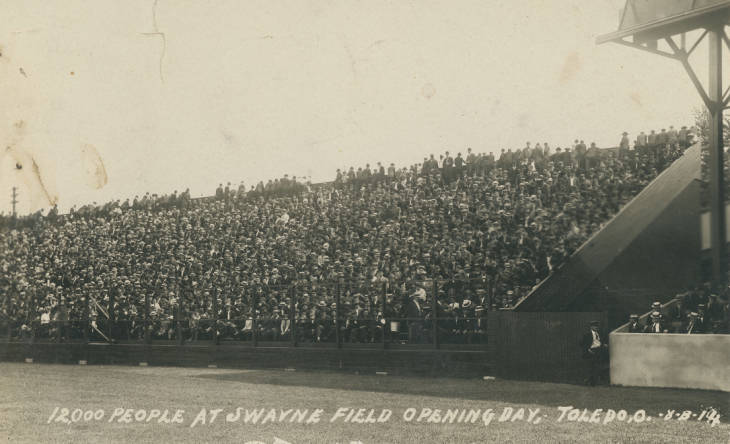 Willys-Overland Field Day at Swayne Field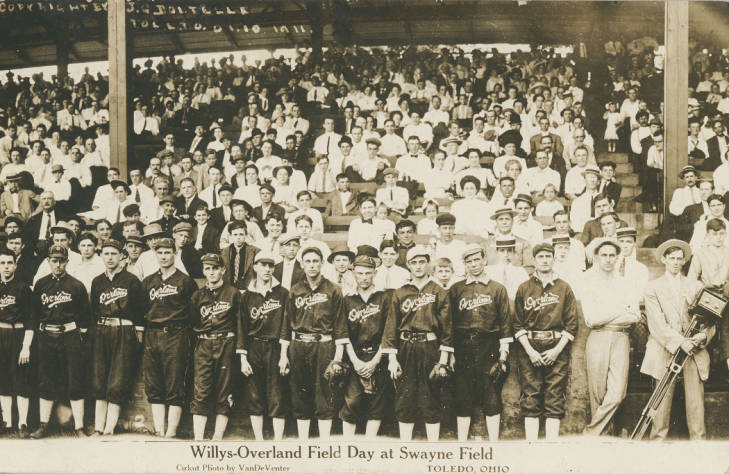 "Toledo May Buy Sox's Ballpark," (Lima News), 14 Dec 1954, p.19.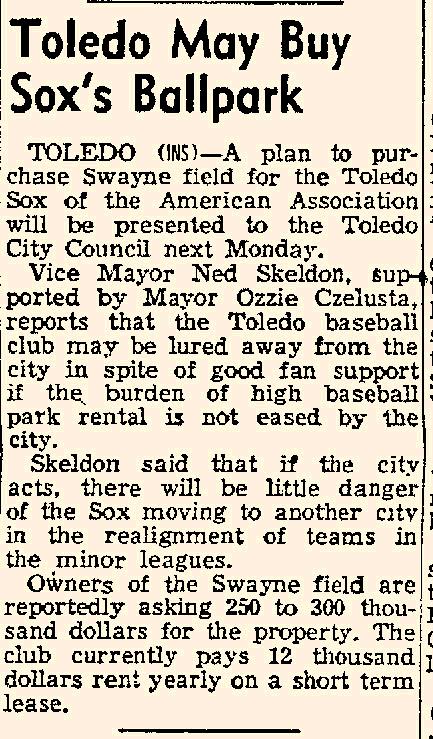 "Toledo's Swayne Field is Sold," (Elyria Chronicle Telegram), 4 Oct 1955, p. 23.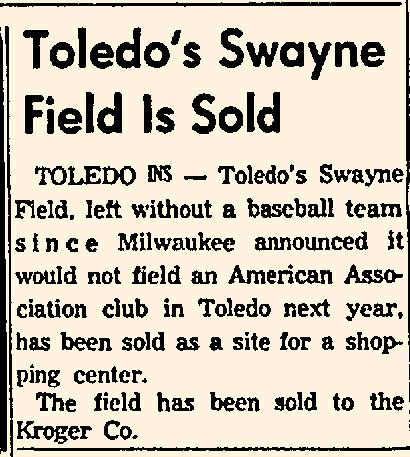 "Grocery Purchases Toledo Ball Park," (Van Wert Times Bulletin), 4 Oct, 1955, p. 37.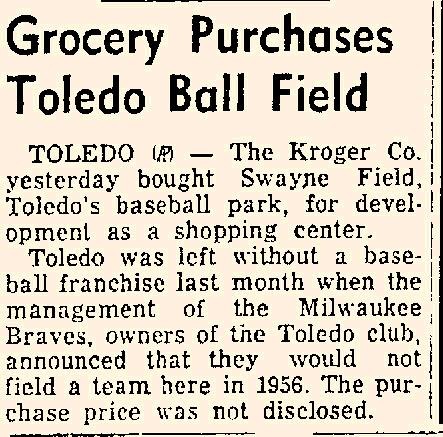 Backstory and Context
Constructed in 1909, Swayne Field became one of Toledo's oldest minor league baseball parks. The original capacity of 11,800 spectators expanded in 1928, to allow for an additional 3.000 more seats. The Toledo Mud Hens baseball team fared moderately better then their football counter parts. The opening game for the stadium featured the Mud Hens baseball team battling against Columbus. The game lasted for 18 innings before Columbus claimed victory. The park would also become the home for the Toledo Maroons, who needed a new space after being evicted from Armory Park field. The owners of Armory Park complained that the football cleats destroyed the grass field. Baseball dominated the city of Toledo, and the Maroons struggled to attract spectators. After the 1923 season, the Maroons transferred to Kenosha, Wisconsin. The Kenosha Maroons dissolved after failing to secure a win after five games in the 1924 season. Even the Mud Hens struggled to survive and moved to Charleston, West Virginia in 1953.
The field itself remained open until 1955. The lack of successful teams started to affect the ability of the field to remain open. Eventually, all of the sports teams transferred or disbanded, leaving the park no choice but to close and succumb to natural decay. The Swayne Field Shopping Center now sits on the site, some of the left-field wall still stands as a decaying barrier on the northeast edge of the block.
Sources
Weber, Ralph Elliot. The Toledo Baseball Guide of the Mud Hens 1883–1943.
Jensen, Don . "KENOSHA MAROONS: NEVER A WINNING GAME ." Kenosha News (Kenosha) January 6th 1979. .
Hunsman, John R. Baseball in Toledo. Arcadia Publishing.
Image Sources
https://lelands.com/bids/1909-toledos-swayne-field-opening-day-rppcs-2

https://www.ohiomemory.org/digital/collection/p16007coll33/id/122351

https://newspaperarchive.com/lima-news-dec-14-1954-p-19/

https://newspaperarchive.com/elyria-chronicle-telegram-oct-04-1955-p-23/

https://newspaperarchive.com/van-wert-times-bulletin-oct-04-1955-p-37/

Additional Information