Luna Park (demolished)
Introduction
Luna Park opened in 1905 as the second in an international chain of amusement parks, created and financed by Frederick Ingersoll. Ingersoll made his living being an American entrepreneur who created the world's first chain of amusement parks. The park featured a carousel, a Ferris wheel, roller coasters, a dance hall, and a massive stadium. The stadium housed two football teams, the Cleveland Panthers and Cleveland Bulldogs. Both teams played in the Ohio League, a forerunner to the National Football League. Unfortunately, the park struggled to stay afloat during Prohibition and the Great Depression. The park no longer stands as fire and arson destroyed most of the park, while the city dismantled the remaining rides. The housing Complex Woodhill Homes now sits on the spot where the park used to reside.
Images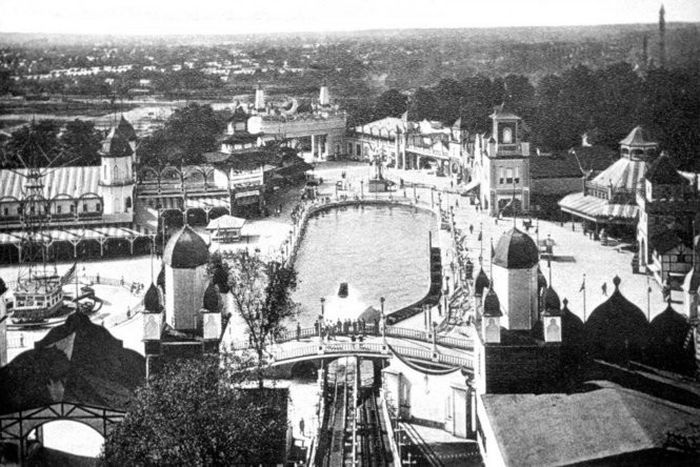 Luna Park entrance arch (1910)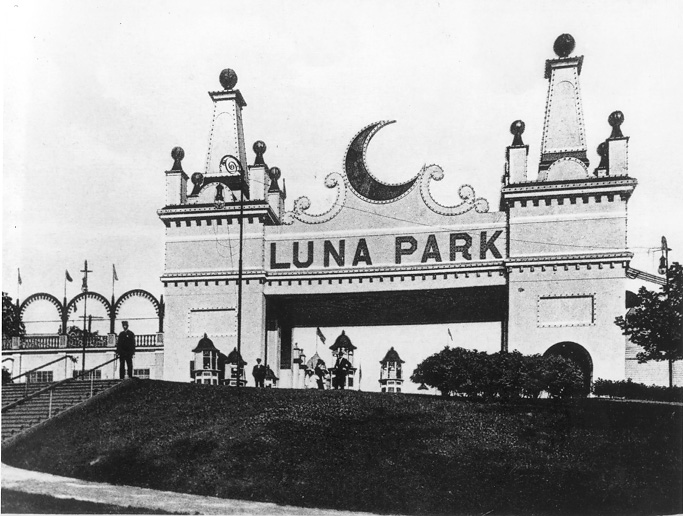 "Purely Personal," (Cleveland Gazette), 27 July 1912, p.3.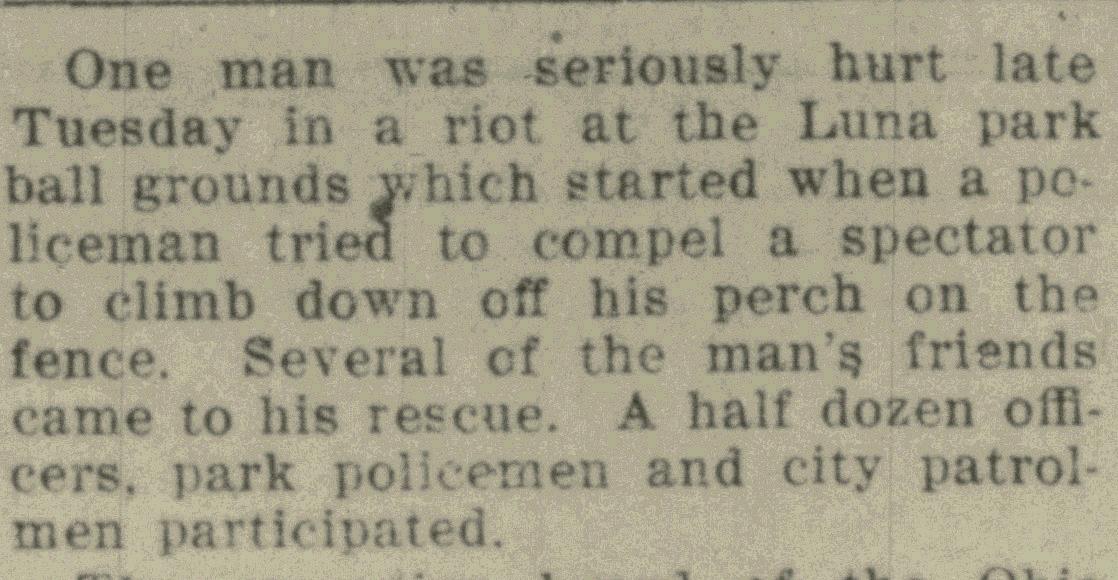 "Shame, O, Shame!," (Cleveland Gazette), 31 July 1915, p.3.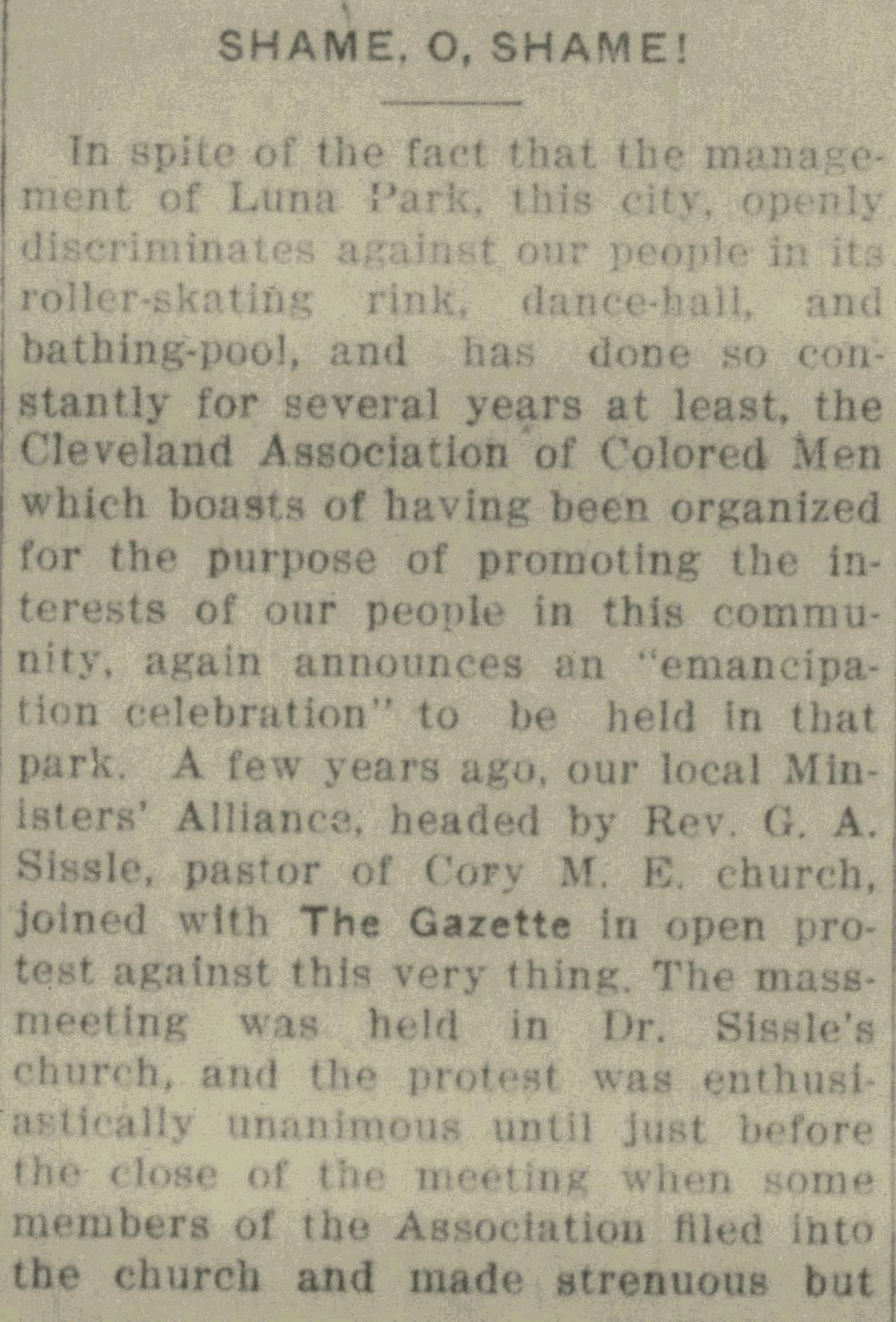 Backstory and Context
Ingersoll sold the park to paving contractor, Matthew Bramley in 1910. The park itself thrived until the beginning of the Prohibition in America. The availability of Alcohol proved to be the biggest attraction to the park. One of the main attractions for the park was the stadium, nicknamed the Luna Bowl. The stadium could seat 20,000 fans and became the home to a few early football teams in Ohio. The Cleveland Bulldogs and the Cleveland Panthers would use the stadium as a home field. The disbanded Youngstown Patricians gave way to the Cleveland Panthers football team in 1919 from the remains of the Youngstown Patricians football team. Despite early success and winning their first three games, the Panthers quickly found themselves struggling to attract fans to the game. The Panthers struggled to find opponents after 1926 and disbanded in 1933. The Cleveland Bulldogs were founded in 1923 and used to be called the Indians. However, after the owner, Samuel Deutsch purchased the Canton Bulldogs and merged the teams, the name Bulldogs stuck. The Bulldogs relocated to Detroit in 1928 to become the Wolverines, and would later be incorporated into the New York Giants in 1929.
The troubles faced by the football teams also followed mirrored by the park. Prohibition dealt a serious blow to the attendance of the park, but the Great Depression was the final nail in the coffin for the park. The park closed its doors for the final time in 1929. The unattended park became the target of several incidences of arson, including the fire that destroyed the football stadium. The city of Cleveland demolished the remaining rides in 1931 and replaced the park with the Woodhill Homes housing project in 1940.
Sources
"Luna Park," Cleveland Historical, accessed March 29, 2021, https://clevelandhistorical.org/items/show/259.
"Luna Park,"Case Western Reserve University" accessed March 29, 2021, https://case.edu/ech/articles/l/luna-park
"Cleveland Panthers," Case Western Reserve University, accessed March 28, 2021, https://case.edu/ech/articles/c/cleveland-panthers
"Cleveland Bulldogs" Ohio History Central, accessed March 29, 2021, https://ohiohistorycentral.org/w/Cleveland_Bulldogs?rec=2271
Image Sources
https://www.cleveland.com/entertainment/2016/07/vintage_cleveland_amusement_pa.html

https://case.edu/ech/articles/l/luna-park

https://fs64sports.blogspot.com/2011/08/past-venue-luna-bowl.html

https://newspaperarchive.com/cleveland-gazette-jul-27-1912-p-3/

https://newspaperarchive.com/cleveland-gazette-jul-31-1915-p-3/

Additional Information