Historical Marker: Salmon Portland Chase
Introduction
This marker honors the life and legacy of Salmon Portland Chase (1808-1873), who most notably served as the Secretary of the Treasury under Abraham Lincoln and was the 6th Chief Justice of the Supreme Court (1864-1873). He was born in New Hampshire in 1808. He attended Cincinnati College from 1822-1823 and eventually graduated from Dartmouth College (in New Hampshire) in 1826. He was admitted into the bar and set up a practice back in Cincinnati. He became known for his staunch abolitionist beliefs and defended runaway slaves and those who harbored them. Chase's political career began as a city councilman in 1840, and would become a Senator (1849-1855) and after that the first Republican governor (1856-1860) of Ohio. As Treasury Secretary, Chase established the nation's first national bank, the Bureau of Internal Revenue (now the IRS), and introduced the first paper currency. He vied for the nomination to be Republican candidate for president but lost to Lincoln. Chase also helped organize what was called the Free Soil Party, which advocated for abolition of slavery; it was gradually incorporated into the Republican Party. Chase died of a stroke in 1873
Images
The marker is located just across the bridge, near Great American Ballpark. Photo: William Fischer Jr.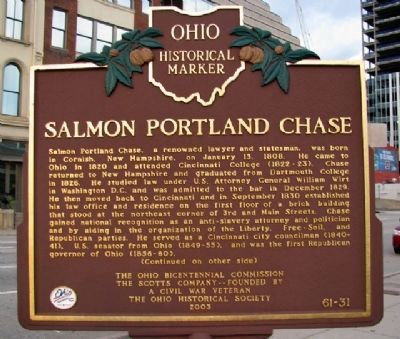 Salmon Portland Chase coined the slogan of the Free Soil Party: "Free Soil, Free Labor, Free Men"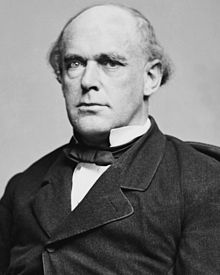 Historian John Niven has written a biography of Salmon Chase that is available from Oxford University Press.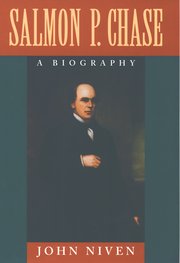 Backstory and Context
Chase practiced law in Cincinnati and defended runaway slaves who had entered into the city from Kentucky. During his tenure in the Senate, Chase warned of the growing threat of the "slave power," a euphemism for the disproportionate political and economic power of planters. He was also one of the most outspoken critics against the extension of slavery into the American West.

Chase served as Governor of Ohio between 1856 and 1860. During the Civil War, he served in President Lincoln's cabinet as the Secretary of the Treasury and helped create the modern American banking system while also creating and marketing the bonds that helped the Union finance the war effort. For his contributions, the founders of the Chase National Bank (JP Morgan Chase today) named their bank in honor of the former Treasury Secretary. After the war, he served as the Chief Justice of the Supreme Court during the impeachment trial of Andrew Johnson. He passed away in 1873 and his remains are interned at the Spring Grove Cemetery.
Sources
Niven, John. Salmon P. Chase: A Biography. New York, NY: Oxford University Press, 1995.

Niven, John. Salmon P. Chase: A Biography. Booknotes by C-SPAN. Accessed March 03, 2017. http://www.book-notes.org/Watch/64314-1/John+Niven.aspx.

"Salmon Portland Chase." The Historical Marker Database. Accessed March 3, 2017. http://www.hmdb.org/marker.asp?MarkerID=24621

Additional Information