Walking Main ..... 1109 Main Street, Street, Sumner Washington
Introduction
Construction of 1109 began in 1920 and completed in 1921. It has one large store front with a recessed entry and two smaller store fronts that share a recessed entrance with separate doors. The builder was George R. Burghaus and for years it was called the Burghaus building. He was an insurance man who partnered with Fred Carnahan, another great name in Sumner's Main Street history. The building frontage still remains much the same as when it was built although the cornice was simplified at some point and the hard canopy was recently removed. The back of the building offers a different history, a large two story expansion was added in 1955 by new owners, the Sumner News Index. They needed space for their Linotype, paper press and job presses.
Images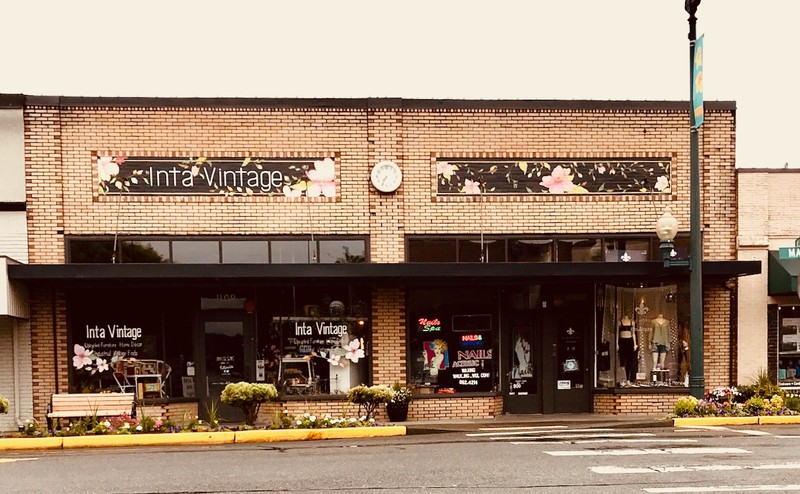 Early street view, 1950s, Home of the Sumner News Index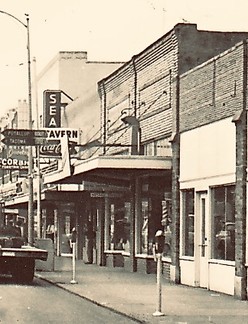 Andrews family and newspaper staff, 1950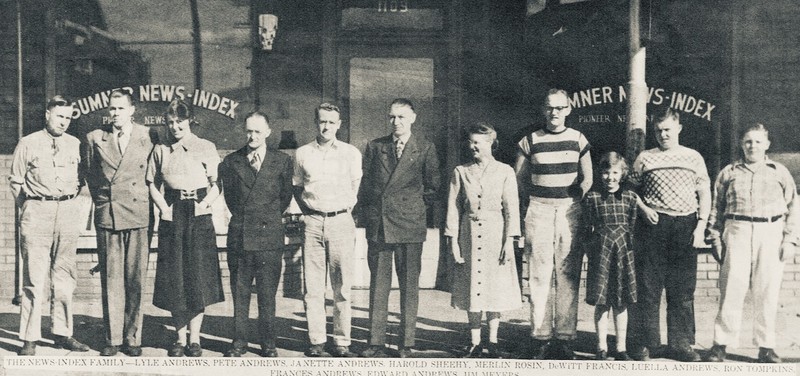 Backstory and Context
While many Main Street buildings had a regular turnover of occupants, this building was blessed with businesses that stayed for long periods. The Sumner Grocery was there for 14 years and the Sumner News Index for 28 years. The antique shop, Whistle Stop was there for 23 years.
Sumner Grocery moved into the building in January 1921. The grocery owners were John Davis and Robert Corliss. One of the small storefronts was taken by Cuquet's Barber Shop.
Sumner Grocery was not self service, customers would come in with their list or needs and the clerks would pull the goods from shelves and showcases.
in 1923 Cuquet's Barber Shop became Eberhart's and in 1933 Jack's Barber Shop.
In 1926 Sumner Grocery was sold to J.O Johnson and Niel McClane. This may have been due to competition, a Piggly Wiggly opened that same year just a block down Main Street.
In 1929 the Sumner Grocery bought and moved the vegetable market that was being operated as part of Geiger's Meat Market. This was just across the street so we can assume that customers looking for vegetables easily accepted the change.
In 1936 George Burghaus passed away and the building was bought as an investment by the S. P. Gray family in Puyallup.
In 1934, Sumner Grocery and Geiger's Meat Market moved to 1201 Main, the building where Craft 19 is now. The grocery operation changed to self service. They became a Thriftway affiliate in 1948.
In 1934 Lyle & Pete Andrews bought the Sumner News Index from their father, C.E. Andrews. In 1934 they moved the paper to 1109 Main. It had been on the second floor of the bank building for 15 years so finally having street level access must have made a lot of tasks easier.
The Andrews family were newspaper people. From 1912 to 1963, three generations provided a weekly paper to Sumner and the valley. Twenty eight of those years were in this building. Every family member worked at the paper at one time or another. At their home on Bonney Avenue, and later on Washington Street, Pete Andrews supplemented his family's newspaper income by raising raspberries and Blackberries that were sold to the local cannery. They also had a cow, chickens, garden and an orchard. 
Pete and Jannette Andrews were high energy people with lots of interests, Pete had a photography business which he ran from the newspaper office and they started selling wedding supplies. That explained the high number of wedding pictures and articles that appeared in the paper over the years. His favorite camera was a Speed Graphic that he bought in 1946. 
They were community minded people. Review the rolls of community clubs and event committees and there was a very high probability that there would be an Andrews involved. Rotary, city councilman, church boards, Daffodil Festival Board, 4H, and of course the Civic Club, the overseer of most Main Street activities. Pete and Jannette will always be remembered for what they did during WWII, the paper kept an Honor Roll of every local serviceman and they mailed free copies of the paper to every one of them.
Pete Andrews sold the paper in 1963 but still owned the building. In 1992 he sold it to Karl and Barbra Keck and it became The Whistle Stop Antique Mall and Keck's Custom Jewelers. That was the beginning of the buildings. Like a lot of us, Barb and Karl liked antiques. introduced by mutual friends, they would run into each other in stores and at shows in the valley and Tacoma area. The relationship became permanent and because of that 1109 Main started a new life as the largest antique mall in Sumner.
The Kecks carried on with the tradition of caring for the community. They gladly supported local social and school events. They actively participated in the Sumner Promotions organization and it's successor the Sumner Downtown Association. 
When the Kecks retired, the antique mall changed over to Off the Beaten Path, Joanne Loudin, the proprietor, carried forward the tradition of community support. Joanne was active in all the downtown associations and actively networked the antiques and collectible circuits in the area. Her efforts resulted in the spectacular array of antiques, craft and country vendors that she recruited every year for Rhubarb Days. 
In 2020 the Kechs sold the building to Curtiss and Pam Jonhson. The two Boeing retirees had opened an antique mall. Inta Vintage, a few doors away from 1109 Main in 2017. When that building owner decided to make changes with the building, they bought 1109 and moved Inta Vintage into the building. There was ample room for expansion, they added vendors and now have 40 vendors and two floors of vintage, hand created, repurposed furniture, antiques, upcycled and repurposed home decor, unique farmhouse and shabby finds, as well as one of a kind vintage and upcycled clothing. There was no break in community involvement. The Jonhsons were and still are active members of the downtown associations. Curtiss is President of the Sumner Main Street Association.
Sources
Sumner News Index, Golden Anniversary Edition, 3-16-1950
Sumner News Index, 1-20-1922, 3-23-1922, 9-8-1922, 12-29-1922.
History of Sumner's Newspapers, Pete & Janette Andrews, 1983
Image Sources
Inta Vintage.... SHS Pictorial Collection

.. SHS Pictorial Collection

Andrews family and staff.... SHS Pictorial Collection

Additional Information