Alma Thomas Call Box
Introduction
The DowntownDC Business Improvement District (BID) Callboxes highlight some of the women in history that changed the city of Washington DC. This particular call box celebrates Alma Thomas, who lived, worked, and studied in the city over the course of her life and career as an artist. Thomas's call box is near a bustling and easily accessible intersection in the heart of downtown, 13th and G St. NW. The base of the box is stenciled with highlights of Thomas's life and a small plaque affixed to the box provides a detailed biography.
Images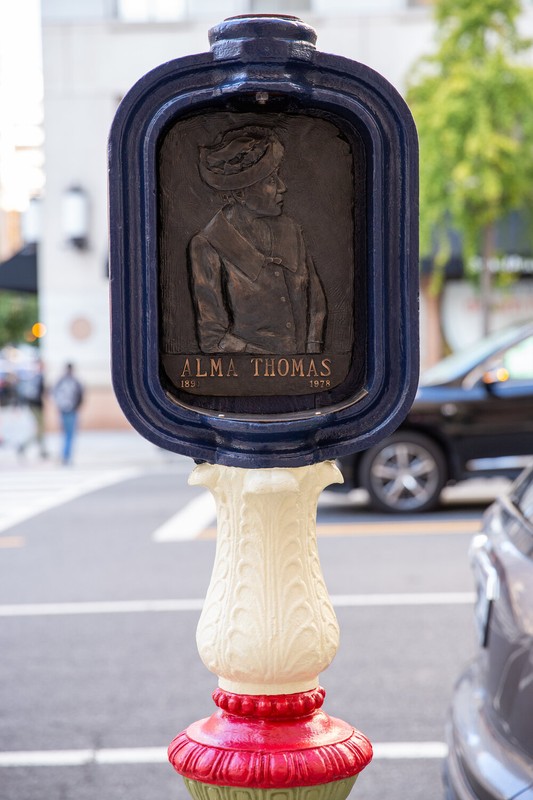 Backstory and Context
In 2019, the DowntownDC BID group unveiled public art made out of what had previously been eight emergency call boxes in downtown D.C. The art installations used the no-longer-functioning boxes to profile the contributions of eight prominent women in history. The project was funded by a grant from the DC Commission on Arts and Humanities and features original art by local artist and architect Charles Bergen. Alma Thomas's was selected as one of the eight women to be featured.
Ms. Thomas lived a fascinating life. At 15 years old in 1907 she and her family moved from Columbus, Georgia to Washington, D.C. as part of The Great Migration, when Black families left the South to escape racial violence and oppression. While D.C. was segregated at the time, it offered an array of jobs, excellent public schools, and Howard University.
Thomas took advantage of these new opportunities. She took classes at Armstrong Manual Training High School, attended Miner Teachers College, and became Howard University's first fine arts graduate in 1924. That same year she began a nearly three-decade-long career teaching art at Shaw Junior High School. In the 1930s, she helped found the Barnett-Aden Gallery, where Black artists could showcase and display their work. However, it was not until she retired from teaching in 1960 that she was able to truly focus on her painting, and developed the abstract style that she became known for. Her first abstract show took place at Howard University in 1966, when she was 75 years old. Six years later, she was given a retrospective at the Corcoran Gallery of Art and also became the first Black woman to hold a solo show at the Whitney Museum in New York City.
Many of these accomplishments are symbolized by the words and phrases that adorn the base of the callbox artwork, and are detailed in the informational plaque affixed to the back. The top of the call box is crowned by a bronze relief portrait of Thomas on one side and an image of one of her paintings on the other.
Sources
9, N. (n.d.). WAMU: Historic call boxes in DOWNTOWN D.C. will be transformed into ART Celebrating Women. Retrieved April 05, 2021, from https://www.downtowndc.org/news/wamu-historic-call-boxes-in-downtown-d-c-will-be-transformed-into-art-celebrating-women/
Downtown bid callboxes. (n.d.). Retrieved April 05, 2021, from http://www.charlesbergenstudios.com/downtown-bid-callboxes
Thomas, A. (1998). Alma W. Thomas, a retrospective of the paintings Catalog of an exhibition org. by and held at the Fort Wayne Museum of Art, Fort Wayne, Indiana, September 5 - November 8, 1998. San Francisco: Pomegranate.
The DowntownDC BID Unveils Call Box Art Profiling Women in History, DowntownDC. November 1st 2019. Accessed April 23rd 2021. https://www.downtowndc.org/news/call-box-art-unveiling-profiling-women-in-history/.
Image Sources
http://www.charlesbergenstudios.com/downtown-bid-callboxes