Kenilworth Park & Aquatic Gardens
Introduction
The Aquatic Gardens served as another point of interest and inspiration for Alma Thomas. The Kenilworth Park and Aquatic Gardens is a unique and beautiful habitat that features ponds filled with water lilies and lotus, surrounded by tidal marshes. It is a place to experience, celebrate, and connect to nature in Washington, D.C.
Images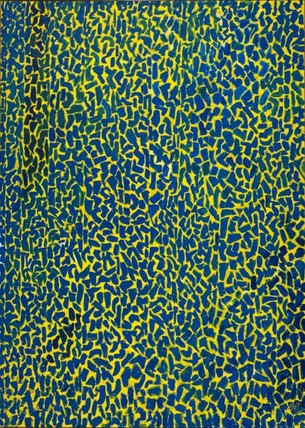 Lily Pads at the Aquatic Gardens
Backstory and Context
Thomas painted her famous work "Aquatic Gardens", 1973 based on the prolific lily pads at the Kenilworth Park and Aquatic Gardens. Many of Thomas's works, including this one, challenge us to experience the different ways light falls on leaves and flowers. Just has her other paintings were inspired by her local surroundings -- the leaves that rustled on the trees outside the front window of her home, the graphic patterns in the flower beds at the National Arboretum, the city's renowned cherry blossoms -- this one represents the natural beauty that can be found in the heart of the city. Thomas's painting makes the canvas an important part of the picture, using the size to convey the vastness of what she is painting: the many sprawling ponds of the Aquatic Gardens filled to the brim with lily pads. In addition, Thomas creates a dreamy atmosphere that encourages the viewer to imagine being there next to her, experiencing the garden in real time.
Sources
Kenilworth Park & Aquatic Gardens (U.S. National PARK SERVICE). (n.d.). Retrieved April 05, 2021, from https://www.nps.gov/keaq/index.htm
Thomas, A., Berry, I., & Haynes, L. (2016). Alma Thomas. Munich ; London ; New York: DelMonico Books, Prestel.
Image Sources
https://americanart.si.edu/artwork/aquatic-gardens-23999

https://www.kidfriendlydc.com/tag/dc-nature/

Additional Information