Smithsonian National Air and Space Museum
Introduction
Maintaining the world's largest collection of aviation and space artifacts and memorabilia, the Smithsonian National Air and Space Museum is a monument to the achievement of human flight and all related works of art and archival materials. Between the main facility on the National Mall, opened in 1976, and the Steven F. Udvar-Hazy Center near Washington-Dulles International Airport, the museum welcomes over eight million visitors a year, making it the most visited museum in the country. As part of their mission to showcase works of art related to the history, culture, and science of spaceflight, the museum currently houses a collection of works by Alma Thomas entitled The Art of Alma W. Thomas: A Colorful Response. Within this collection are several of Thomas's abstract paintings inspired by the Apollo Moon landing, as well as other works produced by Thomas in the late 1960s and early 1970s that reinterpreted the natural world through her unique lens.
Images
Blast Off (1970), Alma W. Thomas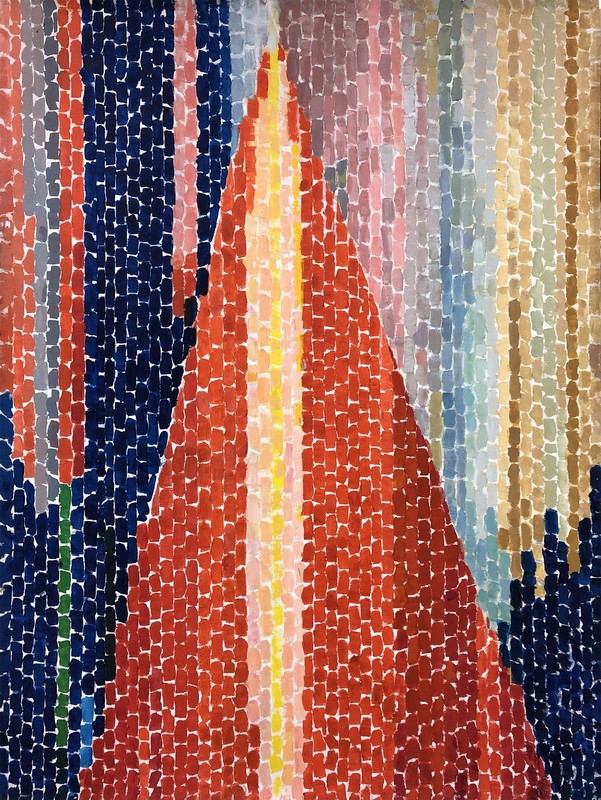 Launch Pad (1970), Alma W. Thomas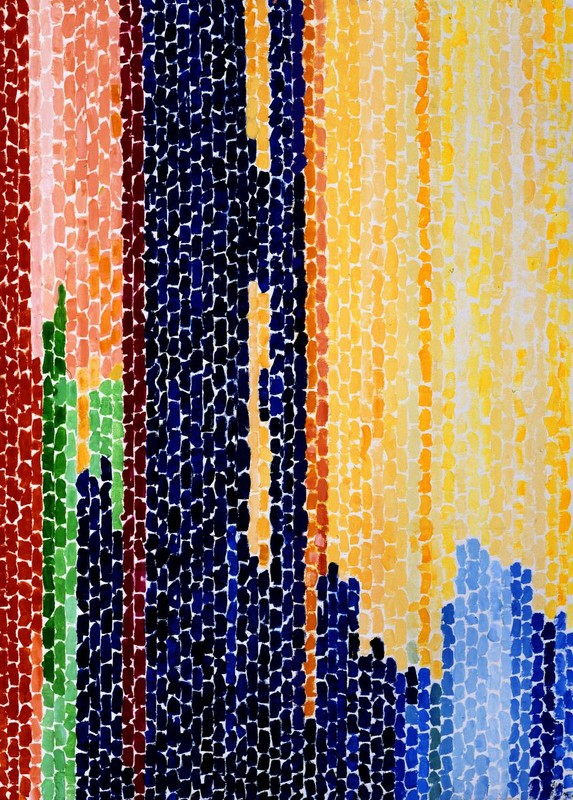 Portrait of Alma Thomas (1976), Michael Fischer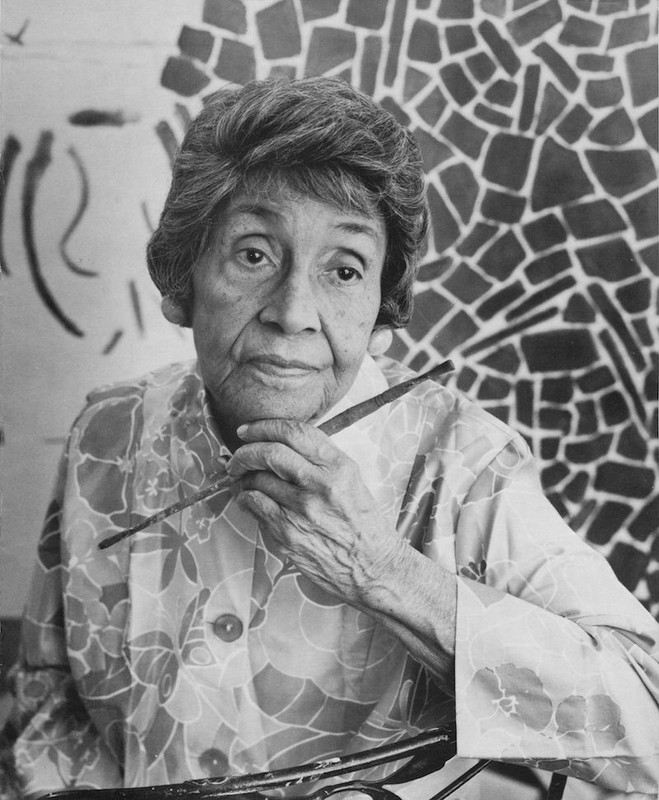 Astronauts' Glimpse of Earth (1974), Alma W. Thomas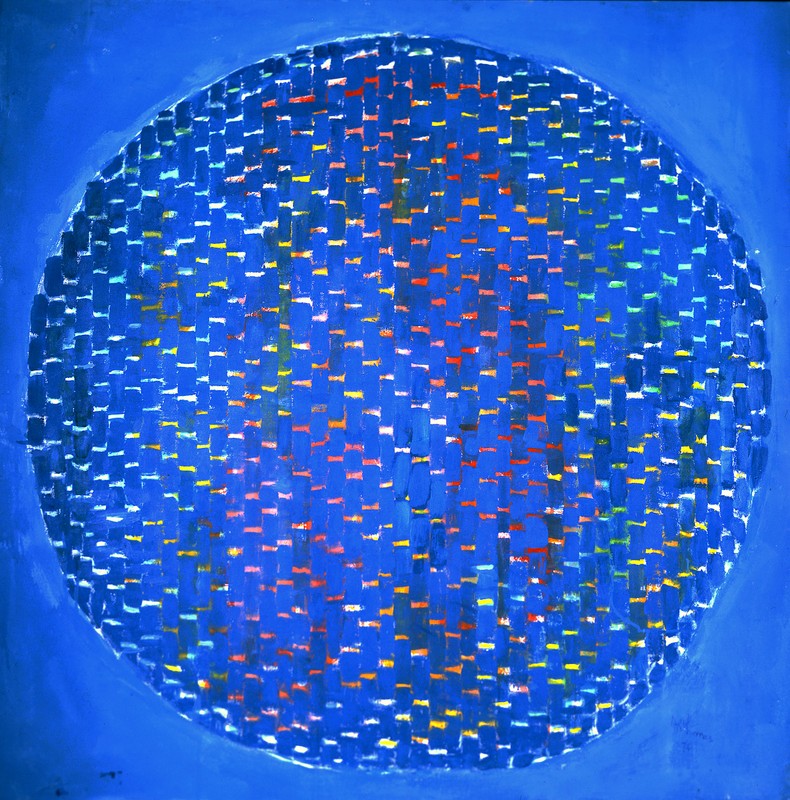 Snoopy Sees a Sunrise (1970), Alma W. Thomas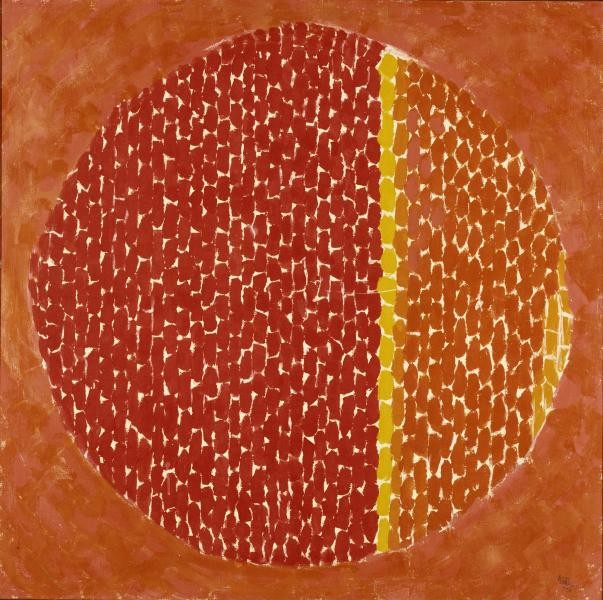 Backstory and Context
Like many Americans, Thomas was enraptured when astronauts first stepped foot on the surface of the Moon on July 20, 1969, so much so that it became one of the driving inspirations behind her work, particularly in the early 1970's. Her painting Blast Off, from 1970, features colored stripes of red, yellow, and orange coming to a point with a single dab of gray to represent a rocket ship in liftoff. The colored blocks placed on top of each other, forming a triangle, are reminiscent of the Egyptian pyramids, another of humanity's greatest triumphs. The blue and brown earth tones with dashes of pink on either side of the blast symbolize the natural world the rocket is leaving behind; oceans, mountains, and plains whose majesty will soon be dwarfed by the approaching vastness of space. Thomas repeats a similar color scheme in Launch Pad, a representation of the vast launch complex facility in Cape Canaveral, FL.
Thomas's early paintings were often done in a realistic style. Thomas herself admitted that was not her personal preference, as she did not want to depict the inhumanities and injustices of the world around her through realistic art. As such, she quickly pivoted to the abstract style for which she is now known. This allowed Thomas to create beautiful, symbolic works of art that captured the polarized achievement of the Moon landing, where African Americans and women were excluded, despite their contributions, against an imagined world of Thomas's own vision--a world on Earth and in the farthest reaches of outer space that welcomed and recognized everyone's gifts, and where all colors were equal. As art historian Cynthia Hodge-Thorne notes in The Politics of Space: Alma Thomas and Race Relations in the 1960s America, Thomas "depicted new worlds with limitless opportunities" through her abstract creations. Perhaps this is most evident in her painting Astronauts' Glimpse of the Earth from 1974, an imagined view of our planet from space done in various shades of blue, with specks of green, red, pink, and orange throughout to represent light, life, and an ideal multiracial society working together as one.
Thomas's work has been interpreted as a call to live and work in peace within a beautiful, harmonious world of color. The Air and Space Museum includes her paintings in their collection not only for their historical value and artistic subject matter, but as a reminder that the work of spaceflight is a human endeavor for the betterment of a world shared by all. Two of her most prominent space-themed pieces, Blast Off and Snoopy Sees a Sunrise (1970) will be loaned to the travelling retrospective on the life and works of Alma Thomas sponsored by the Columbus Museum in Columbus, Georgia and the Chrysler Museum of Art in Norfolk, Virginia and hosted by the Phillips Collection.
Sources
Hodge-Thorne, Cynthia. "The Politics of Space: Alma Thomas And Race Relations in 1960's America" (MA Thesis, American University, 2019), 23.
Russo, Carolyn. The Art of Alma W. Thomas: A Colorful Response, Smithsonian National Air and Space Museum. June 12th 2020. Accessed April 19th 2021. https://airandspace.si.edu/stories/editorial/art-alma-w-thomas-colorful-response.
Smithsonian National Air and Space Museum. Accessed April 19th 2021. https://airandspace.si.edu/.
Image Sources
https://airandspace.si.edu/stories/editorial/art-alma-w-thomas-colorful-response

https://airandspace.si.edu/stories/editorial/art-alma-w-thomas-colorful-response

https://airandspace.si.edu/stories/editorial/art-alma-w-thomas-colorful-response

https://airandspace.si.edu/stories/editorial/art-alma-w-thomas-colorful-response

https://americanart.si.edu/artwork/snoopy-sees-earth-wrapped-sunset-24020

Additional Information