Martha Munro Hall
Introduction
Author-Uploaded Audio
Originally built in 1938 as the Rural Arts Building, Martha Munro Hall was named in 1956 for Martha Munro, the wife of President Irvine S. Ingram. She was heavily involved in the school here, notably through her dedicated gardening on campus. This edifice was initially named the Rural Arts Building and housed departments such as the Rural Arts (i.e. home economics, rural life survey classes) and the administration of the Rosenwald Fund rural teacher training program, at West Georgia College. Today, Martha Munro houses the Theater Program at the University of West Georgia.
Images
Martha Munro Hall, c. 2020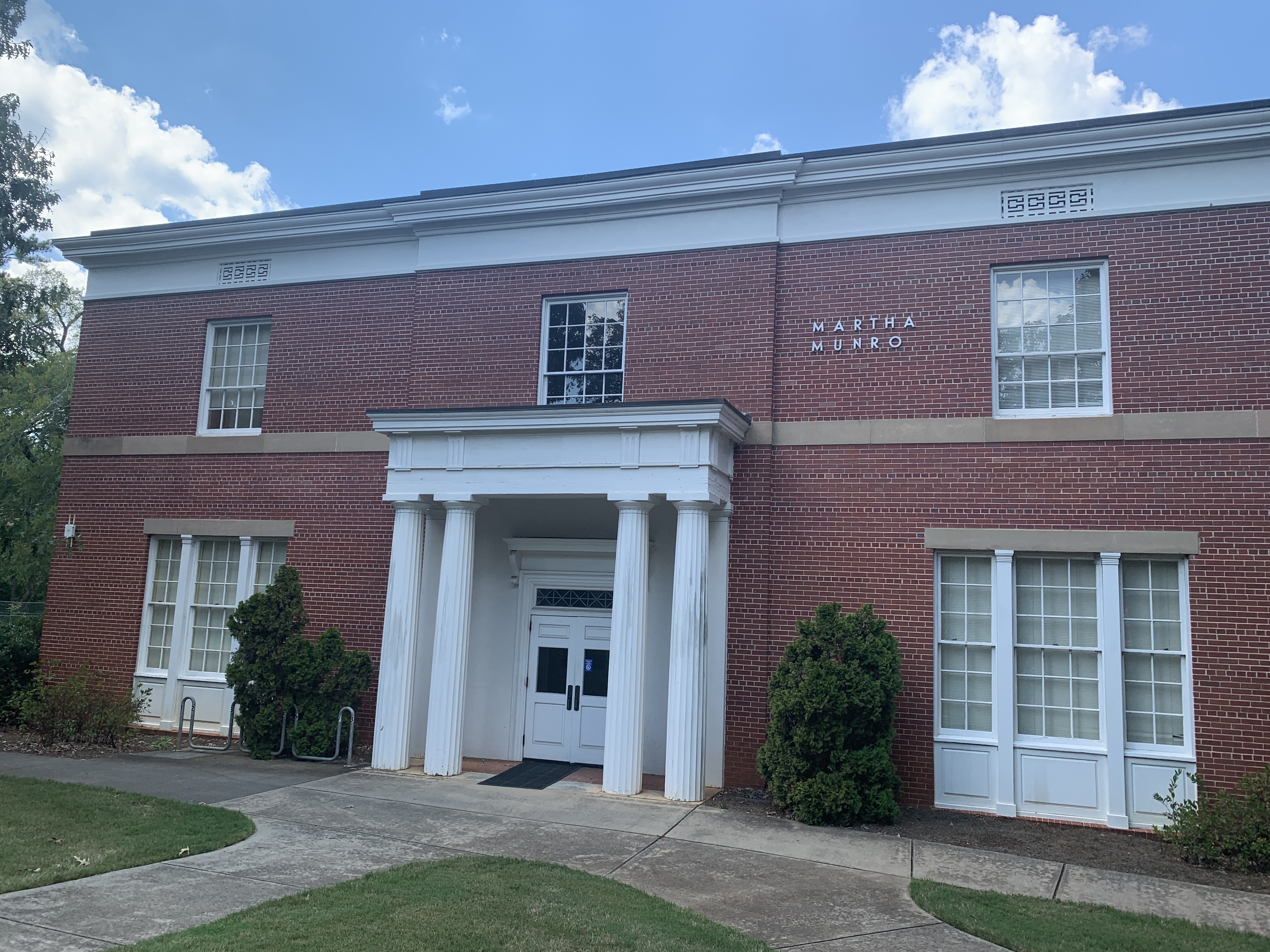 Rural Arts Building, c. 1945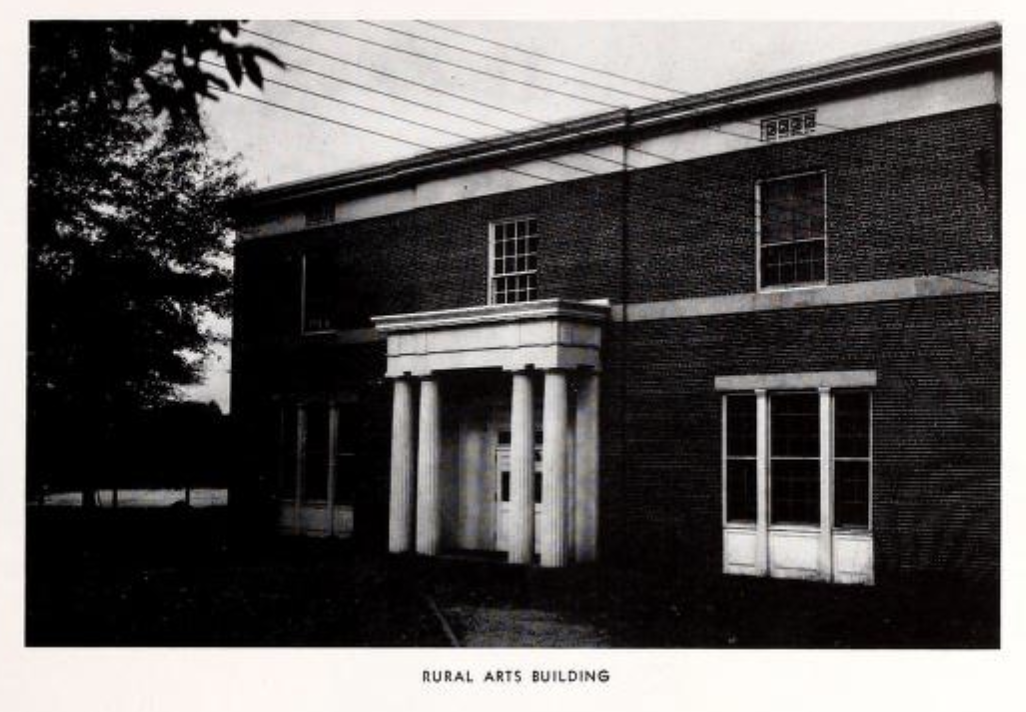 Martha Munro Ingram, 1923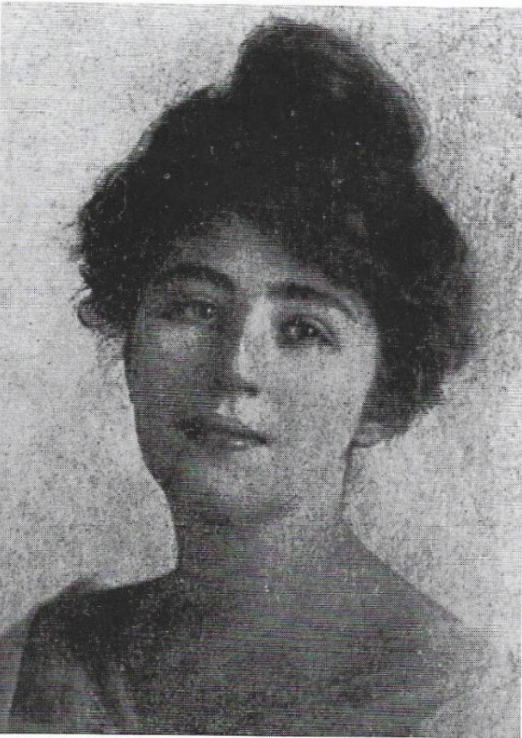 Letter from the Julius Rosenwald Fund to West Georgia College's president Irvine Ingram, 1937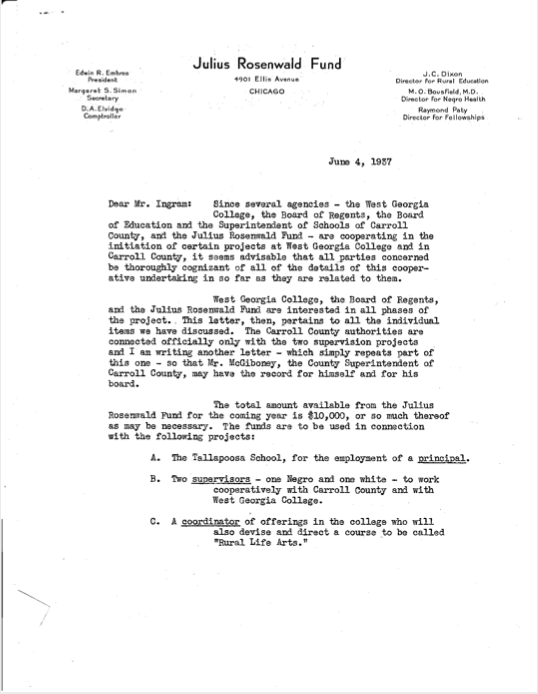 Nettie Talmadge Tyus was the sister of Georgia Governor Eugene Talmadge. She supported West Georgia College and played a part in preventing Gov. Talmadge from cracking down on W.G.C.'s integrated hiring practices, unlike his active efforts to crack down on African-American employment at other schools like the University of Georgia. Image date unknown.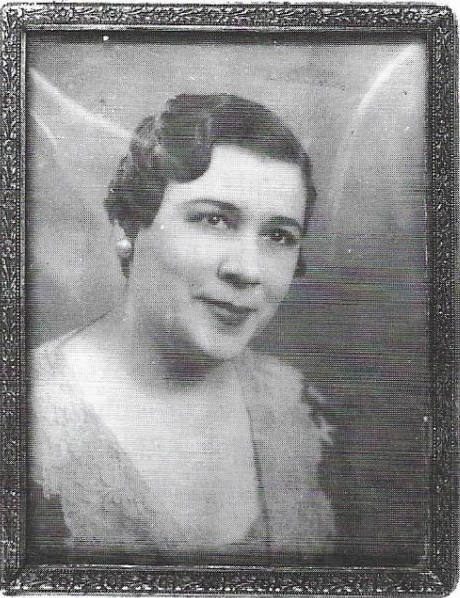 Backstory and Context
Author-Uploaded Audio
We are now at Martha Munro Hall, which currently houses the Theater Program. Originally built in 1938, the building was named after Martha Munro, the wife of President Irvine S. Ingram and a prominent figure on campus. 
Back to our story: the A&M School ceased to exist in 1933. That year, the state selected Carrollton's A&M School to become West Georgia College, a two-year junior college. New buildings were added to the campus with the addition of Sanford Library, Mandeville (a girls' dormitory), the Rural Arts building (Martha Munro), and the Auditorium (now called the Old Auditorium). 
Other social issues were present in the South in the early 1900s, besides those we discussed earlier. The South also faced inadequate schools in rural communities. The South's school systems struggled in part due to the policies of the Jim Crow system, which required white and Black students to attend different schools. Therefore, already impoverished Southern states had to support two school systems, which exacerbated the education gap between the northern and southern states. What little funding the Southern states put into schools mostly went to white schools. Also, rural schools were much poorer quality than urban schools, and rural teachers were often less trained than urban teachers. Rural local schools often only had one, poorly-trained teacher teaching 6 to 8 different grades in different subjects in a "dilapidated" and poorly insulated school room. African American teachers and students worked in unequal segregated schools, with even fewer supplies and usually more crowded conditions. African American teachers were paid less than half of white teachers.
This sounds like an overwhelming problem, right? One philanthropic organization in the North attempted to help address this nearly insurmountable issue. The Julius Rosenwald Fund was located in Chicago, Illinois but funded school building programs across the South. The Rosenwald Fund supported the construction of more than 200 schools across Georgia alone. Also, with money from the Rosenwald Fund, West Georgia College, in 1937, started a decade-long rural education program to train local schoolteachers. This program would have likely been located in the Rural Arts building, right here. The new program included rural arts survey courses, an exchange program between the College and teachers in the county, and a supervisory system in cooperation with white and Black schools in Carroll County. The College employed both a white and Black supervisor for the white and Black schools. Dannetta Sanders was a Black woman who supervised the "Negro schools" under W.G.C.'s rural education program and was listed as a member of the university's faculty in a college bulletin, which was unusual considering Georgia's strict Jim Crow laws.
The Rosenwald-funded rural teacher training initiative aimed to better rural communities through educating teachers, in order to help them better address the challenges they faced in their communities. The Fourth District A&M School did train teachers in what were called "normal schools" as early as 1923. However, this Rosenwald Fund supported effort eventually led to the expansion of teacher education programs and departments at W.G.C. and other Georgia universities, which started a tradition of teacher training lasting to today.
Sources
Dixon, J.C. Letter to Irvine S. Ingram, June 4, 1937. University of West Georgia Special Collections, Irvine S. Ingram Papers. 
Flanders, E. Lorene, Myron House, and Jan Ruskell. "From Rural Roots to Global Reach: Celebrating a Century of Success at the University of West Georgia." The Georgia Historical Quarterly 91, no. 1 (2007): 70-82. Accessed January 29, 2020. www.jstor.org/stable/40584956.
House, Myron Wade. "University of West Georgia." New Georgia Encyclopedia. Last modified August 25, 2020. https://drive.google.com/file/d/1-p9URD9Ywyc_dqFs5OQFjjHSt5hHs8_m/view?usp=sharing.
Jones, Beverley. "Rosenwald Schools." New Georgia Encyclopedia. Last modified September 1, 2016. https://www.georgiaencyclopedia.org/articles/education/rosenwald-schools.
Neese, Chelsea. "UHP_Campus Spaces MASTER_2019.08.20." University History Project. Carrollton: Center for Public History at the University of West Georgia, 2019. In the Center for Public History's possession.
"The Normal Class." The Premier 1 (1923): 63. https://archive.org/stream/premieryearbook19stud#page/n61/mode/2up.
Ryckeley, Rebecca Hollis. "The Rural School Program of the Rosenwald Fund, 1934-1936." Dissertation, Georgia State University, 2015. https://scholarworks.gsu.edu/cgi/viewcontent.cgi?article=1140&context=eps_diss.
Image Sources
Center for Public History at the University of West Georgia

University of West Georgia, Ingram Library, Special Collections

University of West Georgia, Ingram Library, Special Collections

University of West Georgia, Ingram Library, Special Collections

Collection of Louise Roberts Jewell

Additional Information