Huron Lightship Museum
Introduction
The Huron Lightship is a retired lightship that is now operated as a historical museum under the auspices of the Port Huron Museums. The Huron was the last operating lightship on the Great Lakes, and had served more than fifty years when she was retired in 1970. After she was decommissioned, the lightship was permanently moored at Pine Grove Park in Port Huron. The Huron was designated a National Historical Landmark in 1989.
Images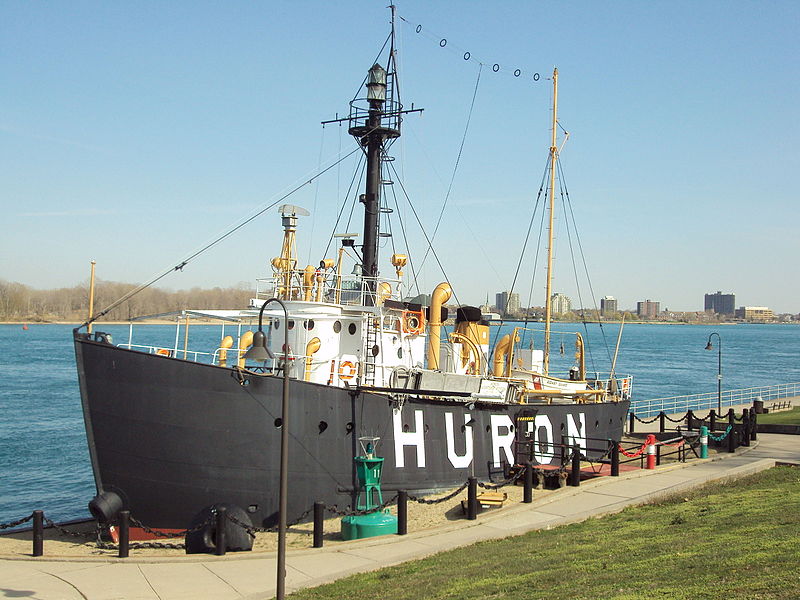 Backstory and Context
Lightship No. 103 is known by her last official designation, Huron. Her keel was laid under government contract in 1918 at the Consolidated Shipbuilding Company in Morris Heights, New York. She was designed and built to withstand the wave conditions on the Great Lakes and was launched on May 1, 1920. Her earlier designations were Relief, Grays Reef, North Manitou, and Lake Huron.
Lightships were used as aids to navigation and were generally stationed in places where conditions made the construction of a permanent lighthouse structure impractical. The first lightships were used on the Great Lakes in the 1830s. Lightships were equipped with a beacon, and in some instances, with a fog signal. Huron was originally built with a steam engine and was later converted to diesel power.
The report of the Commissioner of Lighthouses described Lightship No. 103 as follows in 1921:
[begin quote]
LIGHT VESSEL" No . 103 . " — Purpose. Light Vessel No. 103 was completed at New York and proceeded to Milwaukee , Wis., in the twelfth district , where it has been assigned as a relief vessel .
Structure . — The vessel is 96 feet 5 inches over all, with a molded beam of 24 feet and a displacement of 310 tons when floating at a mean draft of 9 feet in fresh water. The entire vessel is built of steel. A steel pilot house and gas - tank room is located on the upper deck; one steel tubular lantern mast surmounted by a gallery and rail with a lens lantern secured on top of the masthead.
Illuminating apparatus . —The signal light contained within the lens lantern consists of an acetylene gas burner operated by a flashing device, gas being supplied by a battery of tanks containing compressed acetylene gas and secured in the tank room on the upper deck .
Fog - signal apparatus . — This apparatus consists of a 10-inch steam whistle located on and above the top of the smokestack on the forward side. The characteristic blasts are operated by a specially designed steam driven gear, which is controlled by a clockwork mechanism.
Machinery . — The vessel is propelled by a fore-and-aft two-cylinder steam engine of 175 horsepower, with cylinders 12 inches diameter, each with a common stroke of 14 inches, making 145 revolutions per minute, driving a right-hand cast-iron propeller 5 feet 9 inches diameter, with a pitch of 7 feet 4 inches. Steam is furnished by a two-furnace boiler of the Scotch type, using coal for fuel. The vessel is fitted through out with all sanitary plumbing, fixtures, and drainage system.
Quarters . The complement of the vessel is four officers and five men. The officers' and crew's quarters, galley, mess rooms, pantries, lamp room, and bathrooms are located on the main deck. The oil room, provision, and other storerooms, and the galley coal bunker are located on the lower deck forward,
Painting . - The hull is red except for one-third of the vessel's length amidship which is white, with RELIEF in large Black letters on each side.
Cost .-- This light vessel was constructed under the act of June 12 , 1917, which appropriated $150,000. The vessel was built at Morris Heights, N.Y., at the contract price of $147,428. The construction commenced June 5, 1918, and the vessel was delivered to the Government on December 22, 1920. 
[end quote]
In 1935, Huron was assigned to Corsica Shoals, six miles north of Port Huron, where she remained for the rest of her career. Huron's anchor was raised for the final time on August 20, 1970, and she was decommissioned at Detroit on August 25, 1970. She was moved to Port Huron's Pine Grove Park in 1972 and dedicated as a historical exhibit in 1974. She was listed on the National Register of Historic Places in 1976 and designated a National Historic Landmark in 1989.
Sources
U.S. Department of the Interior. National Park Service. National Historic Landmark Nomination Form, Lightship Huron, listed 1989.
"Light Vessel No. 103," in United States. Light-House Board. Annual Report of the Commissioner of Lighthouses ... for the Fiscal Year Ended June 30, 1921, p.44.
Sibille, Mike. "Lightship Huron Shines its Beacon of Safety," Detroit Times, December 13, 1959, p.33.
"Lightship Retired," Detroit Free Press, August 19, 1970, p.12A.
Kohn, Martin F. "Huron Lightship Aims its Beacon on History," Detroit Free Press, May 7, 1993, p.8C.
Ervin, Jeremy. "No, the Lightship Huron Won't Float Away—But it Does Need Some Help," Port Huron Times Herald, August 27, 2019.
Smith, Jackie. "Huron Lightship Museum Closed After Damage From Sunday Storms," Port Huron Times Herald, July 20, 2020.
Image Sources
Notorious4life at English Wikipedia, CC BY-SA 3.0 <https://creativecommons.org/licenses/by-sa/3.0>, via Wikimedia Commons

Additional Information