Dothan Opera House
Introduction
This opera house has been a cultural center of Dothan Alabama since it was constructed as a municipal auditorium and office building in 1915. Originally constructed by Mayor Buck Baker at the cost of $44,000, this building has seen many different types of events throughout the past century. From being home to city offices and hosting performances, graduations, and concerts, this building has been the setting for many of the significant events in Dothan's history. In 1977, the building was added to the National Register of Historic Places and in 1978 a historical marker was dedicated by the Historic Chattahoochee Commission.
Images
The Dothan Opera House as it appeared in 1977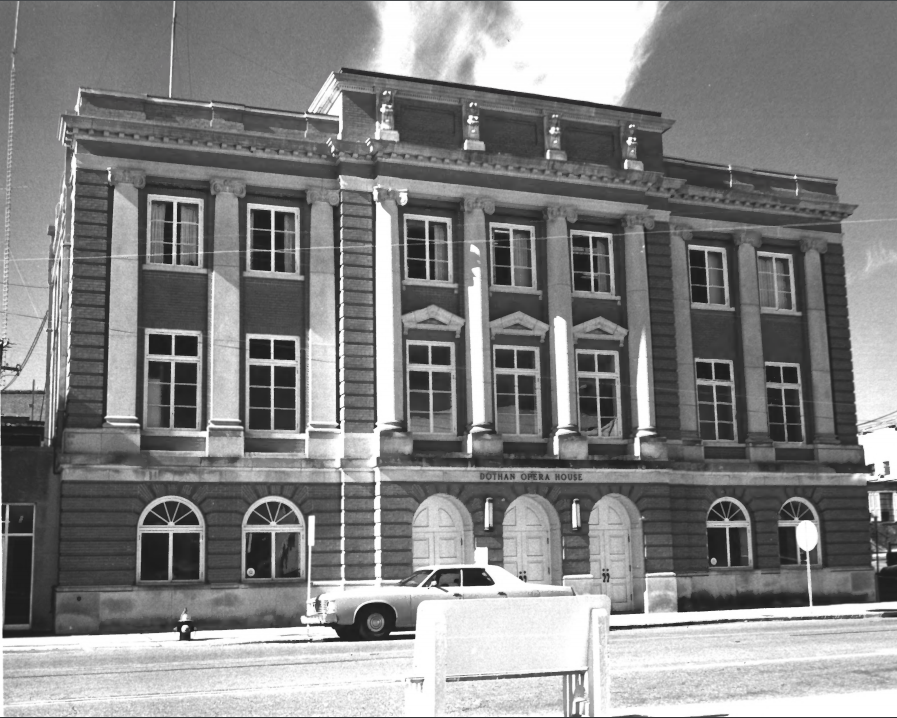 Backstory and Context
Built-in 1915 this municipal opera house and city office building was constructed during a period of massive growth in Dothan. In the period leading up to its construction, the city of Dothan had grown from 3,275 residents in 1900 to 7,106 in 1910. With the recent addition of a larger passenger station, Dothan was receiving a larger amount of traveling artists and was more connected to the wider south, allowing for remote performers to travel to Dothan. Mayor Buck Baker envisioned the Dothan Opera House as a building to host many events and musical acts, particularly for traveling vaudeville, symphony, and opera acts. His plan was to build the Opera House and then ask traveling acts that came through Dothan to perform at the house in return for room and board.
The building was first proposed as a municipal center in 1913, with discussions on Dothan needing more city offices and a municipal auditorium. By the summer of 1914, a contract had been signed with local construction firm Brown and Flowers to build the building according to plans designed by Atlanta architecture firm Morris and Morris. The following year the municipal auditorium, soon named "The Opera House," was completed at a final cost of $44,000 and opened to the public on October 8th,1915.
Over the course of its lifetime, the three-story-high municipal auditorium and offices saw many acts and events within its walls. This building has been host to city offices, orchestras, boy scout graduations, hospital nursing graduations, stage plays, musicals, vaudeville acts, dance performances, and concerts. In its early years, the Opera House saw acts such as the Sam Shubert show as well as the minstrel shows of Al G. Fields and Silas Green. During WW2 the Opera House was booked for USO shows to entertain troops from nearby Napier Field. 
In commemoration of the building's history, a hidden mural was added to the Opera House. Behind the main stage backdrop inside the building stands one of Dothan's many murals, depicting the opera house under construction and featuring portraits of Buck Baker, a Boy Scout presentation, and a scene from the Southeast Alabama Theatre production of "Lost in Yonkers" and cowboy actor Johnny Mack Brown.
The Opera House was used partially as city offices until the new Dothan Civic center was built in 1974. Before the offices moved they were located in the front of the Opera Hall as well on the second floor, while the third floor served as commission chambers for the municipal government. In 1971 the building was completely renovated and restored, reducing the seating inside the building from 800 to 600. Surprisingly despite the recent renovations, once the city offices moved there was talk of demolishing the Opera House, prompting a push from local preservationists to protect the building. On December 16, 1977, the building was added to the National Register of Historic Places, and the following year a historical marker was erected by the Historic Chattahoochee Commission.
Sources
Dollar, John M. . Atlantic Coastline Railroad Passenger Depot, National Register of Historic Places. December 13th 1993. Accessed November 23rd 2020. https://catalog.archives.gov/id/77836220.
Floyd, W. Warner. Dothan Opera House, National Register of Historic Places. December 16th 1977. Accessed November 24th 2020. https://npgallery.nps.gov/NRHP/AssetDetail?assetID=28f782bf-fbb1-4140-a1c9-7911004cfca3.
Gaines, David J. Dothan Opera House, Historical Marker Database. July 25th 2018. Accessed November 24th 2020. https://www.hmdb.org/m.asp?m=83780.
Performances at the Opera House, Dothan Civic Center. January 1st 2019. Accessed November 24th 2020. http://www.dothanciviccenter.org/opera-house.html.
Ussery, Peggy. From city offices to vaudeville acts, the Dothan Opera House has long history, Dothan Eagle. September 25th 2016. Accessed November 24th 2020. https://dothaneagle.com/lifestyles/local/from-city-offices-to-vaudeville-acts-the-dothan-opera-house-has-long-history/article_66cedc5a-7c6b-11e6-be83-cfd5c4c12c40.html.
Winegrass Museum of Art. Dothan Opera House - Dothan Hidden Mural, Winegrass Museum of Art. April 24th 2020. Accessed November 24th 2020. https://web.archive.org/web/20140424092919/http://www.wiregrassmuseum.org/index.php/murals/14-murals/105-mural-dothan-opera-house.
Image Sources
Image taken by Donald Pittman. Image sourced from: https://npgallery.nps.gov/NRHP/AssetDetail?assetID=28f782bf-fbb1-4140-a1c9-7911004cfca3

Additional Information