Charles Henry Allen Building
Introduction
Charles Henry Allen of Pontiac built this modest commercial building on Main Street, Rochester, to house his saloon in 1899. He operated the saloon for four years, before selling out to Bert McCafferty in 1904. McCafferty operated the saloon for a time, and then a drug store. The building has housed a variety of retail outlets since.
Images
Charles Henry Allen Building, east elevation, 2020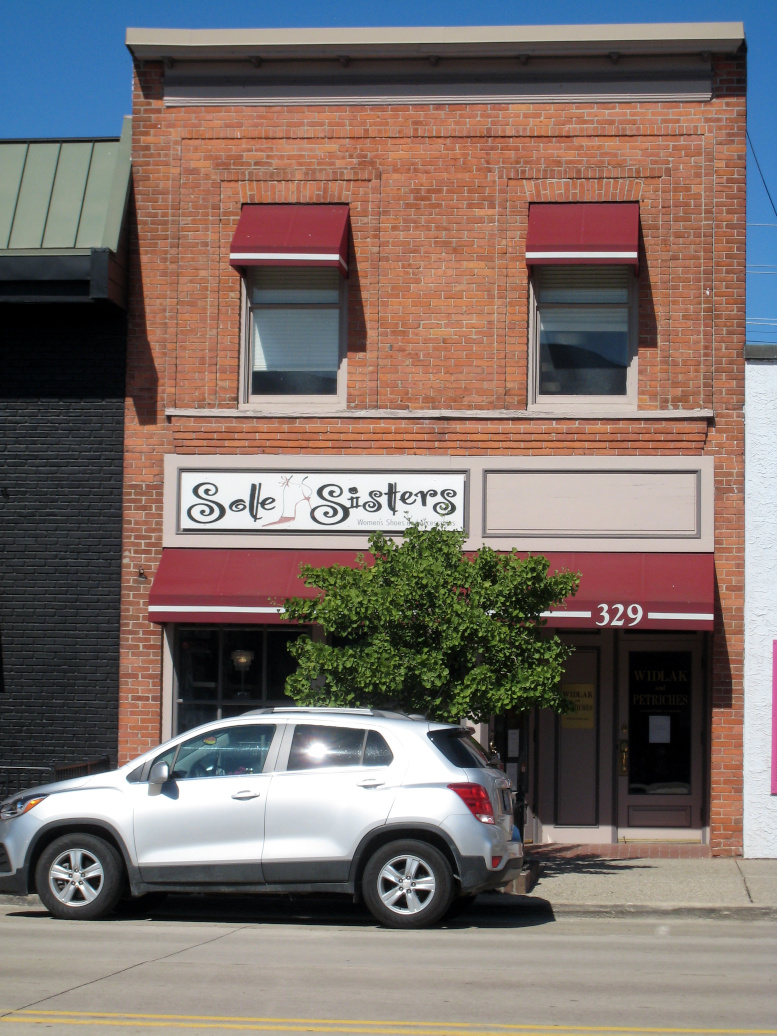 Newspaper ad for McCafferty's Central Drug Store, 1908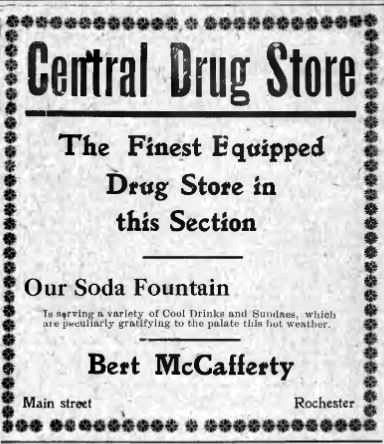 Backstory and Context
Charles H. Allen, of Pontiac, broke ground for this building in August 1899. The Rochester Era reported on September 15th of that year that "brick has arrived and the laying of the same has commenced on the new Allen block."
Allen then applied to the village council for a liquor license, but was turned down until his bond was guaranteed, two weeks later, by David W. Butts and Philip Lomason. With the legalities satisfied and the building finished, the saloon opened in November 1899 and Allen moved his family from Pontiac to the upstairs rooms in his new business block.
The Allen saloon operated for four years. The Era reported on January 1, 1904: "C. H. Allen has sold his saloon building and business on Main street to Mr. McCafferty of Lapeer. Consideration, $5,500 cash. Mr. Allen and family will remain in Rochester until spring." Allen died in 1907.
McCafferty briefly continued operation of the saloon, but he soon switched businesses and ran the Central Drug Store at 329 Main. Luel H. Smith took over the Central Drug Store from McCafferty in approximately 1913. The Rochester Variety Store followed Smith's pharmacy, and was purchased in March 1922 by Leslie Aris. When Aris moved his dime store down the block around 1937, a Western Auto Store opened at 329 S. Main. Western Auto relocated to the Tienken Building in the early 1940s, and the Village China Shop replaced it at 329 S. Main, followed by the Jan Nan Shop. From the 1960s to the 1980s, the building housed Joe's Barber Shop and a succession of beauty parlors and retail businesses.
Sources
"Ground was broken this morning for Allen's new brick block...," Rochester Era, August 25, 1899, p.1.
"Brick has arrived and the laying of the same has commenced on the new Allen block," Rochester Era, September 15, 1899, p.1.
"Charles Allen has removed his family and household goods from Pontiac to the rooms over his saloon in Rochester," Rochester Era, November 17, 1899, p.1.
"C. H. Allen has sold his saloon...," Rochester Era, January 1, 1904, p.5.
Image Sources
Deborah Larsen

Rochester Era, August 21, 1908

Additional Information