1883 Louis Eugene Palmer Block
Introduction
This double storefront was built in 1883 for jeweler Louis Eugene Palmer. He would later expand his holdings to the north until they encompassed all of the addresses from 405 through 417 S. Main. This building is now the oldest surviving structure on the west side of Main Street between Fourth Street and University Drive. Palmer's jewelry business was located in the building until 1897, when his new building—and the last that he built—opened at 415-417 S. Main.
Images
1883 Louis Eugene Palmer Block, east elevation, 2020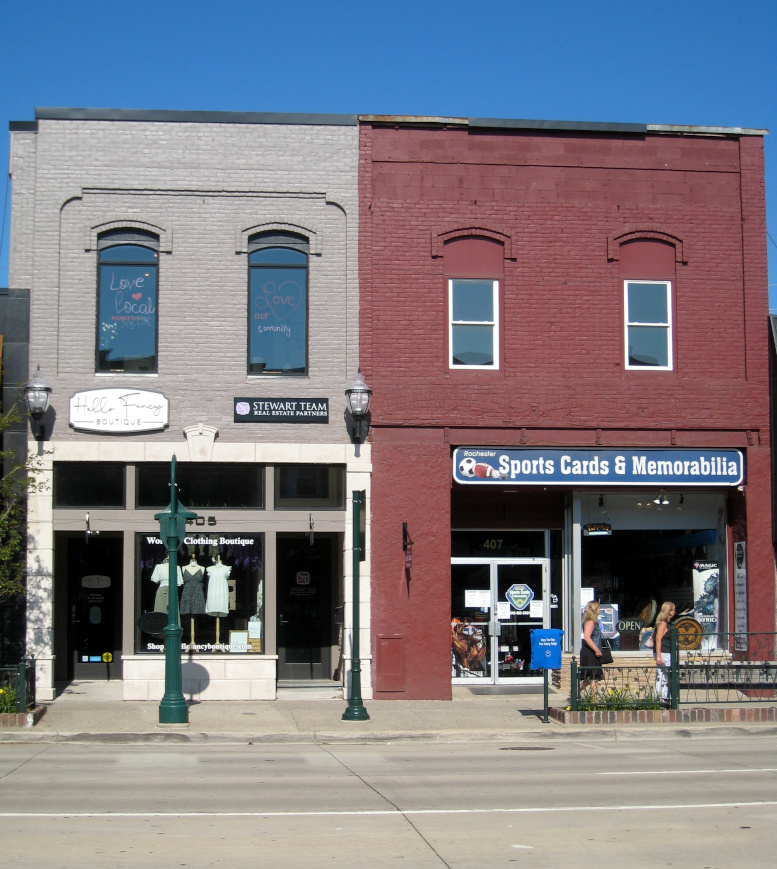 1883 Louis Eugene Palmer Block, south section at 405 Main, east elevation, 2016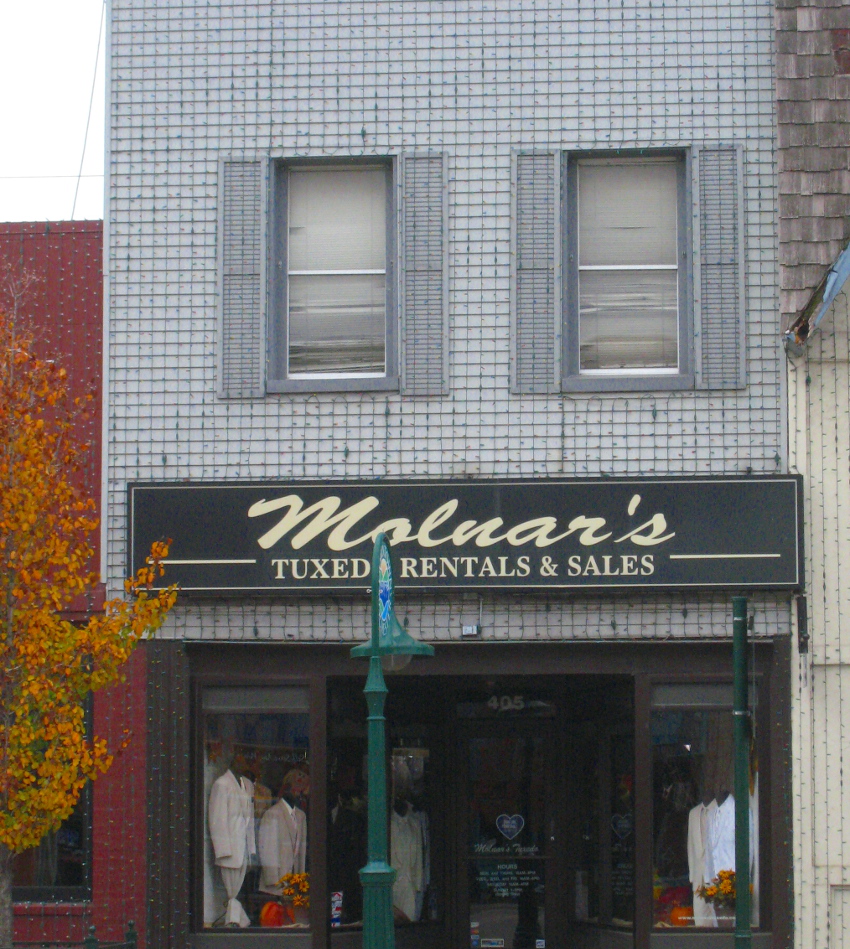 H. H. Stalker Shoe Store in the 1883 Palmer Block, south section at 405 Main, 1907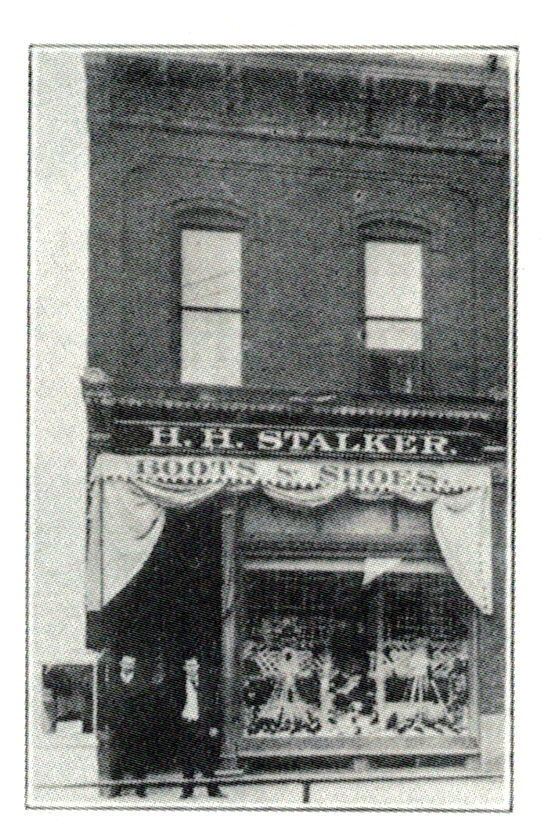 Newspaper ad for Stalker's Shoes, November 9, 1906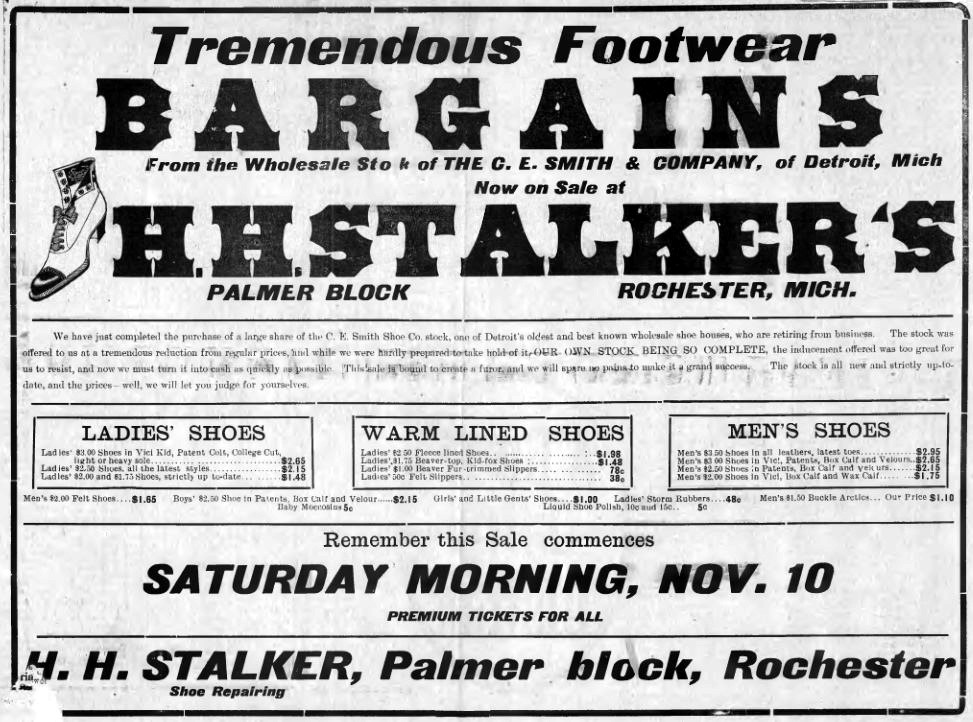 Backstory and Context
Jeweler Louis E. Palmer broke ground for this double business block at 405-407 S. Main in the spring of 1883, not long after he moved to Rochester from his childhood home in Lenawee County and established his business here. After reporting a few weeks earlier that the brick for Palmer's new building was being laid up quickly, the Rochester Era commented on June 28,1883 that "Palmer's cornice is being put up on his new brick block, and it 'beats 'em all'."
In 1896-97, Louis Palmer decided to build a new building up the block at 415-417 S. Main, and moved the jewelry store to that location. After Palmer moved out, 405-407 S. Main hosted a wide variety of tenants. The 405 (south side) address was home to Hiram H. Stalker's shoe store until 1913. Gardner's Economy Shoe Store followed Stalker, then in the 1920s, Zimmerman's Shoes occupied the space. McNally & Clark Men's Wear followed the shoe stores from 1937 to 1941. A Gamble's store occupied the building in the mid-1940s, followed by Markey's Hardware. Walter Gebert bought out Markey in June 1948 and established Gebert's Hardware at 405. Gebert's Hardware closed in October 1968 when the Geberts retired, and clothier Frank Molnar purchased the building and moved his menswear shop into the retail space. Molnar's closed in 2019.
The Wilcox & LeBlond Pool Hall occupied the north portion of the block at 407 S. Main during the 1920s, and in 1950 it was Harold's Tavern. The building was renovated in early 1952 when Pontiac Federal Savings & Loan moved into the building. The savings and loan and remained there, under various successive names, until it failed in 1991 and was bought out by TCF Bank in 1993. Michael Foran Interiors and J. Powrie Jewelers followed the TCF Bank. In 2019, the exterior of the block was partially restored to its original appearance. The aluminum siding on 405 and the faux-Chalet facade on 407 were both removed. Unfortunately, the building's cornice had been lost in earlier renovations.
Sources
Homer Newberry and Eliza Ann Newberry his wife to Louis E. Palmer, 30 October 1883, part of lot 47, Original Plat of the Village of Rochester, Oakland County Record of Deeds, liber 142, p.464.
"Brick-laying commenced on Palmer's new jewelry store last Saturday...," Rochester Era, May 24, 1883.
"Palmer's cornice is being put up on his new brick block...," Rochester Era, June 28, 1883.
"M. Gardner, the outfitter, has a mammoth ad...," Rochester Era, August 1, 1913, p.5.
"Veteran Jeweler Dies After Short Illness," Rochester Era, October 18, 1935, p.1.
"Walter Gebert Buys Markey's Hardware Here," Rochester Era, June 10, 1948, p.1.
"Another hardware shuts doors, Geberts retire," Rochester Clarion, October 17, 1968, p.1.
Image Sources
Deborah J. Larsen

Deborah Larsen

Rochester: A Sketch of One of the Best Towns on the Map. W. A. Fox, 1907 [public domain]

Rochester Era, November 9, 1906

Additional Information