Jefferson Theatre
Introduction
Constructed in 1927 by the Jefferson Amusement Company for the motion picture company Saenger Amusements, this historic theater was designed by internationally known architect Emile Weil. Today, Jefferson Theatre is a historic entertainment venue and one of the highlights of downtown Beaumont. Weil designed a number of other Saenger theaters including ones in New Orleans, Pensacola, and Shreveport. Jefferson Theatre exhibits a blend of architectural styles with classical elements, cast relief panels, and a green Spanish tile roof. Another notable feature is the set of three double doors with a small balcony with an ornamental railing. Two doors are topped by pediments while the center is topped by a decorative cartouche. Inside, the theatre features a Spanish theme and a restored historic Robert Morton organ.
Images
Jefferson Theatre was built in 1927 and remains a popular performance venue today.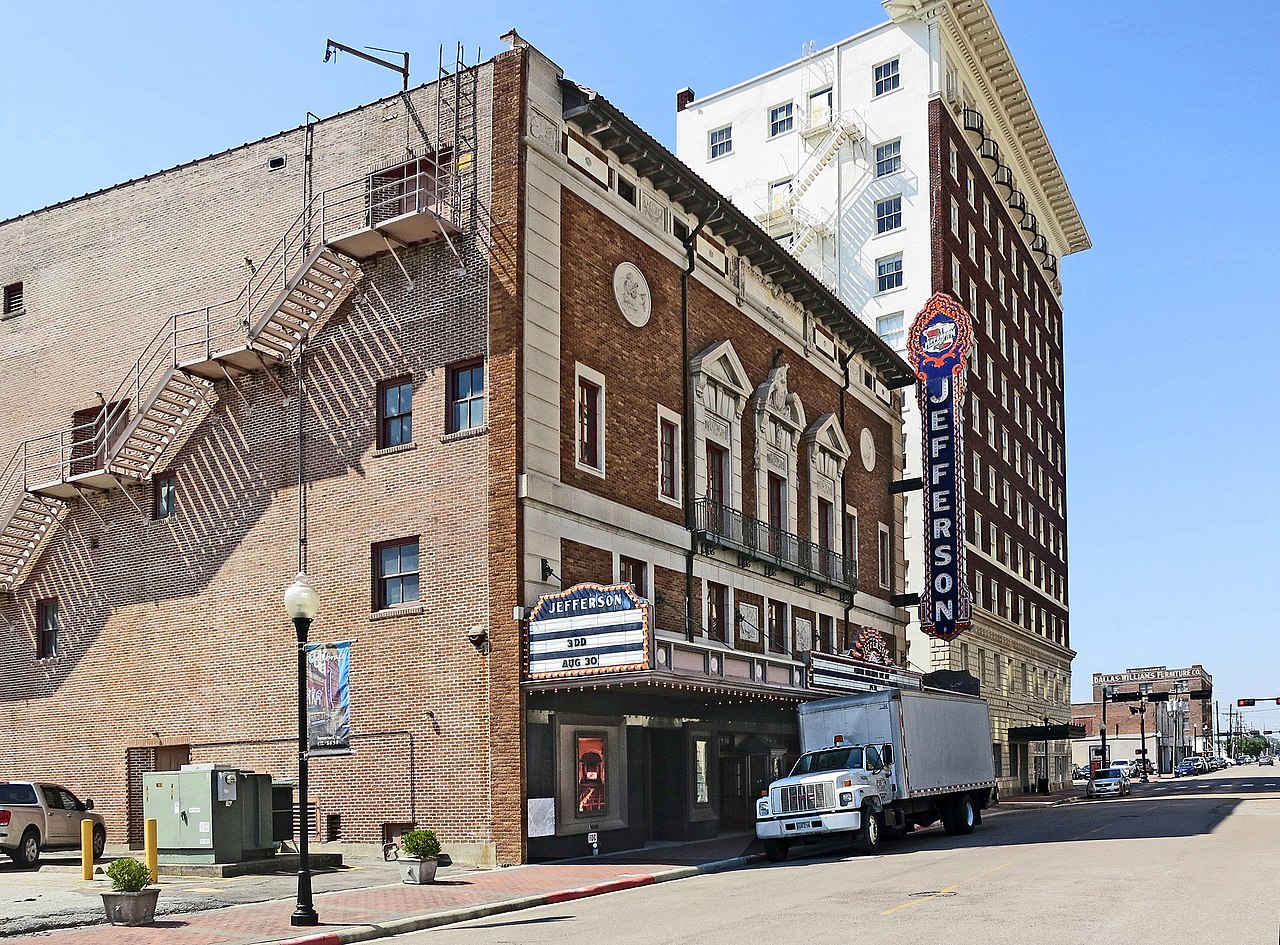 Backstory and Context
Jefferson Theatre was built during a time of significant prosperity for the local and regional economy after deep oil was discovered at the Spindletop Oil Field in 1925 (oil was first discovered there in 1901). The theater was one of several educational, public and cultural buildings constructed in Beaumont in the wake of the new discovery. By the time Jefferson Theatre was built, Saenger Amusements was one of the largest movie companies in the country, with theaters in a dozen states and even in Cuba and Jamaica before later expanding into Panama and Puerto Rico. The company was founded in 1911 by brothers Julian and Abraham Saenger.
The Jefferson Theatre boasted state-of-the art special effects and lighting equipment and, as noted above, the Robert Morton organ, which is able to play numerous sounds using its 778 pipes and percussion instruments. Films were shown here as well as a wide variety of performances including vaudeville acts and stage productions. The theater is also notable for being where the film "It's a Wonderful Life" premiered in 1947. Actor James Stewart, who starred in the film, and the director Frank Capra, attended the event. Jefferson Amusement Company operated the theater until 1968. Other companies operated it until the 1970s. It began fall into disrepair and was closed for many years. Restoration efforts began in the early 1990s and the theater finally reopened in 2005. It was added to the National Register of Historic Places in 1978.
Sources
"Jefferson Theatre." Jefferson Theatre. Accessed November 10, 2020. https://beaumonteventstx.com/jefferson-theatre-info.
Krefft, Bryan. "Jefferson Theatre." Cinema Treasures. Accessed November 10, 2020. http://cinematreasures.org/theaters/3407.
Williams, Joe R. & Klein, Bell. "Jefferson Theatre." National Park Service - National Register of Historic Places Nomination Form. January 30, 1978. https://catalog.archives.gov/OpaAPI/media/40972712/content/electronic-records/rg-079/NPS_TX/78002962.pdf.
Wild, Cody & O'Dwyer, Kathryn, editor. "Saenger Amusement Company." New Orleans Historical. Accessed November 10, 2020, https://neworleanshistorical.org/items/show/967.
Image Sources
Wikimedia Commons: https://commons.wikimedia.org/wiki/File:Jefferson_Theatre,_Beaumont,_Texas.jpg

Additional Information