Tenderloin Museum
Introduction
Opened in 2015 by Uptown Tenderloin, Inc.- an organization dedicated to local historical preservation and education- the Tenderloin Museum unravels 100 years of the vibrant, hidden history behind one of San Francisco's most infamous districts. Interactive exhibits at the museum feature a wide variety of art, memorabilia, artifacts, documents, and photographs which all pay tribute to the unique neighborhood where the Grateful Dead recorded an album and one of the first LGBTQ riots in United States history took place.
Images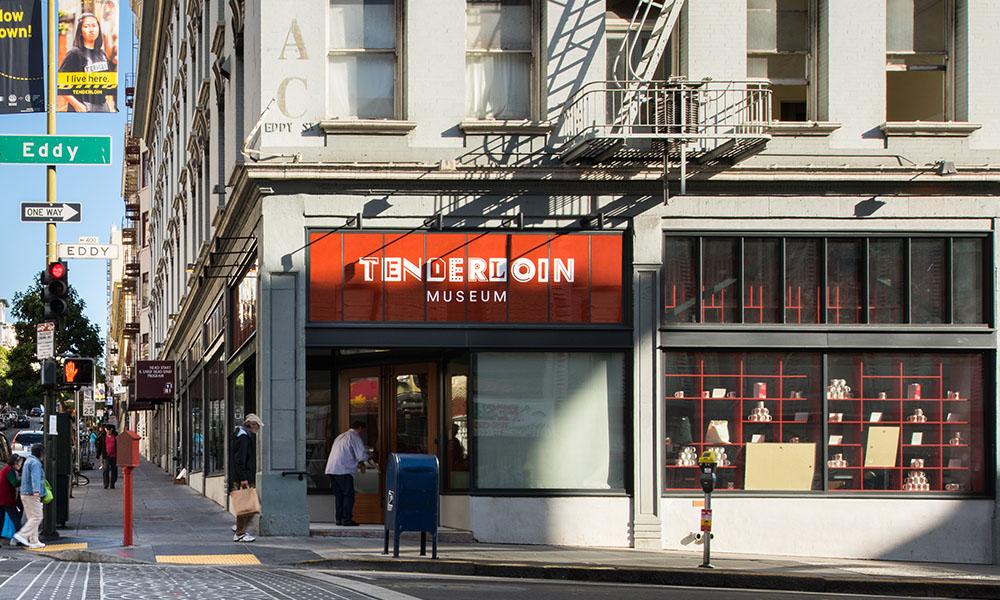 Interior of the Tenderloin Museum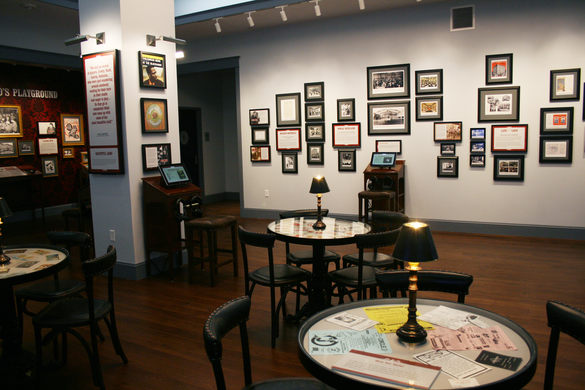 Ceiling lights in one of the museum rooms representing each block of the Tenderloin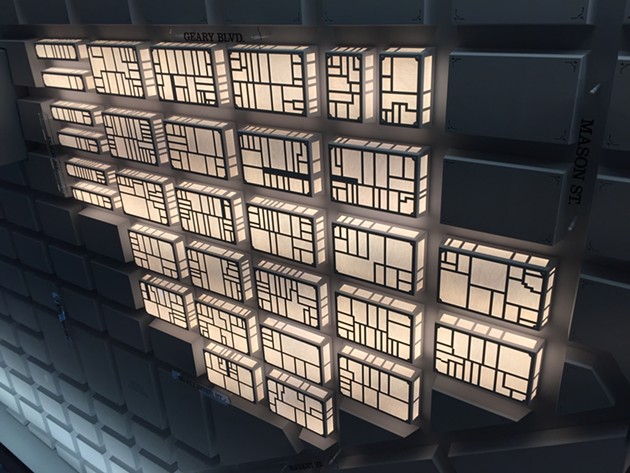 One of the museum's permanent exhibits about sex work in the Tenderloin District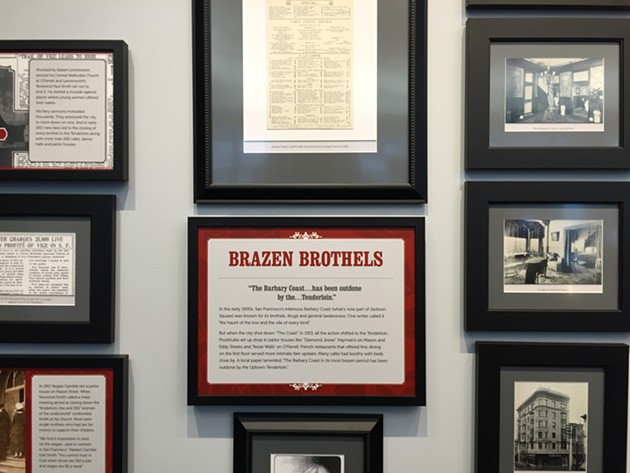 Director of Uptown Tenderloin, Randy Shaw holding up an original copy of a live Miles Davis album recorded at The Black Hawk, a Tenderloin jazz club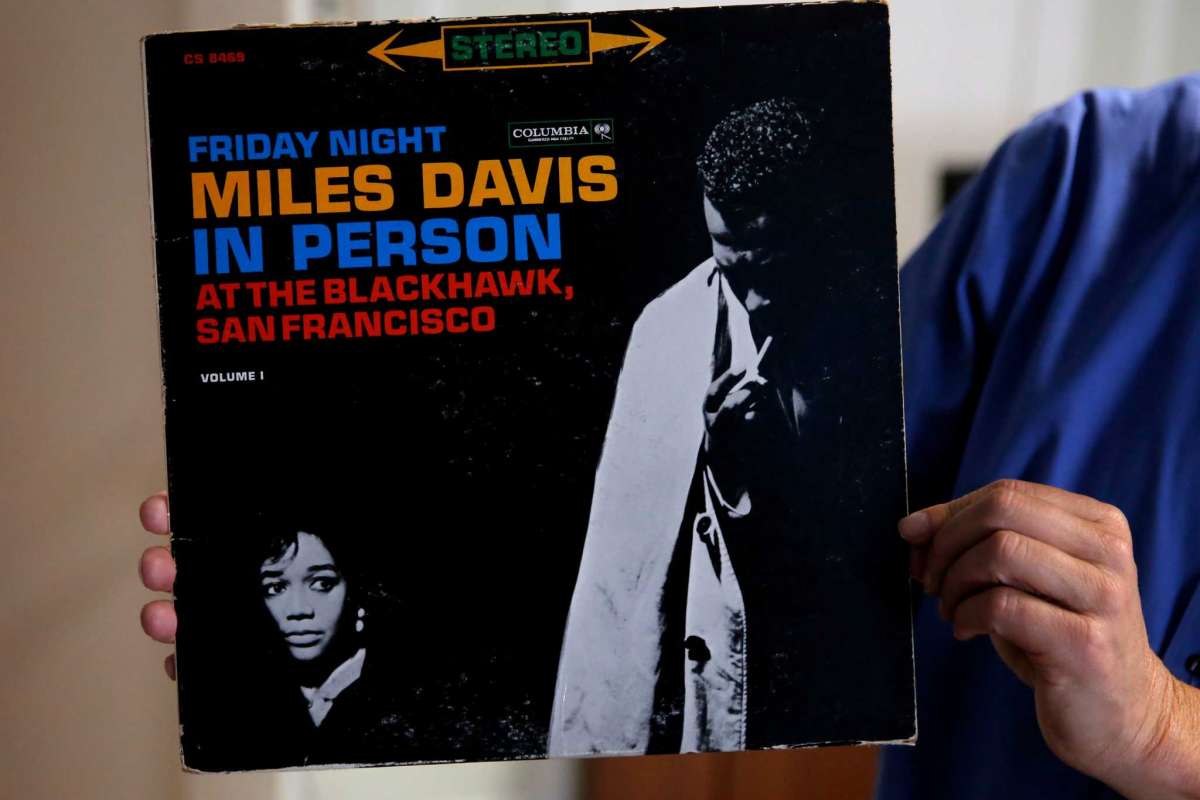 Backstory and Context
In 2009, the Tenderloin Museum was founded under the name Uptown Tenderloin, Inc. Run by Randy Shaw, a longtime area resident, the organization was dedicated to preserving and teaching much of the unknown history that resides within the Tenderloin District- one of San Francisco's most well-known (as well as most infamous) neighborhoods. Through archival work and investigation, Uptown Tenderloin began uncovering the area's history as a diverse hub for artists, sex workers, racial minorities, and the LGBTQ+ community. Over the course of its existence, the organization pushed local government to install over 100 plaques on historic buildings in the Tenderloin, as well as nine sidewalk plaques for buildings that have since been demolished, and murals honoring the neighborhood's cultural heritage. They also sponsored the creation of the Uptown Tenderloin District on the National Registry of Historic Places, which includes 409 buildings.
Uptown Tenderloin opened the 3,200-square-foot, $3.5 million Tenderloin Museum in June of 2015 to display local history in interactive exhibits that feature memorabilia, artifacts, documents, photographs, art pieces, and other items. One of its prized collections is that of the Tenderloin District business matchbooks. From the 1940's to the 1960's, matchbooks were commonly designed and sold by businesses as a way of advertising since most people smoked. In less documented areas such as the Tenderloin District, matchbooks give insight into what businesses were operating in the storefronts back then as well as what they may have been like.
The Museum also operates a wide variety of walking tours through the historic locations of the neighborhood. Among these are places such as The Blackhawk Jazz Club, where famous live performances from music legends Thelonious Monk and Miles Davis were recorded. Also included are the hotels and brothels where the district's notorious sex industry thrived, as well as Compton's Cafeteria- where queer history was made when a group of trans women and drag queens rioted against police brutality in 1966, three years before the Stonewall Riots.
Tenderloin Museum frequently hosts art exhibitions made by neighborhood artists. It also produces interactive reenactment events of unique and significant moments in Tenderloin history. The Compton's Cafeteria Riot Interactive Play and a 100th anniversary reenactment of the first sex workers' march in United States history in 1917 are two of such events.
Sources
Kane, Peter Lawrence. The Tenderloin Museum Has Ceiling Lights in the Shape of the Tenderloin, San Francisco Weekly. July 22nd 2015. Accessed November 1st 2020. https://archives.sfweekly.com/exhibitionist/2015/07/22/the-tenderloin-museum-has-ceiling-lights-in-the-shape-of-the-tenderloin.
Kost, Ryan. Through the ephemeral, Tenderloin Museum explores neighborhood's past, San Francisco Chronicle. February 18th 2019. Accessed November 1st 2020. https://datebook.sfchronicle.com/art-exhibits/through-the-ephemeral-tenderloin-museum-explores-neighborhoods-past?fbclid=IwAR1iuPGJRWQ17CWITqar6zb6jVFyRFHJZO-QA0WDLioY4-CdT3pqydLDzAY.
Rosato Jr., Joe. San Francisco's New Tenderloin Museum: Stories Beyond the Grit, NBC Bay Area. August 6th 2015. Accessed November 1st 2020. https://www.nbcbayarea.com/news/local/san-franciscos-new-tenderloin-museum-stories-beyond-the-grit/81714/.
Shaw, Randy. ACTIVISTS REENACT 100TH ANNIVERSARY OF TENDERLOIN SEX WORKER'S MARCH, BeyondChron. January 24th 2017. Accessed November 1st 2020. https://beyondchron.org/activists-reenact-100th-anniversary-tenderloin-womens-march/.
Tenderloin Museum. Mission and History, Tenderloin Museum. Accessed November 1st 2020. http://www.tenderloinmuseum.org/board.
Image Sources
https://insight.livestories.com/s/v2/tenderloin-museum-updating-the-narrative-to-cultivate-neighborhood-pride/e1d1e137-52e9-4ad9-8f2c-89c70d97a9d3/

https://www.atlasobscura.com/places/the-tenderloin-museum-san-francisco-california

https://archives.sfweekly.com/exhibitionist/2015/07/22/the-tenderloin-museum-has-ceiling-lights-in-the-shape-of-the-tenderloin

https://archives.sfweekly.com/exhibitionist/2015/07/22/the-tenderloin-museum-has-ceiling-lights-in-the-shape-of-the-tenderloin

https://www.sfgate.com/bayarea/article/New-Tenderloin-museum-celebrates-area-s-gritty-6387287.php#photo-8315090

Additional Information