Morris Building
Introduction
Constructed in 1896, the Morris Building is a three-story Romanesque Revival structure. Many modifications have been made to the façade, particularly to the first floor storefront. The masonry letters at the top of the building still commemorate Dr. George Morris, who commissioned construction. Morris stipulated in his will that the letters could not be removed.
Images
Circa 1910 photo of the Morris Building.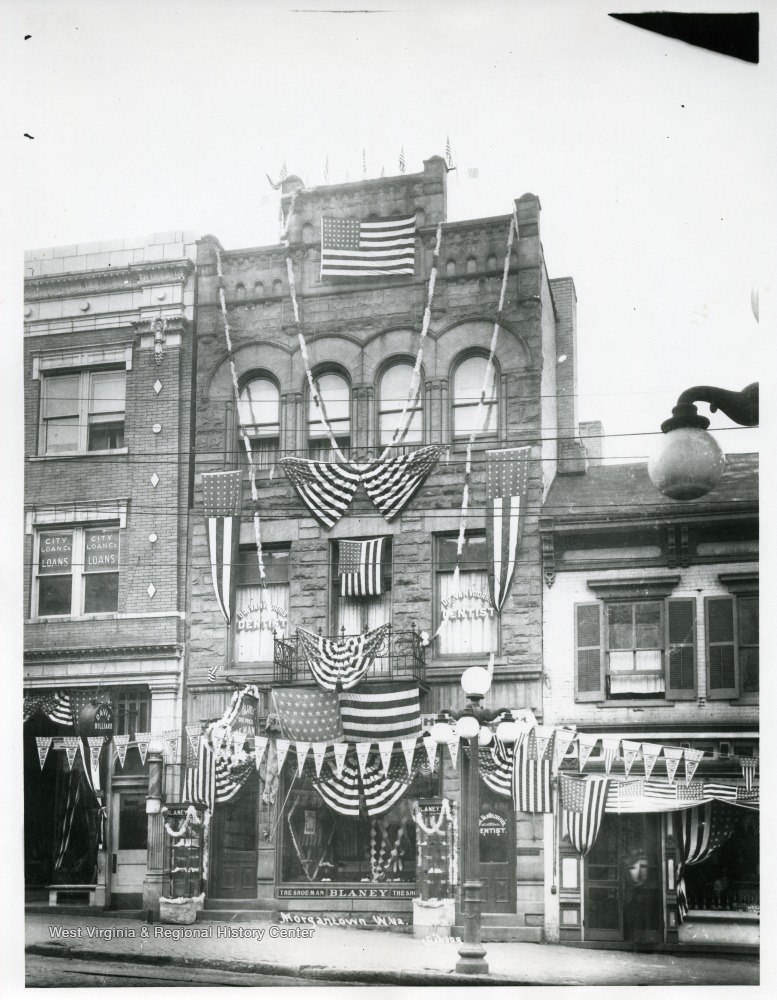 The Morris Building today. Note the heavily modified first floor.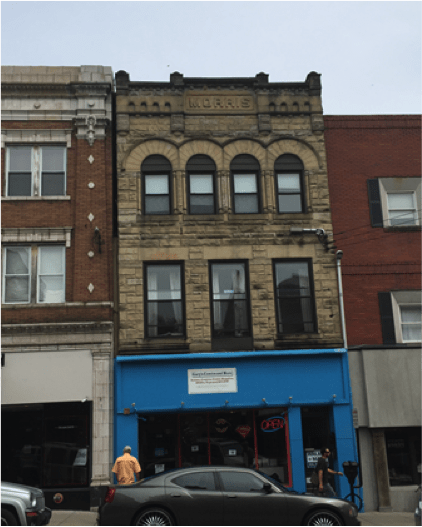 Backstory and Context
The Morris Building was constructed in 1896 according to plans by Elmer F. Jacobs. The Romanesque Revival building features a three-story stone masonry façade. The storefront on the first floor has been so heavily modified as to be unrecognizable. From a circa 1910 photograph, it appears there were initially two storefronts, with doors at the edges of the façade. The two doors were separated by a large display window. The second story has three large rectangular windows connected by a single lintel band. There was once a balcony attached to the central window. The third floor appears to have changed the least. A bay of four arched windows vie for space under the parapet that crowns the building. The parapet was once stepped, though the highest central step has been removed. Still visible on the crest of the building are masonry letters spelling "MORRIS." Dr. George Morris, who commissioned the building and housed his dentistry practice in it, stipulated in his will that the letters were not to be removed by future owners.
Sources
Rasmussen, Barbara E. Downtown Morgantown Historic District, Monongalia County, WV, National Register of Historic Places. December 10th 1995. Accessed October 7th 2020. http://www.wvculture.org/shpo/nr/pdf/monongalia/96000441.pdf.
Image Sources
GIbson, Scott. "Morris Building, East Side High Street, Morgantown, W. Va." Ca. 1910. West Virginia & Regional History Center. Accessed October 7, 2020. https://wvhistoryonview.org/catalog/011879.

"Morris Building." DWELLmorgantown. Accessed October 7, 2020. http://dwellmorgantown.com/elmer-f-jacobs-1866-1945/.