Simon Gugenheim House
Introduction
Simon Gegunheim, a successful merchant and philanthropist, built this house sometime around 1900. Most Victorian-era homes built in the Queen Anne architectural style were destroyed in the hurricane of 1919, marking the Gugenheim House as a staple of Corpus Christi's "Old Town." The house was built on a corner lot, as evidenced by the off-center doorway.
Images
The off-center front door of the Simon Gugenheim House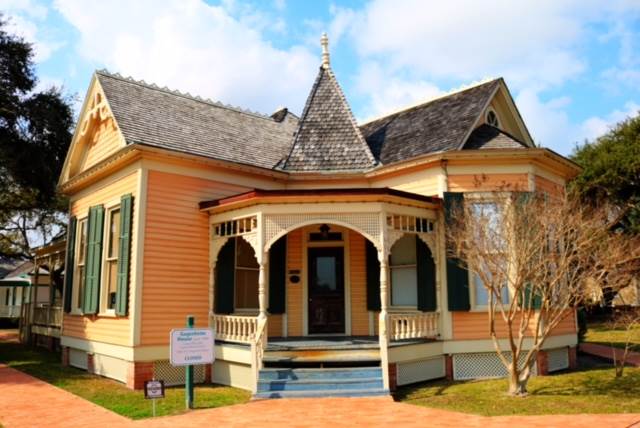 Backstory and Context
Simon Gugenheim, a Texas native, moved to the Corpus Christi area in 1882. Some time later, he and a business partner established a dry goods company, Gugenheim and Cohn Dry Goods. Gugenheim married in 1891, and enjoyed successful petroleum investments. He built the Simon Gugenheim House sometime around 1900; it was originally located on a corner lot at 1101 North Chaparral Street, but was moved in 1926 to 1615 North Chaparral, in the middle of a block. The house was, however, designed for a corner lot, as one can see from the off-set front door. In 1977, the local Junior League moved the house again, to another corner lot.
Sources
Gugenheim, Simon, House - Corpus Christi, Texas, Waymarking. Accessed October 7th 2020. https://www.waymarking.com/waymarks/wm1QDB_Gugenheim_Simon_House_Corpus_Christi_Texas.
Simon Gugenheim House, County of Nueces. Accessed October 7th 2020. https://www.nuecesco.com/county-services/county-boards/historical-commission/simon-gugenheim-house.
Texas SP Gugenheim, Simon, House, National Archives Catalogue. Accessed October 7th 2020. https://catalog.archives.gov/id/40973124.
Image Sources
https://www.visitcorpuschristitx.org/see-and-do/27/heritage-park--cultural-center

Additional Information