Museum Display Backdrops
Introduction
The Dorsey Museum is currently home to two display backdrops by artist Susan Dailey. Both are located upstairs and depict Mountainside Lodge and a prehistoric rock shelter. Mountainside Lodge was built in 1920 on the side of Emerald Mountain by Dr. John Timothy Stone, a Presbyterian minister from Chicago. He loved the Rocky Mountains and found the area to be the ideal place for contemplation, study, writing, family vacations, and entertaining visitors. The lodge is listed on the National Register of Historic Places and is representative of western rustic architectural-style. The prehistory room depicts an area on our property where Paleo-Indians from the Late Archaic period sheltered as they moved around the mountains in search of food and other resources. There are several animals hidden in this mural. Find the squirrel. How many elk can you see? How many birds? How does the artist add depth and perspective to these backdrops? How does the 3D aspect of the backdrop affect our connection to the art?
Images
Mural of Mountainside Lodge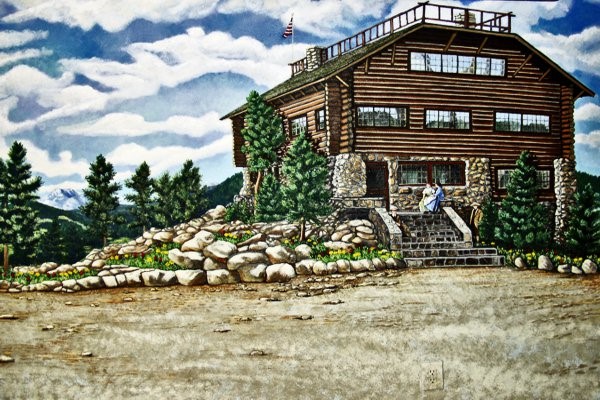 Detail of the rock shelter mural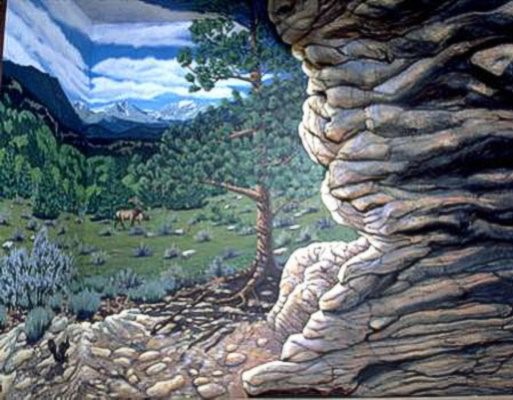 Mural of Long's Peak - no longer displayed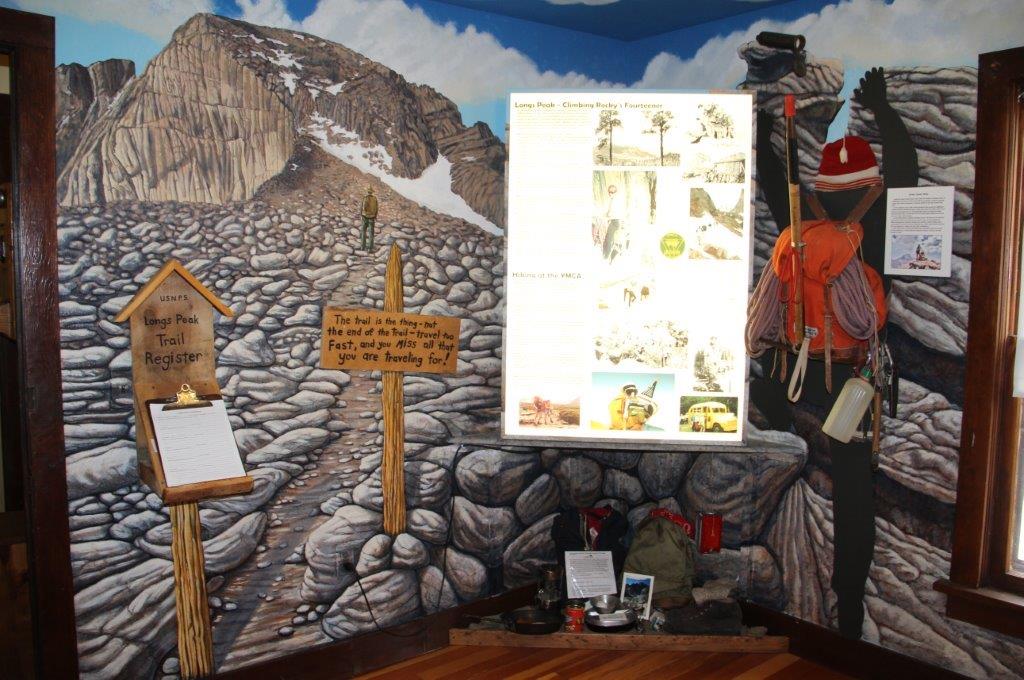 Foamcore base for the rock shelter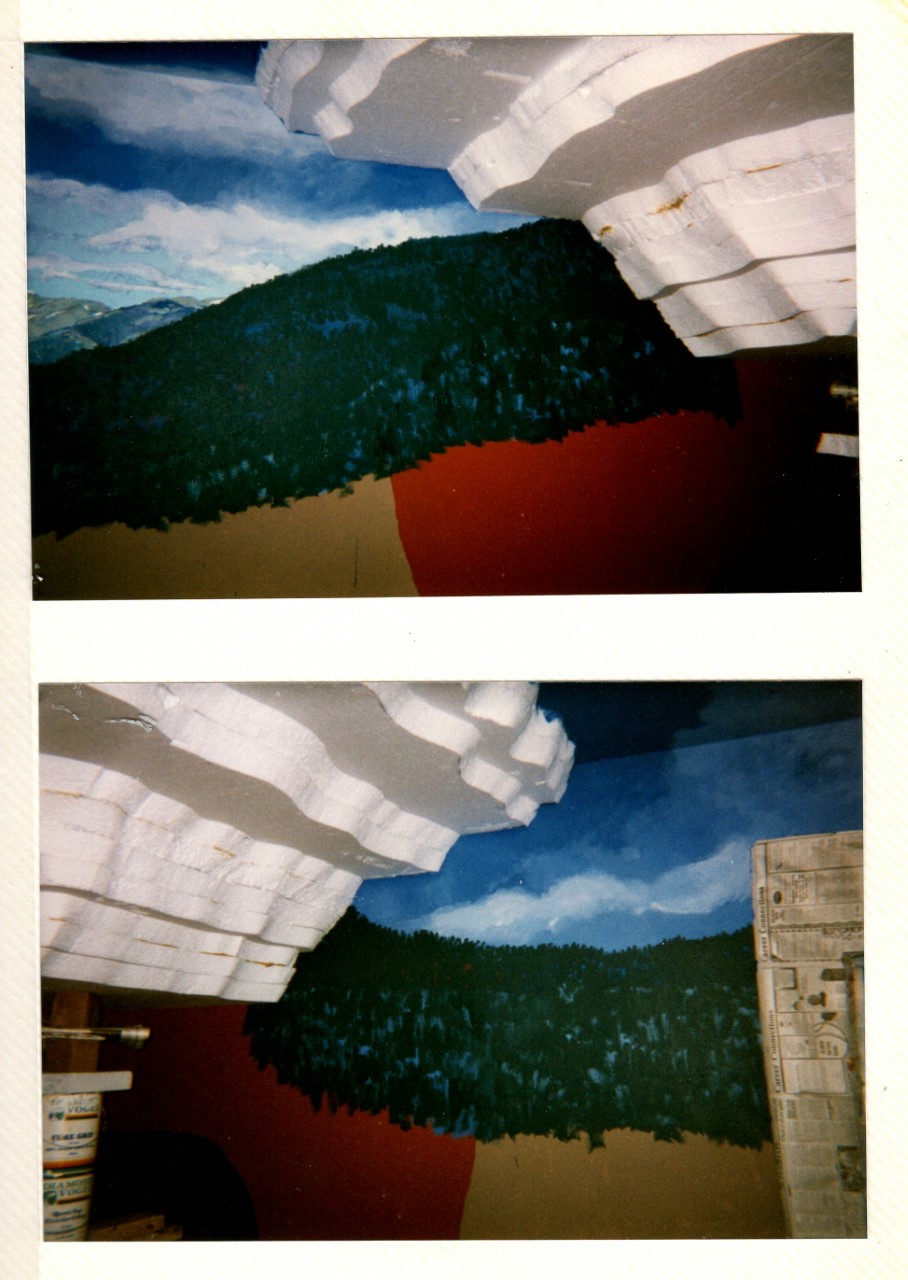 Susan Dailey applying paper mache over the foamcore base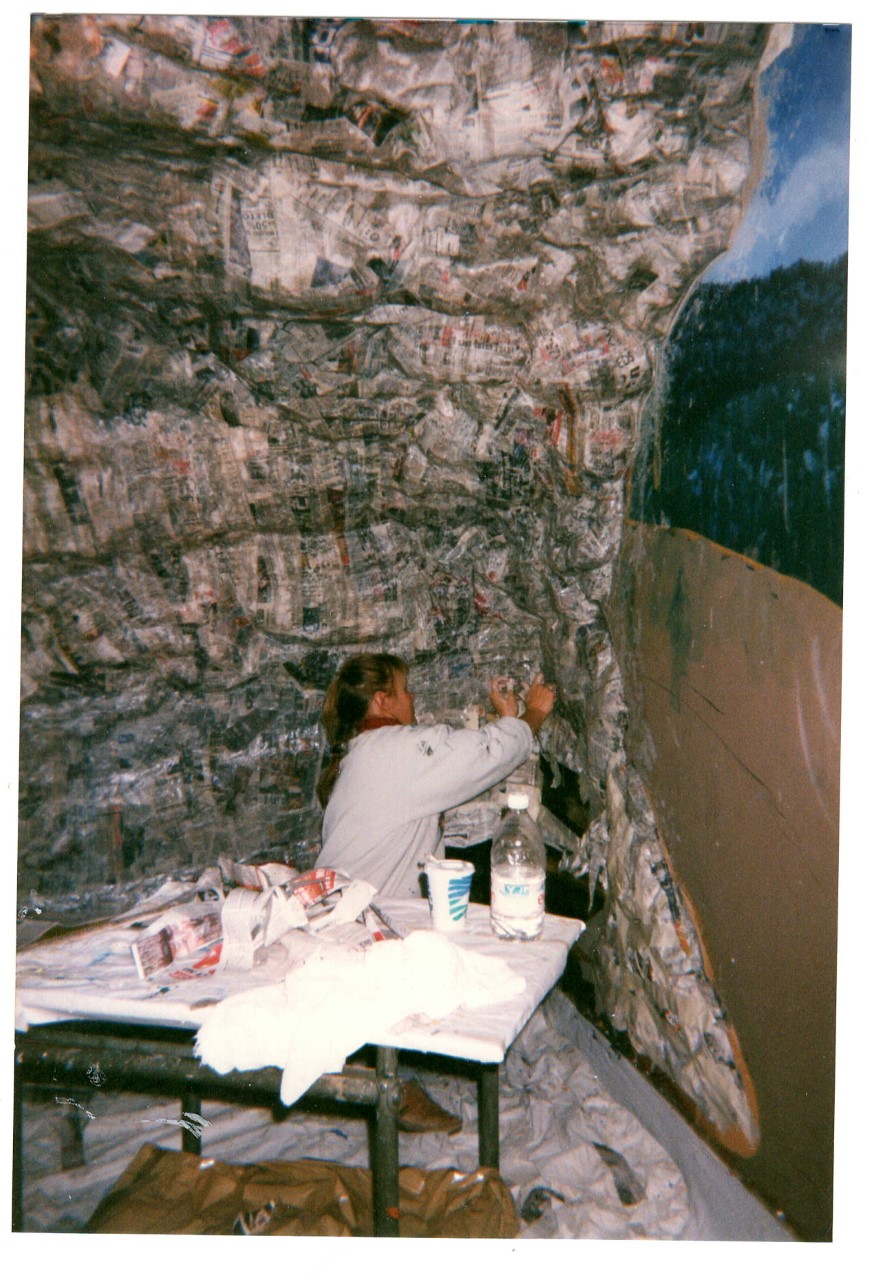 Backstory and Context
The first mural Susan Dailey created for YMCA of the Rockies was the Prehistory room in the museum. Dailey was taking a class at Colorado State University, Fort Collins where she formed a connection with the class professor. They were both muralists. The Dorsey museum's director at the time, Jack Melton, called the professor, asking to have a mural done at the museum. The professor was unable to take the project so Dailey's name was mentioned and her connection to the YMCA of the Rockies began. Dailey said she was given a cabin to stay in as she worked on the room during the winter of 1997. She worked mainly from photos, using acrylic paint on the walls as well as foam core and papier mache to create the replica of the rock.
Over the next several years, Dailey completed more projects for the YMCA of the Rockies and the Dorsey museum. The year after doing the Prehistory room, Dailey finished a mural of Long's Peak inside the museum that was eventually covered up during a later museum remodel. After the renovations of Mountainside Lodge around 2005, Dailey added the mural of the lodge in the museum, working from old photos of the original building from 1925.
For more information on Susan Dailey and her work, use the link below to access her website.
Sources
Susan K. Dailey - Multi-Media Artist. Accessed September 26th 2020. http://susankdailey.com/.
Additional Information