Alpha Opera House, 1882-1892
Introduction
Before the Bank of California building was erected at this location, the Alpha Opera House stood here. The Opera House was one of the more impressive spaces available for public events in New Tacoma, and from the early 1880s locals hosted receptions for visiting dignitaries as well as special events and political meetings inside. Several well-attended 1885 discussions about driving Tacoma's Chinese residents out of the city took place at the Alpha, and periodic rallies there kept the anti-Chinese movement at a fever pitch through November of that year. After the events of November 3rd, 27 prominent Tacomans were arraigned in Vancouver on charges of insurrection for the expulsion of the city's Chinese community; a reception celebrating their return to Tacoma was also held at the Alpha.
Images
Former Alpha Opera House (1890)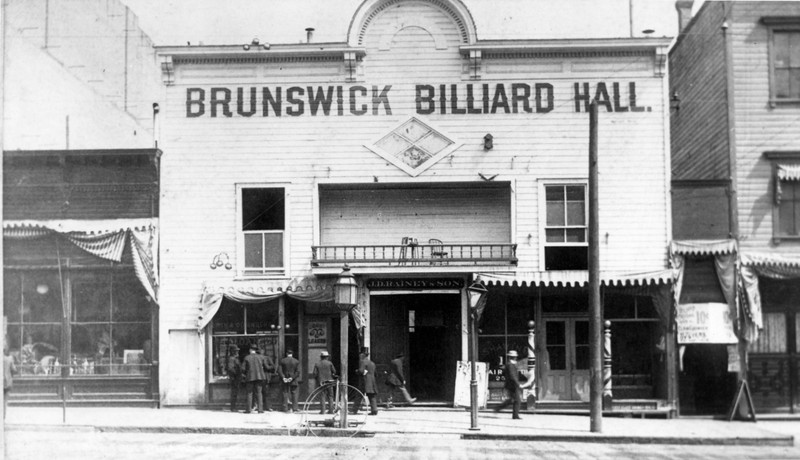 Anti-Chinese Mass Meeting Poster (June 3, 1885)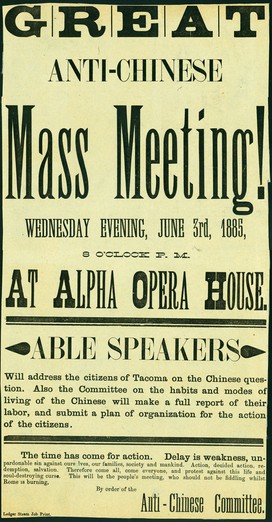 The Chinese Must Go! Poster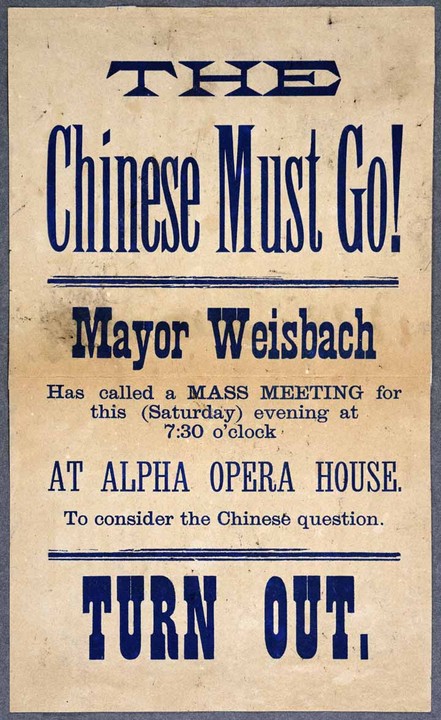 Backstory and Context
By 1885, the three-year-old Alpha Opera House was a fixture in the social and political life of Tacomans, serving a variety of community needs. Pacific Railroad Company Presidents Charles Wright and Henry Villard were both received there on visits to the growing city. Tacoma's Presbyterian congregation called it home while waiting to build a permanent site. In 1883, Abigail S. Duniway, a prominent women's suffrage activist from Oregon, spoke at the Alpha in support of pending legislation to extend voting rights to women in Washington Territory. That same year, part of the building was leased for a popular roller-skating rink; in the next year it hosted a boxing exhibition. And in April 1884 Tacoma voters held a nominating convention at the Alpha Opera House where Robert Jacob Weisbach, a prominent figure in the growing political coalition organized around opposition to Chinese labor and residency in the Western U.S, was nominated for Mayor. Weisbach went on to win the election.
Following his election, Weisbach presided over surging Tacoma support for driving the Chinese community out of Tacoma. Support was inspired in part by a series of violent acts directed at Chinese neighborhoods and workplaces from California to Wyoming. The sense that Tacoma might soon erupt in violence of its own, and the Mayor's obvious sympathy for the movement's more radical proposals, provoked a number of prominent figures in Tacoma's business and political community to request a public meeting where they could advocate a more subtle approach. Weisbach agreed, calling a meeting at the Alpha Opera House for 7:30pm on Saturday, February 21st, 1885.
The meeting was the largest public gathering in Tacoma's history up to that point - 900 people attended, mostly white property-owning men, representing roughly half of Tacoma's voting population. The pro-subtlety businessmen argued that any extra-legal activities would reflect poorly on Tacoma's reputation, damaging the city's ability to attract new residents and investments, and embarrassing it in the national press. The city could, however, pass new sanitation laws - laws which, everyone agreed, would lead to citations for Chinese neighborhoods and businesses. These would justify legal proceedings to remove the Chinese. Rev. Ward, a prominent Tacoma clergyman, made an additional suggestion: he thought that local landowners and employers might be pressured to stop employing Chinese workers or renting to them. New health and safety regulations were drafted at the Alpha that night, and a social campaign to boycott businesses or landowners supporting Chinese residents was launched there as well.
The new health and safety regulations led to inspections of Chinese homes and shops - inspections which found much to criticize. A final report from the investigative committee condemned the Chinese population as unsanitary and socially undesirable. It was read aloud to an audience at the Alpha Opera House during a June 3rd meeting covered in detail by local paper The Ledger. Instead of waiting for the legal consequences, however, Tacoma's citizens concluded that the situation needed more immediate popular action. As the political slogan of Mayor Weisbach and many others had proclaimed for several years, the "Chinese must go," and average Tacomans would make them. Representatives from Tacoma were subsequently sent to a regional meeting on that topic in Seattle where attendees, dominated by the Tacoma delegation, resolved to expel the Chinese community on Nov. 1st, 1885; then all returned home to plan accordingly.
On October 3rd, Tacoma's anti-Chinese forces converged on the Alpha for a meeting to elect the "Committee of Fifteen," whose job it would be to make sure every Chinese person had been notified of the Nov. 1st deadline and was preparing to leave Tacoma. A week later, the Opera House hosted another rally where leaders of the anti-Chinese movement in Tacoma roused the crowd. Speakers emphasized the necessity of doing everything short of outright violence or obviously breaches of law to expel the Chinese. Three weeks later on Halloween, the eve of the scheduled expulsion, Tacomans were joined at a final Alpha rally by a delegation of anti-Chinese activists from Seattle. The visitors from a city not known for its friendly relations with Tacoma congratulated their rival city on its move to free itself from both the Chinese workers and the railroad interests allied with Chinese labor. Two days later a mass of white Tacomans descended on Chinese residences throughout the city and forced nearly all those who had not already left to abandon their homes and property and march, under guard, out of town.
After the events of Nov. 3rd, 1885, the 27 Tacomans charged by the federal government with illegally removing Chinese persons and property were taken to Vancouver for arraignment. Upon their return, these men were greeted at the train station with a parade that brought them to the Grand Army of the Republic Hall for a celebratory banquet, then on to the Alpha Opera House for a civic reception. At the Alpha, the events of the past month were institutionalized, presented as legitimate political acts upheld by the politest elements of Tacoma society. The Alpha retained its role in Tacoma politics and culture for several years after the events of November 1885. It hosted Tacoma's celebration of Washington statehood in 1889. Its role in Tacoma's cultural and political life diminished when the more architecturally impressive Tacoma Theater was built one year later; the Alpha was torn down two years after that. The memory of Tacoma's anti-Chinese actions lasted far longer, however, than the building that gave those actions their most impressive stage.
Sources
The Tacoma Method. Accessed September 10th 2020. https://www.tacomamethod.com/.
Murray Morgan, Puget's Sound: A Narrative of Early Tacoma and the Southern Sound (Seattle: University of Washington Press, 1979).
Herbert Hunt, Tacoma: Its History and Its Builders; A Half Century of Activity (S. J. Clarke Publishing Company, 1916).
Image Sources
Tacoma Public Library, Arthur French Collection (TPL #384)

Washington State Historical Society, Fuller Collection (Catalog ID: 1903.1.12)

Washington State Historical Society, Fuller Collection (Catalog ID: 1903.1.4)

Additional Information