Pierce County Courthouse, 1882-1892
Introduction
The federal and territorial laws of 1885 depended on those who worked at or through Tacoma's small wooden courthouse at 9th & C (now Broadway). Territorial Governor Watson Squire, Pierce County Sheriff Lewis Byrd, and Tacoma Home Guard Captain Albert Whyte monitored the events of November 3rd 1885 and coordinated their decisions in the courthouse rooms. Those decisions did not prevent the expulsion of Tacoma's Chinese community; they did instigate legal proceedings against the ringleaders of the Tacoma Method mob that ultimately ended without a single conviction. The courthouse was built in 1882 when the county seat was moved to Tacoma; an expanded courthouse was built on South 11th Street in 1892, and the old building was destroyed during the first decade of the 20th century.
Images
View of 9th & Broadway, circa 1885. White building in upper part of image is Pierce County Courthouse.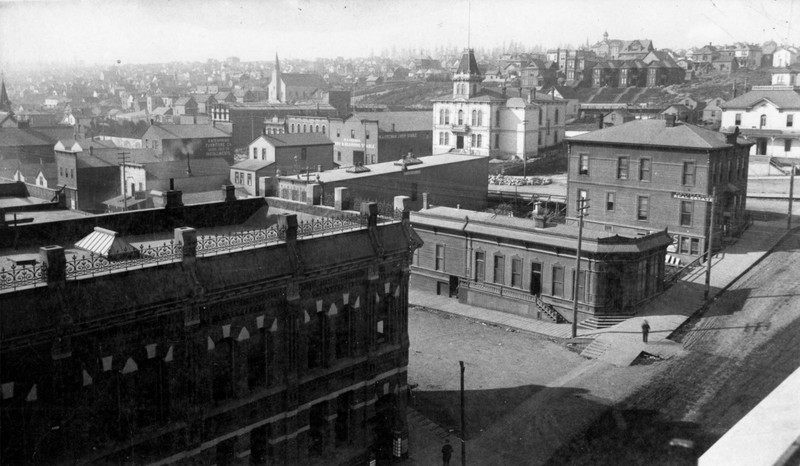 Alberty Whyte in 1935. Whyte was Captain of Tacoma's Home Guard during the events of November 3rd, 1885.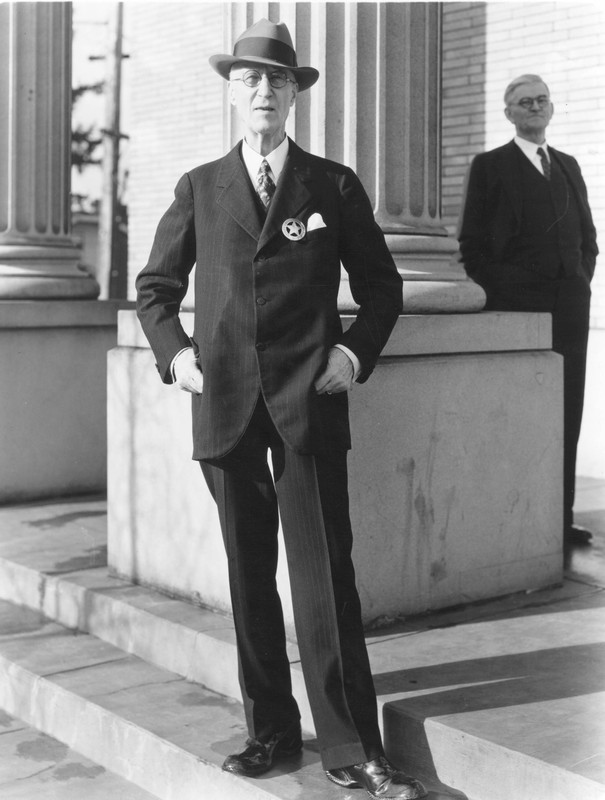 A group photograph of the original 27 Tacoma men indicted for the events of November 3rd, 1885.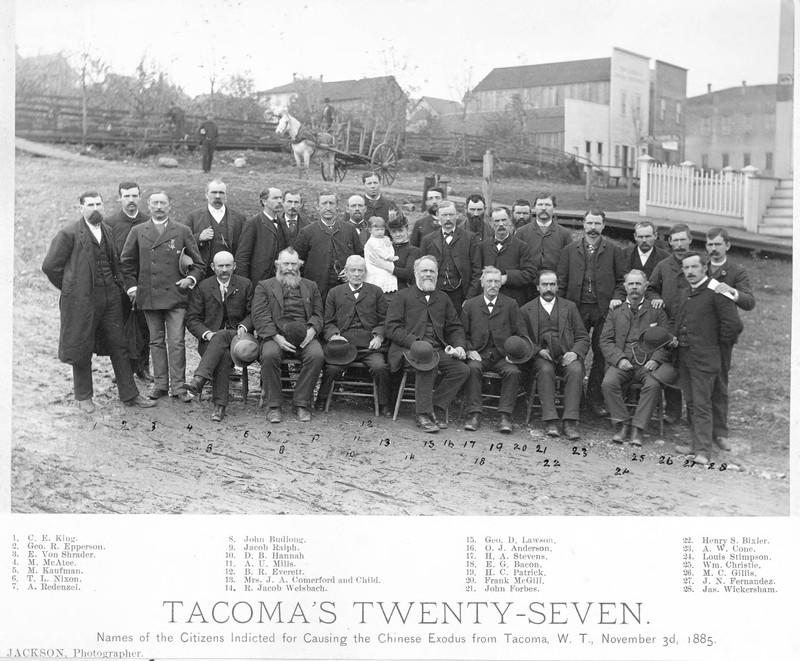 Backstory and Context
U.S. officials signed a series of late 19th Century treaties with the Chinese government promising to protect the persons and property of all Chinese residing within its borders. New Chinese immigration, especially by laborers, was gradually blocked; but the rights of any Chinese person already on U.S. soil were guaranteed by law. All through the fall of 1885, Tacoma's former mayor and prominent members of the business community assured the local Chinese population that the city would uphold these federal commitments. China's ambassador to the U.S. sought the same assurance from the U.S. Secretary of State.
Anti-Chinese agitators across the U.S. West Coast in the mid-1880s often claimed government, as well as corporate, tolerance of Chinese workers was a powerful threat to the economic well-being of white settlers. Attendees at a Seattle meeting to coordinate anti-Chinese efforts for the region condemned a recent effort to repeal restrictions on Chinese immigration. At various anti-Chinese meetings in town and in the pages of their local papers, Tacomans called for U.S. government intervention to exclude Chinese workers from employment and residency; they then excused their own use of force by citing government inaction on those points. Those most responsible for U.S. governance did not act to stop them on November 3rd.
Washington governor Watson Squire could have called in the United States Army to suppress anti-Chinese violence in the territory. But Squire spent the weeks leading up to November 3rd failing to resolve the gap between federal and local definitions of "violence" - if forcing Chinese from town was an act of violence (the position taken by the U.S. government, at least initially), or if violence could be avoided where the Chinese left peacefully (the position of authorities in Tacoma up to and after charges were brought against them). Earlier that fall, Squire reached out to Pierce County Sheriff Lewis Byrd and Tacoma mayor Jacob Weisbach for some indication of Tacoma's plans; Byrd, Weisbach, and a group of local business leaders promised there would be no need to bring in troops. Just to be sure, Squire spoke in Tacoma shortly before the November expulsion, publicly stating that the Chinese should go but only within the bounds of law. He was back in Olympia on November 4th when Tacoma papers celebrated the nonviolent departure of Tacoma's Chinese community on the previous day; from Puyallup, refugee Goon Gau wired the governor "I am notified that at 3PM tomorrow a mob will remove me and destroy my goods. I want protection. Can I have it?" Squire's response was a telegram to the U.S. secretary of the interior reporting that Sheriff Byrd had failed to protect Chinese residents from "intimidation and forcible removal," but that they had suffered no bodily injury.
On a November 3rd 1885 morning walk through the Pacific Avenue business district, Sheriff Byrd realized that a mob of Tacoma's white men was rounding up its Chinese residents for forced removal that afternoon. Byrd sent word to his staff at Tacoma's C street courthouse to prepare for some response while he went in search of Mayor Weisbach. Together, Byrd and Weisbach accompanied the mob as it moved through the city. Affidavits from Tacoma businessman Lum May and other Chinese merchants suggest that visible violence against Chinese persons and property did take place, but neither Weisbach nor Byrd reported observing it. In the midst of their observations, a member of Byrd's staff called the sheriff back to the courthouse to meet with the prosecuting attorney. In their official capacity, they decided neither to call in federal troops nor to deputize locals; no opposing force would be assembled. After the mob completed its work, Byrd informed the Governor what had happened. Squire expressed immediate regret to hear there had been violence, and asked whether Byrd would need government forces to protect the Chinese. Byrd declined. He explained that no bodies or property had been damaged, adding that government forces would not arrive in time to be a factor anyway.
In 1885 Albert Whyte was organizer and captain of the newly formed Tacoma Home Guard. Amidst growing anti-Chinese sentiment, he announced his intention to obey any orders from the U.S. government to meet Tacoma's anti-Chinese movement with military force. But neither Governor Squire nor Sheriff Byrd, recently made Whyte's immediate superior, gave those orders. Whyte watched from his office at 9th and Railroad (now Commerce) as a mob of white men moved through the city, hurrying hundreds of Chinese residents before them. Whyte explained his inaction in two ways: he had received no orders from his superior to impede their progress, and he had feared that intervention might make them violent. Whyte did however speak against those men when summoned to give evidence before a grand jury, and jurors were convinced that the expulsion had been unlawful. They issued indictments for 27 prominent figures in the Tacoma riots of 1885. Whyte accompanied U.S. Marshal J.W. George to serve warrants on the Tacoma 27 for insurrection against the U.S. government. He also stood guard over them that night at the courthouse before they left for Vancouver, WA to be arraigned.The Tacoma 27 pleaded not guilty before the Vancouver District Judge, who set their bail at $5,000 per man, scheduled trial for the Spring, and sent them home. Tacoma papers took turns celebrating the men who returned and condemning those who testified against them. Several grand jury witnesses tried to repair their standing in town by bringing bail contributions to the city courthouse.
None of the men were ever convicted. The trial, originally set for Vancouver, was delayed for a year and ultimately moved to Tacoma. The indictments were then dropped due to a technical irregularity. A second grand jury indicted 10 of the 27 on new charges, but these too were dismissed – in the intervening year, the territorial supreme court found against the constitutionality of women's suffrage, and thus the fact a woman had served on the previous jury invalidated its work. In March of 1887, a third grand jury refused to indict any of Tacoma's citizens for crimes against the Chinese or the U.S. government. In 1888, the U.S. Congress passed the Deficiency Act, paying the Chinese government more than $275,000.00 for damages to Chinese persons and property across the western U.S., including but not limited to the November 3rd expulsion of Tacoma's Chinese community. Restrictions on Chinese immigration remained in place, however, as did a nationwide distaste for Tacoma and its methods.
Sources
The Tacoma Method. Accessed September 10th 2020. https://www.tacomamethod.com/.
Murray Morgan, Puget's Sound: A Narrative of Early Tacoma and the Southern Sound (Seattle: University of Washington Press, 1979).
Herbert Hunt, Tacoma: Its History and Its Builders; A Half Century of Activity (S. J. Clarke Publishing Company, 1916).
Image Sources
Tacoma Public Library, General Photograph Collection TPL-372

Tacoma Public Library, Richards Studo 950-1

Tacoma Public Library, Richards Studio 968-1

Additional Information