Harlow C. Curtiss Building and Curtiss Hotel
Introduction
Buffalo attorney Harlow Curtiss funded the construction of this building, which was completed in 1913. The era saw continued expansion of Buffalo's economy and downtown district as businesses took advantage of the city's location along the Erie Canal, Great Lakes, and the potential of nearby Niagra Falls as a source of electrical power. Curtiss not only proved to be a prominent attorney and real estate investor in Buffalo, but he was also a close associate of President Grover Cleveland. Following extensive renovation and restoration efforts, the building is now home to the Curtiss Hotel.
Images
2017 Photo as the historic building was set to re-open as a luxury hotel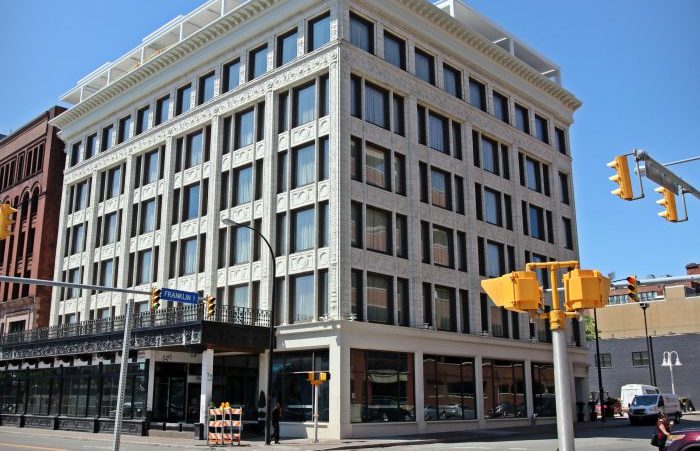 Newspaper photo, 1945, at the time of the sale to Hoelscher's.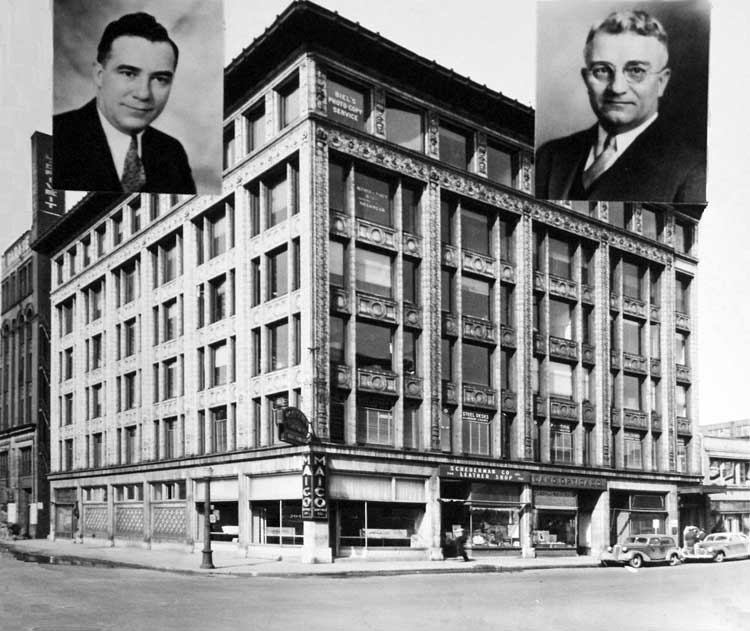 Backstory and Context
Construction on the six-story, terra cotta style Harlow C. Curtiss Building occurred from 1912 to 1913. The building was designed by architect Paul F Mann for his brother-in-law Harlow Clarke Curtiss. The building served as an office complex, though Curtiss -- a prominent attorney and real estate mogul, did not maintain an office in the building. The structure remains one of Buffalo's largest terra cotta buildings and serves as a reminder of the city's rapid growth at the turn of the century as Buffalo established itself as the commercial hub of western New York. 
Curtiss came to Buffalo in 1861 at the age of three years old when his parents moved to the city from Utica, New York. He gained his law education as an apprentice instead of attending law school, having obtained his legal training as part of the firm managed by Grover Cleveland, who served as Buffalo Mayor, Governor of New York, and eventually U.S. President. In 1884, Curtiss established a private law practice that would last forty years. However, he remained dedicated to Cleveland. Curtiss actively supported the local Democratic Party, served as a Democratic Party delegate, and supported Cleveland's presidential campaigns. 
His political connections and growing law practice all helped him attain abundant wealth. His financial success allowed him to build a grand household for his family and also enabled him to invest heavily in commercial real estate, including the historic building that bears his name. Curtiss died in 1933 (during the Great Depression) at the age of 75 years old. 
The Curtiss Building opened in 1913 as an exemplary terra cotta style structure, a design style trend attached to lauded Chicago-School architects such as Daniel Burnham and Louis Sullivan, both of whom designed buildings in Buffalo as well as Chicago. Architect Paul F. Mann, brother in law to Harlow Curtiss, designed the building. Like Curtiss, Mann enjoyed a U.S. Presidential connection as his father, Dr. Matthew D. Mann, operated on President William McKinley in 1901 after McKinley had been shot at Pan-American Exposition in Buffalo. (However, Dr. Mann was a trained gynecologist, and his surgery proved unsuccessful; McKinley died a few days late and Teddy Roosevelt was sworn in.) However, Mann had not achieved much at the time Curtiss wanted to build the now-historic office building. But, Curtiss gave Mann a chance, and that opportunity propelled Mann's career, which included designing several of Buffalo's commercial buildings. 
The building arose at a time when Buffalo had evolved into a commercial hub in Western New York. The city benefited from The Erie Canal (1825), which connected Buffalo to New York City, as well as the Great Lakes and the industrial cities its shores. Another environmental advantage that spurred speculators to invest in Buffalo for decades included the nearby Niagara Falls, which had been harnessed as a power source to generate electricity in the city by the turn of the century. Steel mills and other industries took advantage of the power and waterway access (and eventually railways), which helped the Buffalo grow economically and enjoy a population boom. 
The boom in residential construction and overall booming economy for the town can also be noted by the Curtiss building's primary occupant when the building opened: The Kittinger Furniture Company. Kittinger enjoyed a reputation as a prestigious furniture business. Other occupants included lawyers, doctors, and stationers, but Curtiss did not have an office in the new building. Ethel Mann Curtiss, the building's legal owner, sold it in 1920 just as Harlow chose to commission a new office building in Buffalo; the new building took the Curtiss name while the 1913 structure transitioned to the King & Eisele Building. 
The building's ownership changed several times between that first sale in 1920 to the early 1990s when the historic structure lay vacant. Real estate developer Mark Croce purchased the building in 2002, followed by adjacent lands in subsequent years. In 2017, Croce completed an $18 million building renovation and re-opened the building as the home of the Curtiss Hotel. 
Sources
Goldman, Mark. High hopes : The Rise and Decline of Buffalo, New York. Albany: State University of New York Press, 1983.
Kowsky, Francis R. and Daniel McEneny. "Nomination Form: Harlow C. Curtiss Building." National Register of Historic Places. ny.gov. August, 2008. https://cris.parks.ny.gov/.
Percy, John. W. "The Erie Canal: From Lockport to Buffalo." buffaloah.com. October, 2020. https://buffaloah.com/h/erieC/percy/percy.html.
Image Sources
Curtiss Hotel / Photo x Christopher Lestak via https://stepoutbuffalo.com/curtiss-hotel-opens-buffalo/

Photo found at https://www.wnyhistory.org/portfolios/businessindustry/curtiss_bldg/curtiss_building.html

Additional Information