David Wilson Library
Introduction
Author-Uploaded Audio
The University of Leicester Library, named The David Wilson Library. Home to the university's extensive collection of books, the university archive and student facilities such as: silent work spaces, conference rooms, computer rooms and an on site cafe. Opened in 2008 by Queen Elizabeth II, it has won many awards for it's architecture and facilities.
Images
The David Wilson Library, 2020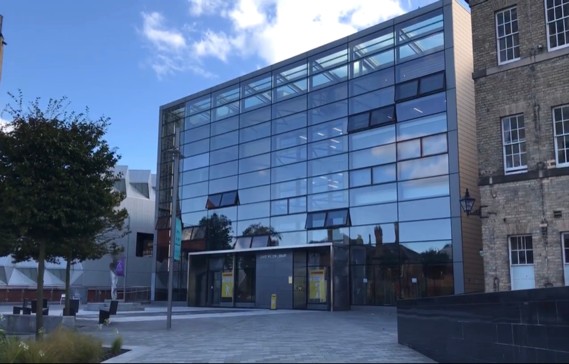 Students outside the library entrance, 1980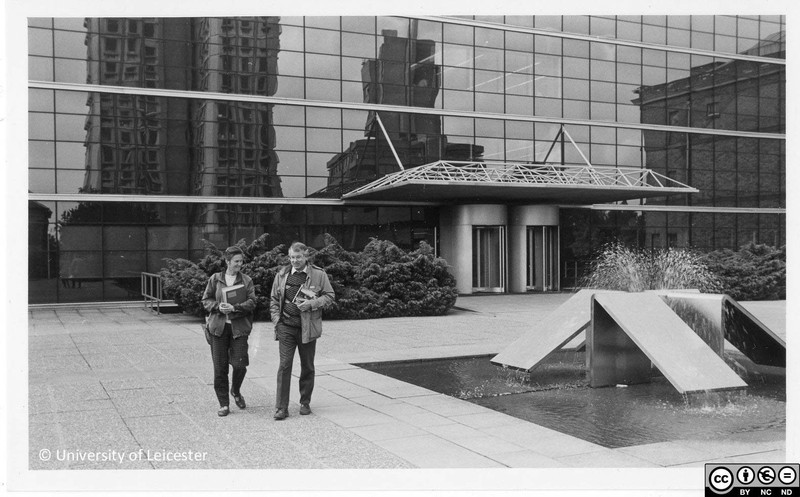 Students working in new Library, 1970s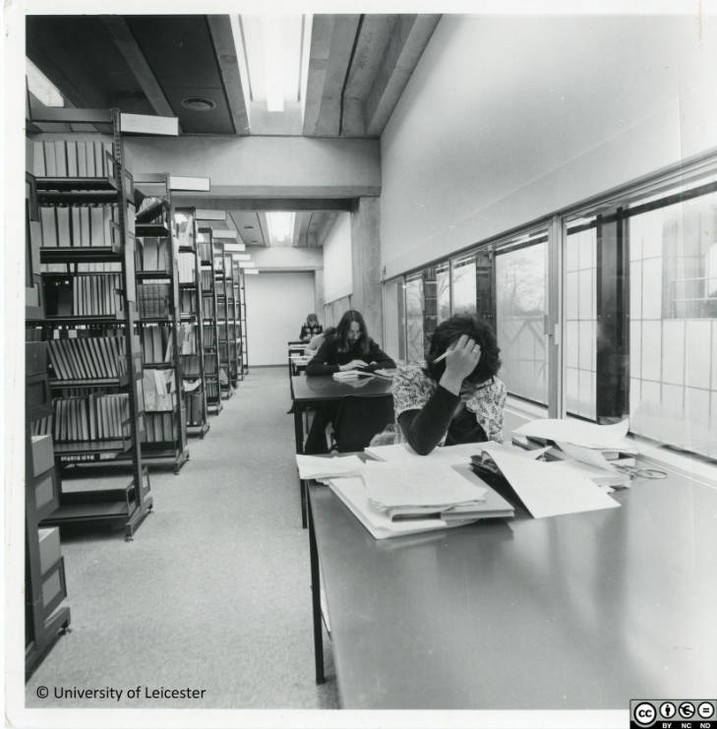 Backstory and Context
Author-Uploaded Audio
Although the purpose-built university library in its present state was opened by the queen in December 2008, the history of the library and the collection it holds, has a story that stretches back to the very founding of the University Collage. The library commenced in 1920 with the donations of personal collections from local businessmen, which was temporarily housed in the 'Pillar Room' of the Fielding Johnson Building. However, as the collection and the number of students grew, it became clear that a new building had to be constructed. As such, in 1950, the architect T. Shirley Worthington was commissioned to construct a new library. The new two storey building under a lightweight steel supported roof, bisected the original quadrangle of the Fielding Johnson building, which can still be seen to this day. However, over time, space yet again proved to be a constricting factor for the ever-growing collection. As such, in 1974, the process began of the construction of a library for the university that is like the one you see today. Commissioned by the university from Castle Park & Dean Architects, the first of the three phases were opened in 1975 by the poet and former member of staff, Philip Larkin. The building, of reinforced concrete construction, was characterised by reflective Black glass which was popular at the time. The second and third phases were unveiled in 2004. The design criteria included the requirement for a light and welcoming building with an academic tone. The building in its present state followed suite with this style and is home to a variety of facilities for student learning, including group word rooms with large monitors, computer rooms, a postgraduate lounge and a café.
Sources
Lyons. A, 2017. 'The David Wilson Library'. From 'The Architecture of the Universities of Leicester'. Anchor Print Group Ltd.
The University of Leicester Website. 'The David Wilson Library'. Link: https://www2.le.ac.uk/library/about/building. Accessed on: 10th August 2020.
Image Sources
University of Leicester Special Collections - ULA_FG1_19_1

Additional Information