Historic Silver Spring Post Office
Introduction
The U. S. Postal Service constructed this Georgian-Revival style post office in 1936-1937. It was not the first post office in Silver Spring, but this structure was the first federal building constructed in Montgomery County. Within the post office was the WPA-funded mural "The Old Tavern" by Russian immigrant Nicolai Cikovsky, one of a series of post office murals executed throughout the country. These murals depicted American and regional history, and often hung over the doors of the postmasters' offices. The United States Postal Service operated from this building from its opening in 1937 until 1981, when it left the building. The conserved mural now hangs in the Silver Spring Library.
Images
Historic Silver Spring Post Office Building by Allen C. Browne on HMDB.org (reproduced under Fair Use)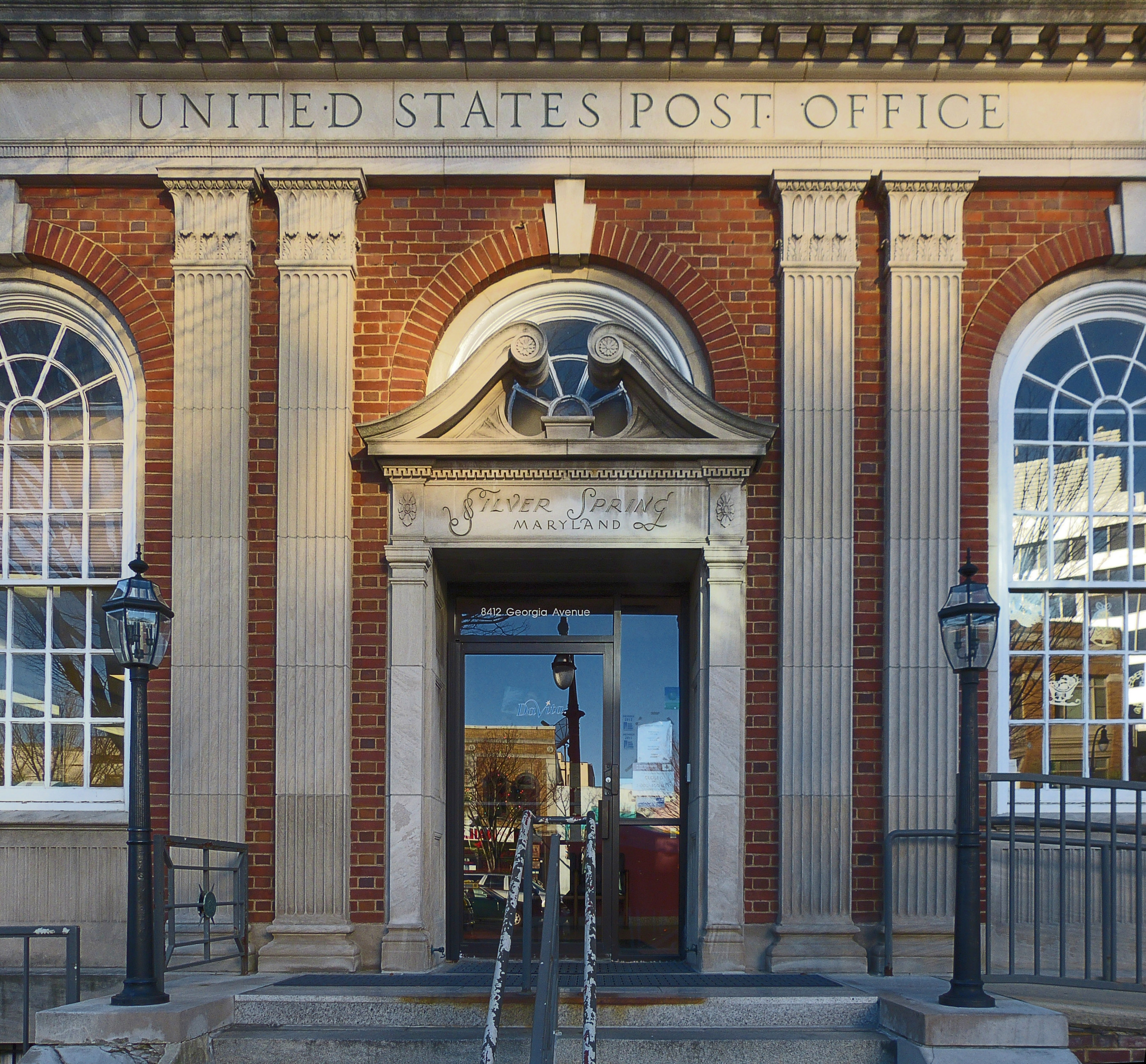 Backstory and Context
The U.S. Postal Service first operated mail service in Silver Spring in 1899. This Georgian Revival-style building opened on March 1, 1937, and was the first federal building in Montgomery County.
U.S. Treasury Department's Section of Painting and Sculpture, part of the New Deal, funded a program to produce artwork with historical narratives in new post offices. In the Silver Spring Post Office, Nicolai Cikovsky created "The Old Tavern," an oil and canvas mural depicting Union soldiers picking up their mail at the Eagle Inn, which had once stood nearby. In researching the mural, Cikovsky interviewed former senator Blair Lee about growing up in this community, which had been called Sligo when he was born there in 1857. Workers installed the mural, which measures 5' 8" x 15' 11", in December 1937.
Notably, the mural depicts an African-American soldier. The artist intended the soldier to symbolize the 209,000 African-American soldiers who fought in the Union Army as well as the outcomes toward racial equality of the Civil War. When the USPS moved out of the building in 1981, the Silver Spring Historical Society removed the mural. The Friends of the Silver Spring Library raised money to conserve it, and the library rededicated the mural in its own building in 1997. The building is now commercial space.
For the centennial of the establishment of the Silver Spring post office in 1999, a postmark cancellation was released which depicted the former post office building. The Silver Spring Historical Society placed a marker outside the former post office in 2009 as part of the building's inclusion in the society's heritage trail.
Sources
Browne, Allen C. A New Deal in Town: Silver Spring Post Office, Historical Marker Database. June 16th 2016. Accessed August 24th 2020. https://www.hmdb.org/m.asp?m=76411.
McCoy, Jerry. Silver Spring Post Office Centennial, Silver Spring Historical Society. 1999. Accessed August 24th 2020. http://silverspringhistory.homestead.com/poff.html.
Silver Spring Urban District. Historic Silver Spring Post Office, Silver Spring Downtown. 2020. Accessed August 24th 2020. https://www.silverspringdowntown.com/go/historic-silver-spring-post-office.
Image Sources
https://www.hmdb.org/PhotoFullSize.asp?PhotoID=282209

Additional Information