John Ritchie Homestead
Introduction
Recently restored by the Shawnee County Historical Society, the John Ritchie House was home to abolitionists John and Mary Ritchie. The Ritchies supported John Brown and other militant opponents of slavery during the frontier period known as "Bleeding Kansas." They also used this home to shelter runaway slaves during Kansas's territorial period when slavery was legal and assisting runaway slaves was a capital crime according to the notorious slave codes of the Lecompton government.
Images
Front view of the Ritchie Homestead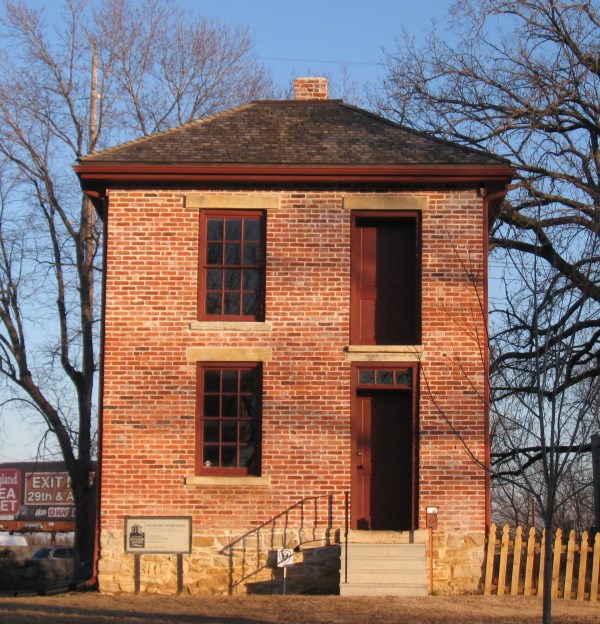 Another view of the homestead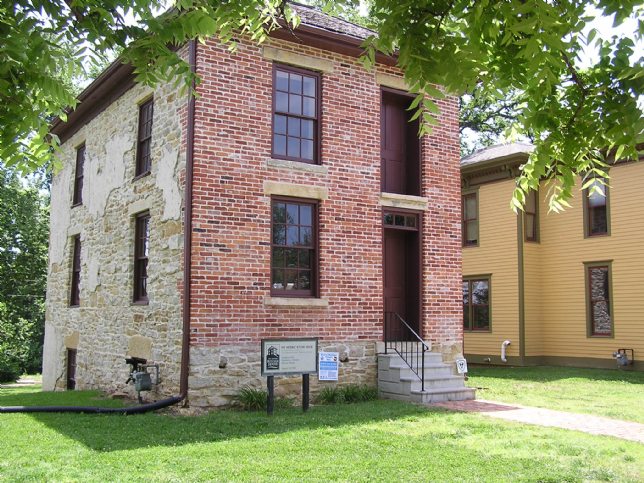 Flyer with more information on the Ritchie Homestead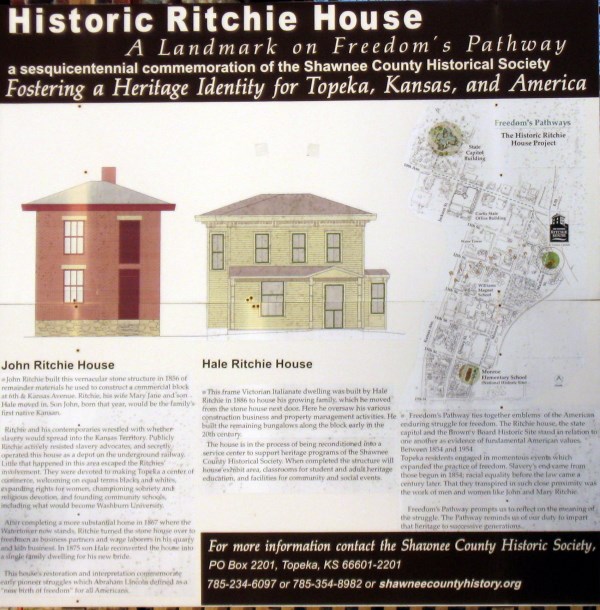 Backstory and Context
John Ritchie was born on July 17, 1817 in Uniontown, Ohio. As he grew up he began getting involved in politics in his community as well as farming and real estate development. He married Mary Jane Shelleday on January 16, 1838 in Franklin, Indiana. The couple moved to the Kansas territory in 1854, settling near the town of Topeka. It should also be noted that Mary was only the fifth woman to settle in Kansas and their young son, Hale, was the third child to be born there.

After living in a dugout through the first winter, John Ritchie built his home around 1856, a modest limestone structure that stands in what is today 1116 SE Madison Street. Ritchie was very involved in the Topeka community, being selected to serve in two of the four Kansas Constitutional Conventions: the Leavenworth convention in 1858 and the Wyandotte Convention in 1859. Both John and Mary were devout abolitionists and would play a big part in what would become known as "Bleeding Kansas."

Bleeding Kansas was the time when the United States Government let the citizens of Kansas decide whether Kansas would be a Slave State or a Free State. This caused many bouts if infighting in the territory, with both sides resorting to violence and bloodshed. Kansas was particularly dangerous for runaway slaves, as they were hunted down by their former owners, federal law enforcement, and the slave catchers along the riverbanks. The John Ritchie soon opened his home to slaves as part of the underground railroad and joined a group later called the "Topeka Boys".

One notable event during this time was when John helped a fellow abolitionist and eleven slaves avoid detection by federal troops and allowed them to escape into Nebraska. That abolitionist was John Brown. When the American Civil War broke out, John enlisted in the Union Army, where he quickly rose to the rank of lieutenant colonel and served in the 5th Regiment Kansas Volunteer Cavalry and the 2nd Regiment, Indian Home Guard. He later got a brevet promotion to Brigadier General in 1865.

After the civil war, many African Americans migrated to Kansas to settle down, and John Ritchie sold many of them land around his homestead. A school for Black children was soon built on some of the land that Ritchie sold, known as Monroe School, which would later become the center of attention in the Brown v. Board of Education court case.
Sources
"John Ritchie." Kansapedia. Accessed March 30, 2015. https://www.kshs.org/kansapedia/john-ritchie/17087.

"Ritchie House." Freedom's Frontier National Heritage Area. Accessed March 30, 2015. http://www.freedomsfrontier.org/Visitors/Sites/Comments.aspx?id=63.

Additional Information