Bowker House
Introduction
The Bowker House was built in 1866 and is among the oldest continuously-inhabited residences in Topeka. The first owner of this home was Samuel Drake Bowker, a former pastor who moved to Topeka in 1864. Bowker was part of the group that organized Lincoln College. The college was formally organized on February 6th, 1865, and is the institution of higher education that grew to become Washburn University. Bowker was on the college faculty as a professor until he died of tuberculosis in 1868. Bowker designed the home to serve as a boarding house for Lincoln College students. When the college relocated further away from the center of the town in the early 1870s, this property was converted to a single family home by the late nineteenth century. The property was listed on the National Register in 2006 for its ties to the early history of Lincoln College and continues to serve as a private residence.
Images
Bowker House in 2006 photograph, facing southeast (KSHS)
Rear additions to Bowker House in 2006 photo, facing south (KSHS)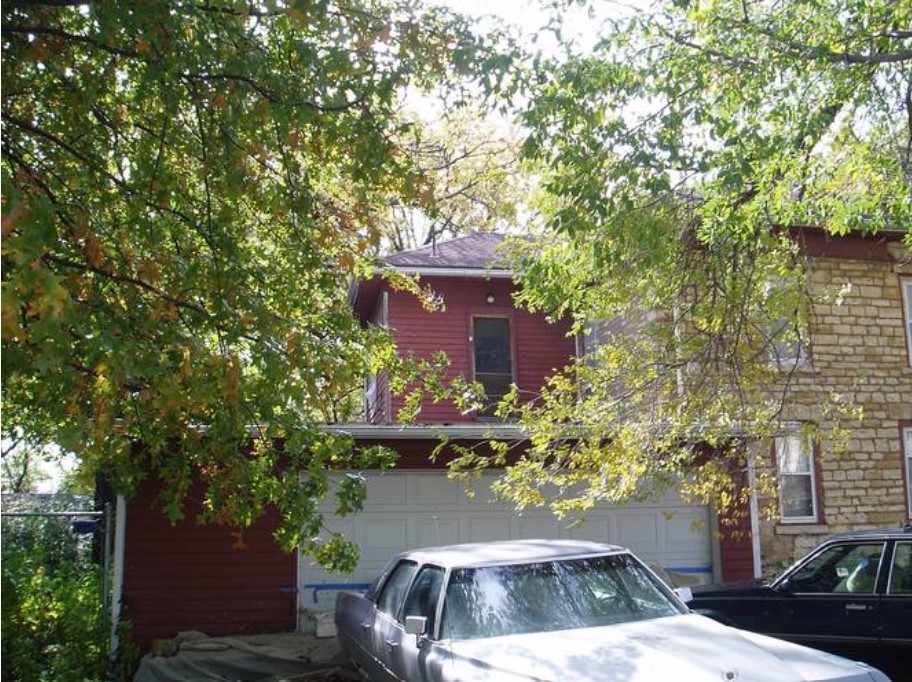 Bowker House (red arrow) and Lincoln College (blue arrow) on 1869 bird's eye view map (Ruger)

Backstory and Context
Samuel Drake Bowker was born in Maine in 1835 and took his first job as a pastor in 1860 at a Congregational church in Maine. He suffered from tuberculosis by 1862 and moved for his health to Topeka in November 1864, where his brother, William E. lived. Samuel and his brother both contributed cash toward the initial endowment for Lincoln College; William was one of the college's first trustees. Bowker became the financial agent for the fledgling school and traveled back East in early 1865 for fundraising. Bowker met with President Abraham Lincoln, the college's namesake, and members of the Kansas delegation to Congress during his first fundraising trip. By May 1865, Bowker had secured $5,000 in funding and over 300 books to form the nucleus of the college library. In august 1865, Bowker was named the principal of the preparatory and scientific department and professor of English.
Samuel Bowker maintained the house on Quincy Street as a boarding house for out of state students of Lincoln College. He died of tuberculosis in February 1868, leaving a widow and son. Mrs. Bowker was listed in the city directory in 1868 as living in the Quincy Street house but did not appear in the 1870 census within Topeka.
The Bowker House is made of rough-cut limestone. The two-story main block has a pyramidal roof covered in asphalt shingles. A rear addition was built in 1904 and a garage addition was constructed in the 1980s; both are wood frame. A wooden porch across most of the front was built to match one seen on historical photos of the house. The house has a full basement with rough-cut stone walls and a concrete floor. The four-bedroom, two-bath home is within the Monroe neighborhood and was last sold in 1993.
The Association for Congregational Churches was founded in northeast Kansas in 1857 and setting up a college was an early goal of the organization. A two-story limestone building was constructed for Lincoln College classrooms in 1865 at the corner of 10th Street and Jackson Avenue, across the road from the State Capitol. The land for the university was donated by John Ritchie, a leading abolitionist who represented the sentiments of some Topeka residents as the city had been the home of the Free State Legislature in the era known as Bleeding Kansas.
Lincoln College's first class contained thirty-eight students, both male and female, with one African-American student. The Bowker House was four blocks from the original college location. A new campus was established on donated land of 160 acres southwest of town in the early 1870s. New boarding houses or cottages closer to the new campus were constructed for students. Renamed Washburn College in 1868 after a major donor, Ichabod Washburn. The college was operated by the city and one of the last remaining municipal universities funded by city property taxes. Today Washburn is a public university with around 7,000 enrolled students.
Sources
Ancestry.com. Mrs. Bowker on SE cor Quincy and 12th streets, 1868 Topeka Directory, U.S. City Directories, 1822-1995 database. Accessed August 7th 2020. https://search.ancestryheritagequest.com/.
Hickman, Russell K.. Lincoln College, Forerunner of Washburn Municipal University, Part one. Kansas Historical Quarterly, no. February20 - 54. Published February 1st 1950. Kansas Historical Society Publications.
Ruger, A.. Bird's eye view of the city of Topeka, the capital of Kansas 1869. Map. Chicago, IL. Chicago Lithographic Company, 1869.
Sherritt, Leigh Anne. KSHPO Staff. NRHP Nomination of Bowker House. National Register. Washington, DC. National Park Service, 2006.
Trulia.com. 1200 SE Quincy St., Topeka, KS 66612, Trulia.com. August 7th 2020. Accessed August 7th 2020. https://www.trulia.com/p/ks/topeka/1200-se-quincy-st-topeka-ks-66612--2106582678.
Washburn University. Washburn's History, About Washburn. January 1st 2020. Accessed August 7th 2020. https://washburn.edu/about/facts/History/index.html.
Image Sources
https://khri.kansasgis.org/index.cfm?in=177-5400-00053

https://khri.kansasgis.org/index.cfm?in=177-5400-00053

https://www.loc.gov/item/73693411/

Additional Information